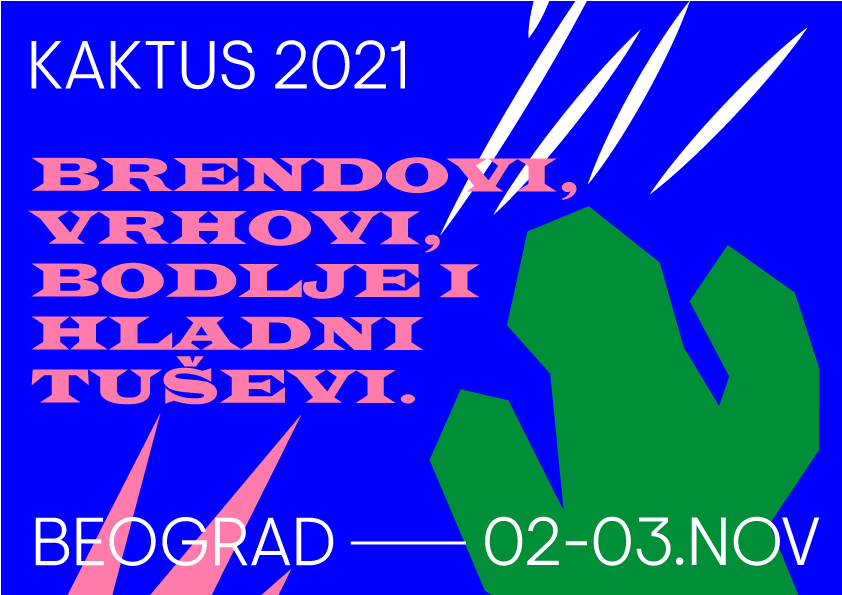 The world's best and most awarded creatives and communication experts from Havas Creative, UM Digital, GUT Miami, Leavingstone, Interweave Agency, as well as Burger King, Glovo and Nestlé, are just some of the lecturers at the seventh festival integrated communications – CACTUS 2021. The festival will be held on November 2 and 3 live + online, under the slogan "Brands, tops, spikes and cold showers"
Like last year, CACTUS 2021 will offer participants a quality and diverse program from various areas of integrated communications. Among the keynote speakers this year are FLAVIA GUETTER, Global Marketing & Branding Manager, Burger King (USA); GIANCARLO RODAS, Group Creative Director, VICE Media (USA); ERAN NIR, VP Creative, UM Digital Tel Aviv, Israel; BASAK BIRKARDESLER, Growth Marketing Manager – Serbia, Croatia, Montenegro, Bosnia, Glovo and PAULO DAMASCENO, Senior Art Director, GUT Miami (USA).
During the two days of the quality program, the participants of the festival will be introduced to FABIO SILVEIRA, General Manager, Havas Creative UAE; NELLY ANGELOVA, Communication Manager South East Market, Nestlé, Bulgaria; FREDERICO ROBERTO, Executive Creative Director, Interweave Agency, London (UK); LEVAN LEPSVERIDZE, Co-Founder & Creative Chairman, Leavingstone, Georgia; RICHARD AXELL, Regional Creative Lead, Ogilvy Czech, (Czech Republic); RICARDO DOLLA, Creative Director EMEA, VMLY & R / Red Fuse Paris, (France); GIAN LANFRANCO, Co-Founder & Chief Creative Officer, L&C NYC, (USA); SHYAN GERSHON, Associate Creative Director, Publicis Groupe, Sri Lanka and DUSHAN DRAKALSKI, Global Creative Director (USA).
On the first and second day, several creative discussions will be organized, and one of them will be on the topic of media and digital literacy (powered by Propulsion), within which six examples of good practice from the entire region will be presented.
In addition to the conference part of the festival, there will be a promotion of the third edition of the ADBOOKA publication, as well as the annual award ceremony of the professional awards CACTUS 2021 and CACTUS Talents (powered by A1 Serbia).
Biographies of lecturers are available on the website https://kaktus.rs/
The CAKTUS 2021 festival was supported by over 50 media houses from the entire region, as well as the companies Mercator-S, Pepsico – Marbo Product, Frikom, Ušće Shopping Center, MediGroup, Tehnomanija, Neoplanta, Grand kafa and Jaffa Crvenka. The golden sponsor of the festival is A1 Serbia, the silver sponsors are Forma Ideale and Mastercard, while this year the bronze sponsors are Dijamant and Glovo. The friend of the festival is Coca-Cola HBC Serbia. The partners of the festival are agencies – Ovation BBDO, Headline, Drive Agency, Info Media Group, Alma Quattro and DPC Networks. The festival was also supported by Nova Communications, Represent System, Propulsion and Propix.