Greek sovereign land includes 6,000 islands and islets scattered in the Aegean and Ionian Seas, of which only 170 islands are inhabited. This is a truly unique phenomenon for the European continent
The Greek Archipelago takes up 7,500 km of the country's total 16,000 km coastline, offering a highly diversified landscape: beaches stretching over many kilometers, sheltered bays and coves, sandy beaches with sand-dunes, pebble beaches, coastal caves with steep rocks and dark colored sand typical of volcanic soil and coastal wetlands. There are six island groups to keep in mind: The Ionian Islands, The Cyclades, The Sporades, The Dodecanese, The Saronic Islands, The North Aegean Islands and the islands of Crete and Evia, the two largest Greek Islands.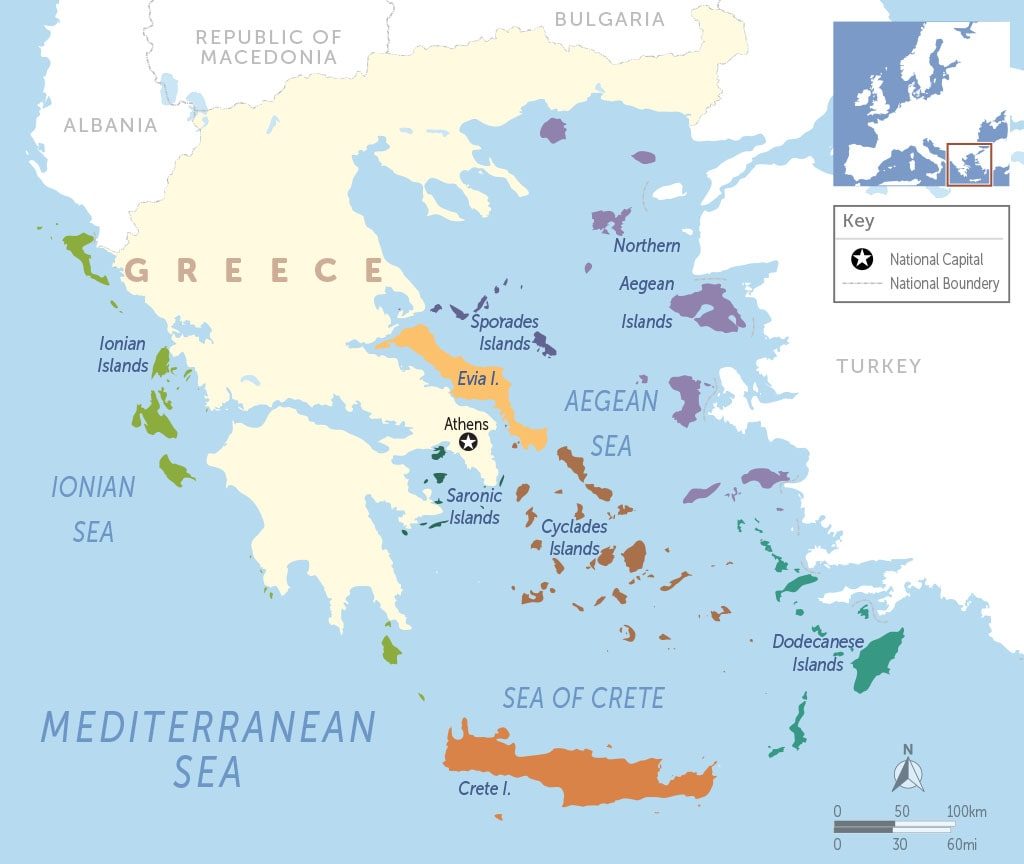 Each of these groups is distinct in character and architectural style.
IONIAN ISLANDS
Zakynthos, Corfu, Ithaca, Kythera, Lefkada, Kefalonia, Paxi (or Paxos)
Scattered off the western coastline of central Greece and to the south of Peloponnese, gentle, fertile, mountainous and beautiful the Ionian Islands are an island group comprising large and small islands, facing Sicily in the Ionian Sea.
Wetter off-season than the Aegean islands, and a shorter summer season – hence the greenery! These are the islands to go to if you don't like the wind. The calm water and sensational swimming attract the yachters. Some sandy beaches, mostly clear, pebbly coves and limestone cliffs and grottoes. Italianate villages with tiled roofs and pastel-coloured houses framed with cypresses, olive groves and pine trees. The best known Ionian islands are Corfu, Zakynthos and Kefallonia.
CYCLADES
Mykonos, Tinos, Sifnos, Syros, Serifos, Paros, Antiparos, Santorini, Kea, Andros, Koufonisia, Milos, Naxos, Amorgos (Ios, Folegandros and others)
The most famous island group in the Aegean Sea comprises some of the most beautiful islands in the world! Gorgeous sandy beaches, architecture in white and blue, traditional lifestyle, folk music, warm, hospitable people and barren landscapes with isolated chapels turn a trip to the Cyclades into a lifetime experience.
These are the classic Greek islands of countless posters, films and postcards: White-washed villages, sugar-cube houses, blue domed churches, these islands are often the repositories of most of Greece's best preserved island traditions and deserve their iconic status. Mykonos and Santorini are the King and Queen of these islands. Photogenic, hip and picturesque. The late and early season are great here as the weather is calmer and there is enough life until late in the season for things to be open. Mykonos is the internationally cosmopolitan island while Tinos, which is the opposite of it, is the religious pilgrimage island of the Virgin Mary.
SPORADES
Skiathos, Skopelos, Alonnissos & Skyros
They are close to Volos and Pelion peninsula. Islands here are calm, green, with white houses with tiled roofs and wooden balconies. The major Sporades islands are Skiathos and Skopelos. Skiathos is very cosmopolitan. In addition, there are also several minor, uninhabited islands. The Sporades group increased in popularity because of the Mamma Mia movie. It was filmed in Skiathos, Skopelos and certain areas of Pelion.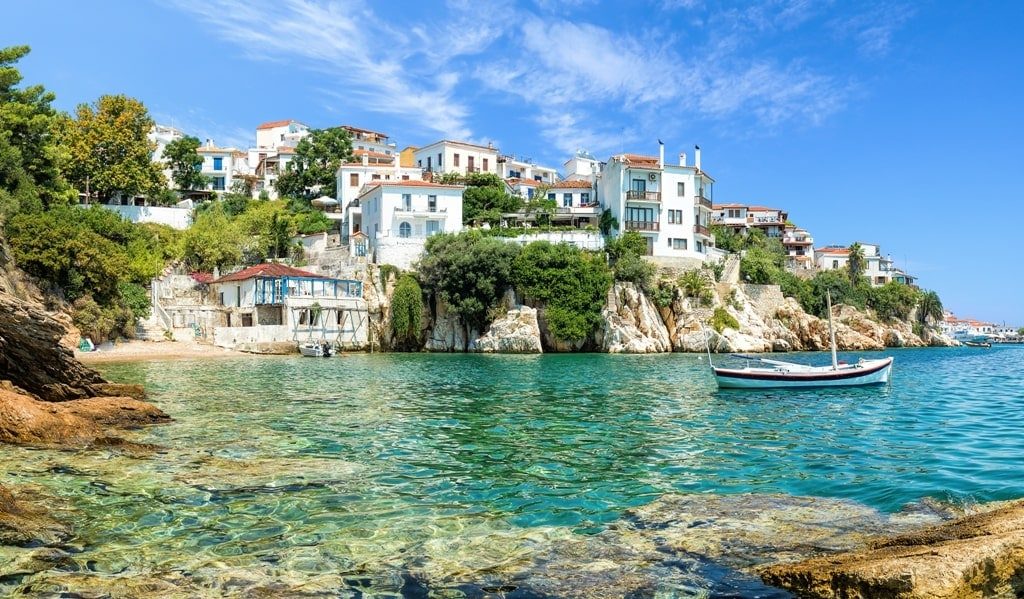 Emerald waters and a salty sea breeze keep you company on the most carefree of yachting holidays. You'll swim on the crest of silvery waves with dolphins as playmates, explore unspoilt beaches, discover a brand new passion for fishing, find the perfect spot in a calm, windless harbour and succumb to the ruby sunset, a cocktail at hand. In Skopelos, you can kick back and relax, enjoy nature, and recharge. Alonissos is even more relaxing than Skopelos because fewer people go.
DODECANESE
Agathonisi, Astypalaia, Chalki, Kalymnos, Karpathos, Kasos, Kastellorizo, Kos, Lipsi, Leros, Nisyros, Patmos, Rhodes, Symi, Tilos
The island complex in south-eastern Aegean is the sunniest corner in Greece. Twelve large islands and numerous smaller ones with crystal clear waters, sandy or pebbly beaches, important archaeological finds, medieval monuments and unique traditional settlements are waiting to be discovered.
Closer to Turkey than Greece, these islands have a long and rich history, with traces from classical Greek times through Byzantium, the Crusaders, Venetians and Ottomans. These islands lie outside the main path of the "Meltemi" wind, but still enjoy some stiff breezes. While some of the Dodecanese are popular and busy, others are quiet even in summer and are ideal destinations if you want to relax. The most famous Dodecanese islands are Rhodes, Kos and Patmos. All in all, get ready for some fantastic landscapes, medieval castles, interesting monasteries and beautiful, quaint villages.
SARONIC/ARGOSARONIC
Hydra, Spetses, Poros, Aegina, Porto Heli, Kilada, Salamina, Agistri
The Peloponnese's east shoreline and the islands dotting the Argolic & Saronic Gulf waters are popular tourist destinations in close proximity to Athens. Of all the Greek island groups, the Saronic islands are the closest to Athens. In fact, you can even reach them on a day trip from Piraeus. Although they are so close to each other, the Saronic islands are quite diverse. If you have very limited time in Greece, but definitely want to go to one or two Greek islands, the Saronic islands are a great option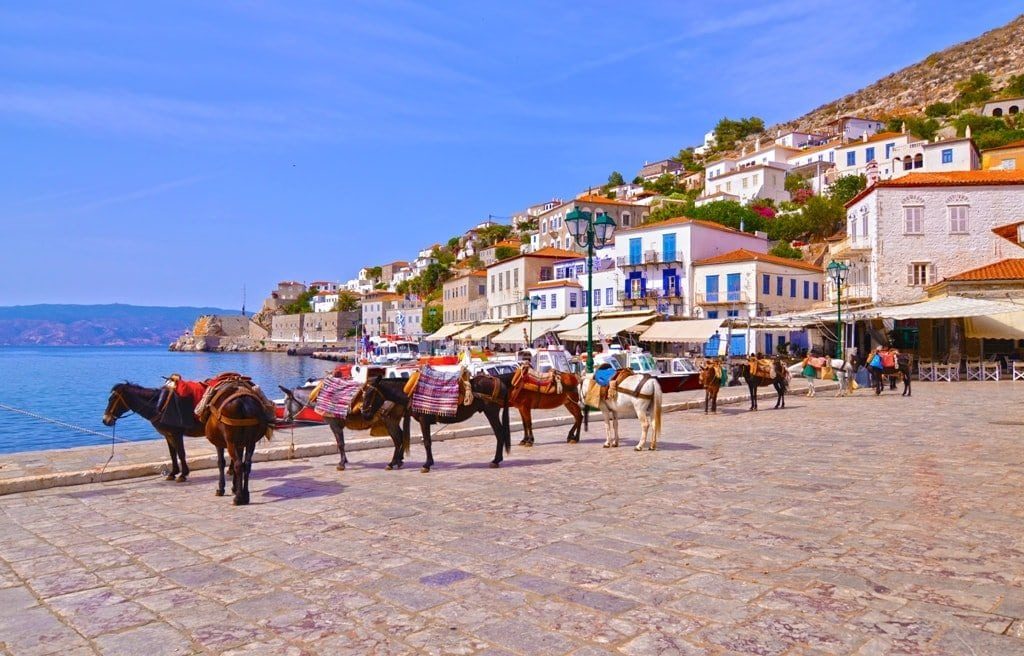 Spetses – is known as the Hamptons of Athens – easy to get to, greener and gentler than Hydra, it has always been a popular island for summer houses – relaxed but with a rather elegant social life. These islands can offer their visitors memorable experiences that include views of beautiful land & seascapes, impressive archaeological sites, museums, stately homes, picturesque villages and wonderful beaches.
NORTH AEGEAN ISLANDS
Lesbos, Chios, Psara, Oinousses, Ikaria, Fournoi, Lemnos, Agios Efstratios, Samos, Samothraki, Thassos
Situated very close to Asia Minor, the coast of Turkey, the North Aegean Islands have a charm of their own. Most were powerful naval hubs in previous centuries and very prominent in the 1821 War of Independence. Several are mentioned in Homer and other ancient writers' works or are the setting for several Ancient Greek myths. There is astounding beauty to be discovered in each one, from crystal clear waters to beautiful beaches, green rolling hills and valleys, and traditional villages preserved through time.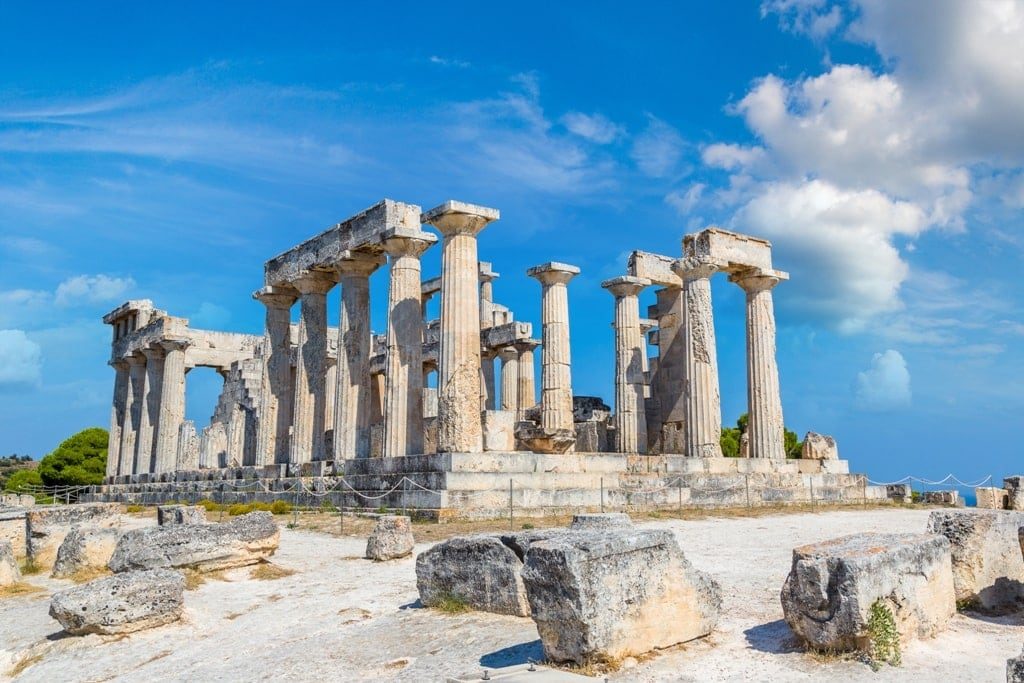 If you are a snorkelling fan, Oinousses is for you, a popular destination due to its rich sea life and relaxed, laid back atmosphere. Ikaria is the island where Daedalus and Icarus were before Icarus took his deadly flight too close to the sun and fell in Ikaria's waters. Lemnos is the island of the god of fire, Hephaestus. Visit its volcanic areas and highly praised lakes for their natural beauty, and stay for the fresh fish and fun, vibrant village life.
Crete Island
Crete is the biggest island in Greece and the most populated one. Large enough to feel like inland, Crete is a holiday destination on its own. There are innumerable unique things to enjoy in Crete, from two surreally beautiful pink-sand beaches to medieval cities, to palm forests, to mountaintops that remain snow-capped for a big part of the year.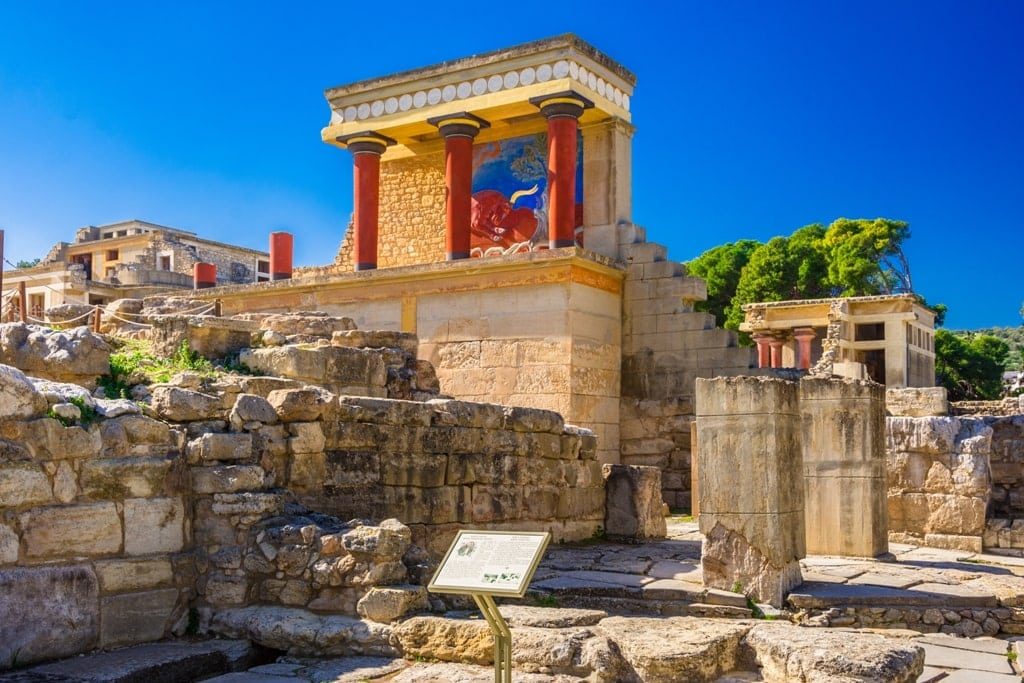 Crete is famous for its ancient Minoan palaces of Knossos and Phaistos, but those are only the beginning of its millennia-old history which you can enjoy in various sites and museums. It is also famous for its delicious local cuisine revolving around olive oil, special herbs, special local cheeses, and grilled seafood and meat. It is also known for its astounding natural beauty and the richness of its folklore and traditions, from local dances you can see performed everywhere to entire days-long festivals and events.
Crete is a time-capsule, an environmental conservation hub, a civilization and heritage live museum, and a culinary symphony you must experience yourself in order to fathom.
Evia Island
Evia (or Euboea) is the second-largest island of Greece after Crete. Its name means "the land where oxen live well" and it is mentioned several times in different contexts in the works and legends of Ancient Greeks. It is also the one island you can drive to from Athens, via the seaside town of Halkida!
Evia, just like Crete, is rich in archaeological sites and history through the ages. It is extremely naturally beautiful, with forests, rivers, wetlands, and beaches that boast emerald, crystal clear waters.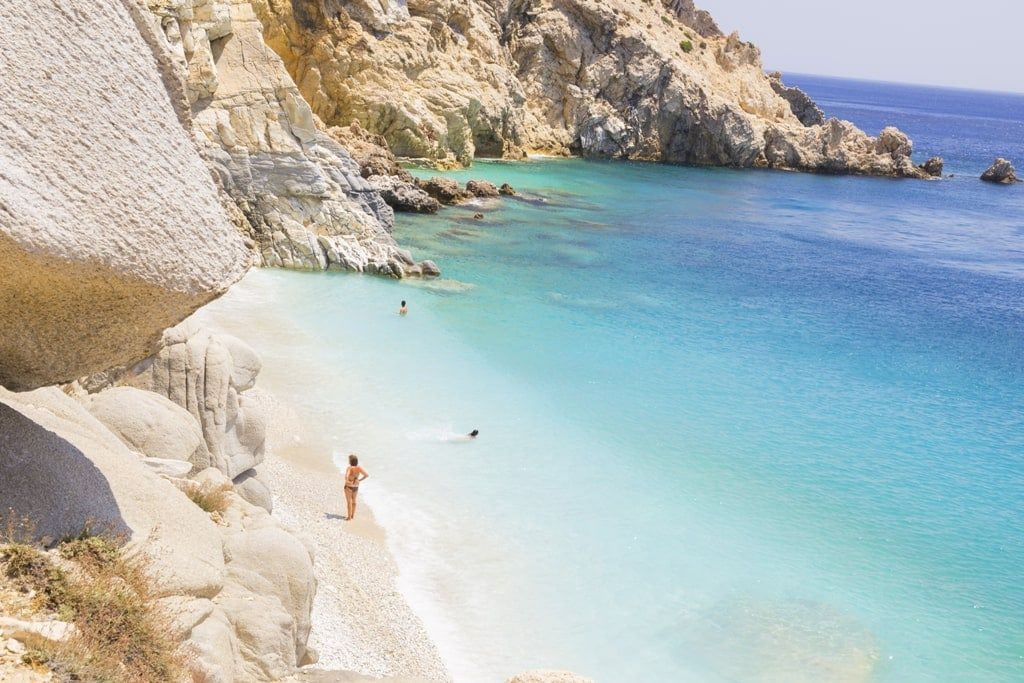 Evia is famous for its hot springs in Edipsos, its Venetian fortresses, and castles in towns like Oktonia, Karystos, and Marmari, great fish and seaside experiences in Eretria, beer microbreweries to sample exquisite local beers in Orologio, and a lot more. Evia is a gem to be discovered, and just like Crete, you will be better off if you keep everything else off the menu in order to experience it to the fullest.