Trade is increasing and the political dialogue has reached a more advanced stage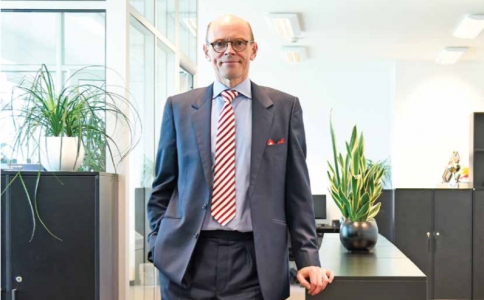 Norway will celebrate its national day in May, this was a reason to talk with the H.E. Arne Sannes Bjørnstad, Ambassador of the Kingdom of Norway to Serbia. Relations between Norway and Serbia are very good. A central part of this is the broad project cooperation between the countries since 2000. Serbia is an important partner for Norwegian efforts to support regional cooperation and help further the European integration of the region. Important priorities in this cooperation are energy and environmental issues, reform of the security, justice and domestic sectors, strengthening of independent control- and regulatory agencies and gender and minority issues.
Although not a member of the EU, Norway actively supports Serbia on its way to joining the EU. How would you rate the results Serbia has made so far in that respect?
— Much has been done and Serbia is closer to membership than ever before, but it is important not to forget that Serbia is still in the beginning of the process. Many important chapters are yet to be opened. It is easy to focus attention to the politically more exciting chapters, but no one should underestimate the amount of work necessary to fulfil the demands of seemingly technical chapters. EU food safety standards will bring great benefits, but it will be a very difficult process, as will applying EU regulations on public procurement and state aid to companies. And it isn't enough to catch up with EU standards as it is today. EU is constantly moving forward. It is a bit like taking part in a run where the main field has started with an advantage – you must keep a higher speed than the others just to catch up with them. It is hard, but others have done it before Serbia and I am however sure that Serbia will catch up with the EU and join within some few years. However, the reforms must continue with at least the same pace as today and more must be done to ensure efficient implementation of the reforms.
How do you see the current state of the economic and the political relations of our two countries?
— Trade is increasing and the political dialogue has reached a more advanced stage. By advanced stage, I mean that we exchange views and cooperate more easily and on a wider range of issues than before. We agree on many issues, but not on all, but disagreements does not prevent neither constructive discussions nor cooperation where we share a common interest. Norway is one of Serbia's most important trade partners. According to your data, what did the trade between Norway and Serbia amount to last year? What did Serbia import the most and what did it export the most to Norway? — While the Serbian export has remained at around 20 million Euro annually since 2013, Norwegian exports to Serbia has tripled in the same period, from 14 million Euro in 2013 to 42,5 million Euro in 2018. Honey and unprocessed frozen raspberries represent almost a quarter of Serbian export to Norway, however there is also a considerable percentage of engine and machine parts, hydraulics and plastic mass products exported to Norway. More than 70% of the Norwegian export to Serbia are chemical products, followed by fish – predominantly salmon and mackerel.
Norway has doubled its aid to Serbia. Will there be a change in the priorities and how this money will be spent?
— We want to contribute to improved living standards in Serbia, and especially for those living in the poorer parts of the country. That is why job creation and support for basic public services will continue to have a high priority. But we also believe that European integration is the most efficient and sustainable way for Serbia to reach higher living standards. Just a look at the living standards of EU and EFTA (Norway, Switzerland, Iceland and Lichtenstein) countries shows what Serbia has missed by not being being fully part of the European integration. Therefore, assistance of different kind to the efforts Serbia is making towards fulfilling the criteria for EU membership will remain a priority. We have identified digitalisation as a third priority. The Serbian government is rightly pointing to the benefits of offering public services electronically. We have been involved in some such projects and we expect to continue, but our main focus with the digitalisation agenda now is to lessen the risks. ICT bring with its advantages, but also risks in the form of vulnerability to everything from technical hick-ups to massive cyber-attacks. Before supporting further digitisation, Norway has proposed to assist Serbia in establishing a framework for protection of public networks and data that might not be secret in the sense of national security narrowly defined, but important for the good functioning of the Serbian state. We believe this is a good insurance policy, but it will also reduce the perceived risk of doing business in Serbia.
How many Norwegian companies do currently do business in Serbia How present are Serbian companies in Norway?
— There are, unfortunately, not that many Norwegian companies operating in Serbia, and we feel the void after Telenor Serbia was sold. However, Norwegian companies operate their customer services from Serbia, while others offer engineering and ICT services or use the highly qualified Serbian workforce for product development or health services. We do see a continued, stable interest in the Serbian market from potential investors and buyers in Norway. Norwegian investments however mostly go to EU member states, as membership guarantees stability and a level playing field. Providing that Serbia continues its way towards EU membership by harmonizing its legislation with the European regulations and practices, and thereby guaranteeing a more predictable business environment, transparency and a level playing field, I am sure more will jump off the fence and invest in Serbia. As I have already said, much has already been done, but Serbia is still in the beginning of its process of EU integration. It is important to remember that Serbia's main competitors for investments are its EU neighbours, and they have an advantage through their membership. By not being member of neither EU nor NATO, Serbia is most notably losing out when it comes to investments in high tech industries or investments where management of sensitive data – personal data or business information – is important. This issue is however also to a certain degree linked to what I already said about information security in Serbia. I would however like to draw attention to an increasing interest in Serbia as a travel destination for Norwegians. The airline company "Norwegian" has direct flights to/from Belgrade three times per week, and the flights are very often full. Serbia has a lot to offer tourists, so I would expect the number of Norwegian tourists to increase.
How do you comment on the situation between Belgrade and Priština?
— I just hope that the talks towards a normalisation will soon be back on track. Normalisation would give a boost to the economy and not least reduce the risk for future conflict. Norway is very active in our country in various fields, from education, social inclusion, culture, to ecology and other areas. Could we announce any new activities of the Embassy in Serbia? — We will continue more or less as before, but we see a huge potential in digitalisation. However, digitalisation creates vulnerabilities as well as increased efficiency. That is why we find it prudent to begin with assisting Serbia in setting up a better system for information security, following EU standards, before investing in expensive equipment. The substantial increase in funds will however be used in the poorer part of the country.
SERBS IN NORWAY
Increasingly more citizens of Serbia have been leaving for Norway in the past years looking for a better job. Are there statistics about the precise number of people and in which fields there is a deficit of workforce in Norway?
— Officially, I think there are about 7 000 permanent residents in Norway, including Norwegian citizens, who have Serbia as place of birth. This is twice as many as in 2014. We don't have good statistics on deficits in the labour market, but generally Norway needs both experienced, qualified artisans and highly educated personell in engineering and the health sector.