While seeking a quick transition to green growth, Korea is trying to become a fast mover, if not the first mover, and to share its experiences as a bridge connecting developed and developing countries by joining international joint efforts such as P4G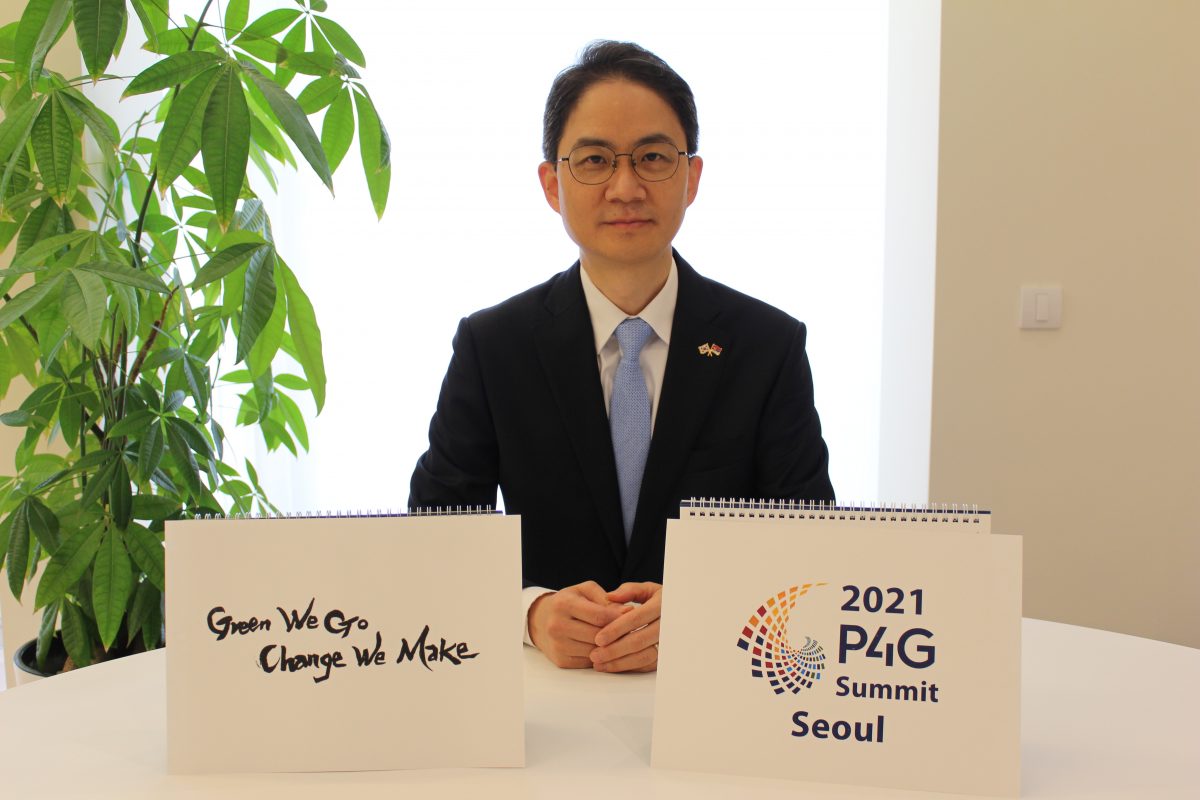 With a sense of urgency for leadership and accelerated actions to meet the goals set by the SDGs and the Paris Agreement, the inaugural P4G summit was held successfully in Copenhagen in 2018. This year, the Republic Korea hosted the 2nd Summit with the slogan "Green We Go, Change We Make" and under the main theme "Inclusive Green Recovery towards Carbon Neutrality." We spoke with H.E. Hyoung-chan Choe, Ambassador of the Republic of Korea to Serbia. about this important topic as well as about cooperation between our two countries.
Your Excellency, how would you assess overall cooperation between our two countries?
Even though Korea and Serbia are geographically located far away each other, our two countries have significantly developed ever-stronger relationship by deepening and widening cooperation in various fields such as political, economic, and cultural areas over the past three decades. As we have developed the relationship more favorable, there are no outstanding political or diplomatic issues for our two countries to seriously engage with. In particular, we have recently been witnessing a significant upward trend in economic cooperation. Korea's direct investment in Serbia is expanding not only in volume, but also in scope.
While we grappled with the COVID-19 pandemic, Korea and Serbia haven't stopped helping each other even during those difficult times. Last year while international flights were suspended, Serbian government made a few flights available for stranded Korean nationals to go back home and get reunited with their family. Korean Government was also very pleased to donate $300,000-worth of medical equipment including test kits. This year, I myself visited several municipalities and healthcare centers in Serbia to provide protective masks for their imminent use. I hope our friendly relations will be even more strengthened based on mutual respect and cooperation in the years to come.
What are the main pillars when we are speaking about our economic cooperation, and is there any sectors in which we can improve cooperation?
I think the main pillar of our economic cooperation lies in the expansion of investment by Korean companies to Serbia. During a relatively short period of around 10 years, Korean investment accumulated to $200 million with the employment of around 7,000 Serbian people.  Last April, another Korean investor, Kyungshin Cable, has successfully begun operation of a newly-built factory in Smederevska Palanka, which we expect will contribute to growing employment and economy of the region. It is evident that Korean companies are looking into Serbia as a potential destination of overseas investment as Serbia remains ready to offer support and incentives more than any other parties do in the region.
---

As governments seek for recovery packages, we need to make sure that this time around, we pursue "green recovery" that will help us build back economy in a sustainable manner"

---
In this regard, it was very timely and meaningful for the Serbian government to recently host an online workshop inviting Korean companies to give them a better understanding about the investment environment of Serbia. As we discussed at the workshop, in addition to the manufacturing sector, the scope of economic cooperation can be expanded to the new prominent areas such as R&D, Smart City, renewable energy etc.
Korea hosted P4G Summit. What is P4G?
P4G, which stands for Partnering for Green Growth and the Global Goals 2030, is a global platform to develop solutions to meet the Sustainable Development Goals (SDGs) adopted by the UN member states and the Paris Climate Agreement. In particular, P4G aims to address solutions on the five sectors of SDGs -food, water, energy, cities, and circular economy-which are closely related to climate change with the participation of governments and international organizations as well as business partners and civil societies in the private sector.
Governments propose policy directions and provide initial funding; companies carry out direct actions through investment; and civil societies come up with innovative ideas and conduct monitoring. With such global public-private partnership, P4G develops practical cooperative projects and responds to the imminent threat of climate change by supporting many countries, particularly the developing ones.
As the host, what are Korea's major goals to achieve by hosting the summit?
The year 2021 will be a special year for the international society in its endeavor to overcome climate change crisis. At the end of 2020, countries officially submitted their ten-year goals to reduce greenhouse gases by 2030 in accordance with the 2015 Paris Agreement. Therefore, 2021 will be the first year when countries embark on the implementation of their own goals to respond to climate change.
Seoul summit provided an opportunity to tighten the bonds of the international community for the sake of the implementation of the Paris Agreement and the SDGs, and take actions rigorously to build back better and greener in the post-COVID world. We also hope that the Seoul summit will serve as a stepping stone towards the 26th UN Climate Change Conference of the Parties (COP26) which will be hosted by U.K. in November.
Q: How many projects are active now? Please show us some examples.
There are more than 50 P4G partnership projects on-going in many developing countries in the world focusing on the five sectors of SDGs. If I take one example, a project named ZEBRA (Zero Emission Bus Rapid-deployment Accelerator) is being implemented in Latin America. As public transportation system is the major source of air pollution in many mega cities in Latin America such as Sao Paulo, Brazil and Medellin, Colombia, these cities introduced electric buses with the support of P4G partnership. Since ZEBRA has been launched only recently, electric buses account for only less than 1% of all public buses in Latin America. With this project, however, more electric buses will be operating on the road and this project is expected to contribute to tackling global warming by reducing carbon emissions across Latin America.
---

Our two countries may expand cooperation by exchanging environmental information and expertise, facilitating technology transfer, or implementing joint projects"

---
Why do people talk about pandemic when they talk about economic recovery? Do you think there are any correlations between the outbreak of COVID-19 and climate change?
According to the Harvard School of Public Health, there is no direct evidence that climate change is influencing the spread of COVID-19, but it insists that many of the root causes of climate change also increase the risk of pandemics. For example, deforestation is the largest cause of habitat loss which forces animals to migrate and potentially contact other animals or people and share germs. Therefore, our actions to respond to climate crisis will also help to prevent the spread of infectious diseases, and that is why the Harvard School of Public Health strongly suggests that climate change and global health policy shouldn't be treated as separate issues.
As we struggle to overcome the economic difficulties caused by the pandemic, we need to understand that this is an opportunity for us to reset what we have been doing wrong by going "green."
Korea is one of leading economies in the world. Why is Korea so active in addressing the green growth agenda?
Korea used to be a country that exerted all efforts focused on accomplishing industrialization and economic development goals. As a result, Korea became one of the leading economies within rather a short period time from a devastated state caused by the Korean War. At the same time, however, rapid economic development mainly based on fossil fuel caused air pollution and steady increase of average temperature. Then, we realized that it was not the right path and we need to change course to go green even if it was a daunting task.
In line with this acknowledgement, Korea announced "Green New Deal" strategy together with "Digital New Deal" strategy last year to recover its economy from the COVID-19 pandemic in a greener way and to achieve the goals of Paris Agreement.
Is there any room for cooperation between Serbia and your country in this topic?
The governments of Korea and Serbia signed a "MoU on Environmental Cooperation" in 2018 to promote long-term cooperation in the field of the environment including nature protection, climate change, air pollution, waste and chemical management and water quality. Based on our common recognition towards climate change, our two countries may expand cooperation by exchanging environmental information and expertise, facilitating technology transfer, or implementing joint projects as prescribed in the MoU.
As far as I understand, Serbian government also set "Digital Transformation" and "Green Deal" as its policy priority and set a goal to produce 40% of energy from renewable sources by 2040. It is also encouraging that the National Assembly of Serbia adopted the new "Law on Climate Change" and "Law on the Use of Renewable Energy Source" to better respond to climate change. As we tackle with climate change, it is expected that there will be more Korean companies who are interested in investing in sectors related to environmental protection such as industrial waste management or renewable energy projects in Serbia.
---
Individual contribution
What do you think we can do individually to join the global campaign to tackle climate change?
I think everyone knows the importance of de-carbonization. We may help reduce carbon emissions by practicing simple things in our daily life such as reducing and recycling garbage, saving water by shortening shower time, and using an eco-bag in a market. And, I'm personally very pleased to have attended the "Green Serbia" tree-planting campaign organized by Color Media Communications. It is a small step individually, but if combined globally, it would be a great step towards a better future for our next generation.
---