Sweden is active particularly within the environmental and police reforms and can, so far, report substantial progress
Diplomacy&Commerce magazine spoke with Swedish Ambassador to Serbia, H.E.Jan Lundin, about bilateral and economic cooperation between Sweden and Serbia, Swedish and Serbian external trade and investments, as well as about examples of different CSR activities of Swedish companies. When asked how much have global trends, such as climate change, the EU and the priorities of the Swedish policy and diplomatic goals been affected by the pandemic, he pointed out: "These are complicated times for the kind of sustainable and value-based foreign policy Sweden is advocating. Still, I believe that the answer to all new challenges, in the end, is more international cooperation, not less".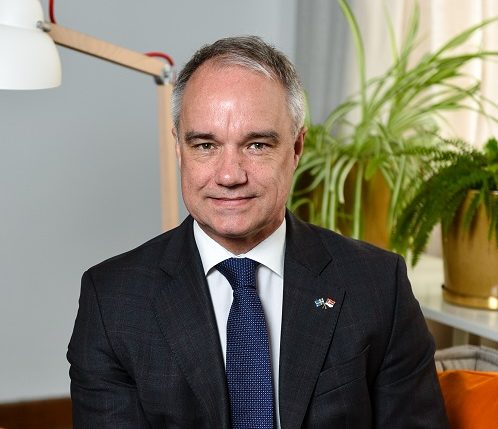 To what extent global trends dominate the bilateral relations between our two countries nowadays?
 To some extent, for sure. The EU steel quotas against non-EU producers, including Serbian ones, is one example, and this is also where the US-China trade tensions play a role. When the US increases steel customs tariffs by 25% it obviously affects the global market, and the EU tries to find a position for its steel import which balances all interests in a decent way, including the interests of the Smederevo Ironworks.
How are previously negotiated goals, projects and activities affected by the current pandemic, if at all?
Everything has slowed down. This is regrettable, but still, the best option considering that public health is at stake. The upside is that perhaps we shall be more efficient and environmentally sustainable when this crisis is over, travelling less and using video conferencing more.
Many people are debating whether the Serbian society moved further away from its pro-European perspective based on the support the country received during the pandemic and its aftermath. How would you comment on that?
 I think that this belief is based on unawareness of how deep and comprehensive the EU-Serbia cooperation is. The incorporation of the EU legislation in all Serbian legislative areas of EU significance is ongoing and has an impact far beyond any other type of assistance such as infrastructure or military equipment. Sweden is active in particular in environmental reform and police reform and can report substantial progress so far. The EU integration process is not stopping, and the opening and closing of the so-called acquis chapters are only blips on the computer screen in this regard. It is a long-term process with a rather happy end. Even now the economy and rule of law are gradually improving as the reforms take hold.
Would you say that certain features of the state of emergency during the COVID-19 pandemic have further affected the rule of law, freedom of expression and democracy?
I see the state of emergency as fairly transitory, and not fundamentally damaging to the issues mentioned. It is a sad fact, though, that the coming elections shall not take place at a perfect time.
Which topic would you expect to be in the EU and Swedish focus after the new Serbian government is established?
Great challenges remain in particular with respect to the rule of law. We are awaiting necessary constitutional changes, but also a so-called "track record", i.e. proof of the fact that the legal system not only contains the right rules and procedures but produces outcomes which are to be expected following the rules. Here, we still see some problems, which are hampering progress in other areas. It is an especially difficult area since the Government can – or should – only affect it indirectly, through the rule-setting process. Sometimes it requires a change of culture, and this takes time.
Could you tell us about the developments related to Nordic and specifically Swedish and Serbian external trade and investments?
I can only speak for Sweden. We have noticed a constant increase in the interest shown by Swedish investors. Serbian wage levels are globally competitive, and the concept of "nearshoring", i.e. establishing production facilities not too far from the EU borders in a more complicated international trade environment certainly makes sense.
Many companies have been greatly hurt by the COVID-19 pandemic. Some of them, however, found the strength to reach out to their communities by continuing to implement high CSR standards. Which examples of the CSR activities of Swedish companies in Serbia would you like to single out? 
There are several I would like to single out. IKEA, of course, comes to mind. The company has been quite generous with in-kind support during the crisis and even helped with setting up a special COVID hospital in Niš. Tetra Pak has assisted the Red Cross and the hospital sector in its home town of Gornji Milanovac. The air conditioning solutions company Eurocons Group has helped to build clean rooms for hospitals. I am sure there are many more examples. We all want to help, and Swedish companies are no different.
---
Economic cooperation 
Economic cooperation between the two countries is steadily increasing, although it started from a low base. We don't yet have the final figures for 2019, but in 2018, the overall trade was 322 million euro, which was a considerable increase in 2017, when it stood at 287 million. Over a hundred Swedish companies are doing business in Serbia, many of them with mixed Swedish and Serbian capital. The arrival of IKEA and its plans to invest another 50 million euro this year and next in the development of a retail park next to their store, which opened in 2017, is an important segment of the economic cooperation between our two countries. Companies such as Tetra Pak, Ericsson, Securitas and Transcom are all here. We could also mention some of the most recent investments, such as the arrival of Rimaster in Paraćin and NIBE Industier AB's acquisition of the Gorenje TIKI hot water tank production plant in Stara Pazova. There are many more companies across various sectors that are facilitating the flow of business and trade cooperation between our two countries, and we hope that this will continue to expand.
---
Drive for environmental democracy with over 3mln EUR
Sweden and Serbia have strong cooperation on Environment and Climate Change. The focus of the cooperation is to support EU environmental reform in Serbia, to benefit people's health, a clean environment and a sustainable economy.
In January this year, Minister Trivan and the Ambassador of Sweden, H.E. Jan Lundin signed the extension of two cooperation agreements. Additionally, Sweden has recently concluded three other agreements supporting projects related to environment and climate reform in Serbia. In total, these five agreements are valued at 3.6 mil EUR. Sweden supports the Ministry of Environmental Protection in areas covering solid waste, wastewater, chemicals, industrial emission, strategic environmental financing and citizen participation in environmental decision-making.
The two agreements, signed by Minister Trivan and Ambassador Lundin, concern extension and additional funding – Priority Environmental Infrastructure for Development (PEID) to finalize the drafting of tendering documents for wastewater treatment plants in Niš and Čačak and the Chemical Management in Serbia that aims to improve the digitalization of the chemical management and harmonizing chemical policy with the EU policy. More than 1,000 chemical companies in Serbia are today using the e-platforms already established under this project. The new phase will also focus on improving inspections of chemical management.
Minister Goran Trivan said that cooperation with Sweden in the field of environmental protection was very important precisely because of Sweden's environmental achievements. "Sweden is one of the most important countries in the world in setting environmental standards. Our cooperation has been going for years, and we want to continue with implementing these agreements – wastewater treatment plants are the first priority of the Ministry and the second priority is an agreement related to chemicals, which has numerous health benefits," said Minister Trivan.
"The EU and Swedish government give high priority to the environment and environmental democracy. The EU environmental package provides countries and citizens with good access to reliable environmental information. Clear action plans have been developed with the view of reaching environmental and health standards, as have clear and transparent incentives for environmental investments", said Ambassador Lundin.