My impressions of Serbia are excellent: I felt welcome from the first day, met with the authorities of course, but also with several opposition parties, various civil society stakeholders, French and Serbian businesses, cultural figures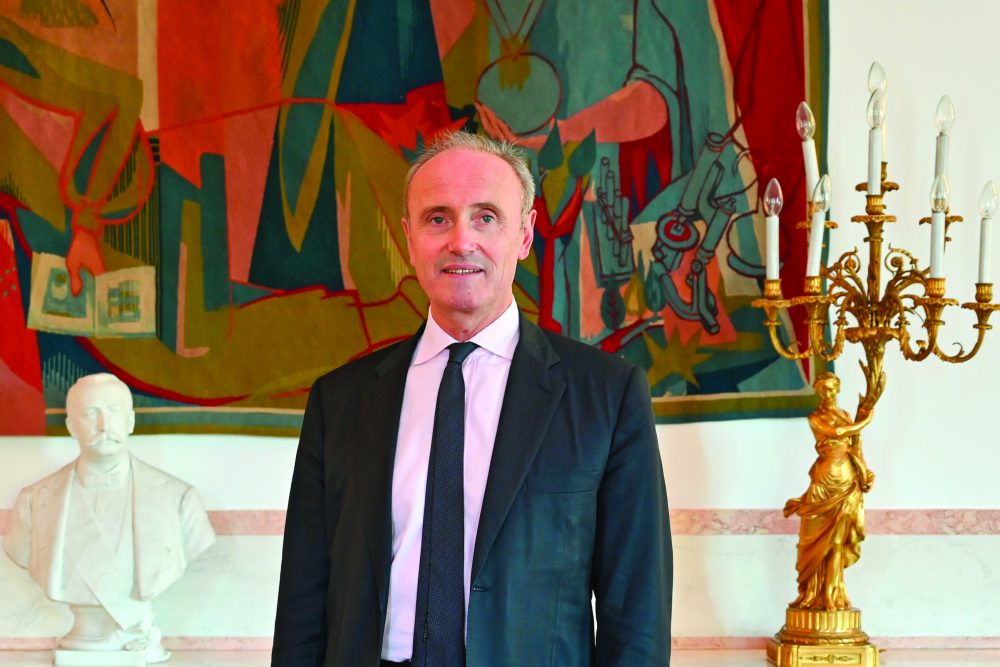 H. E. Jean-Louis FALCONI came to Serbia in September 2019. In the interview for InFocus France, H.E. Jean-Louis talks about the first imprint, political and economic cooperation, the position of Serbia in the international community and many other topics.
How much did you know about our country before you came here? How do you feel about Serbia today?
– I did come to Serbia in September 2019 and am quite new to the Balkans and Serbia in particular, though I did have knowledge on the country and its institutions while serving in EU institutions and in UN multilateral entities, for more than 20 years. This region has always been of strong interest and commitment for the EU. In my capacity of Director of EU external relations in the Ministry of Foreign affairs in Paris in 2002, I was in charge of the preparation of the Thessaloniki summit. My impressions of Serbia are excellent: I felt welcome from the first day, met with the authorities of course, but also with several opposition parties, various civil society stakeholders, French and Serbian businesses, cultural figures. I travelled several times to Nis and Novi Sad, but also to various other cities, such as Pirot, Kragujevac, Zajačar, and many more to come. I was positively surprised by the readiness of people to speak and open up, in a warm and outgoing way. At the same time, I've dug into quite a lot of complexities, of a country which has a rich history – that's the case, to some extent, of all the countries in the world – but also a country that went to many hardships, including until recently. I feel that it is still vivid in the minds. The sacrifice of the Serbian people was immense, during the first and second world wars. The tragedies of the 1990's and 2000's are not far behind either. I've quickly come to understand the "brotherhood of arms" of French and Serbian soldiers in the 1st world war was not just an expression of friendship. It still encompasses a stringent reality for the children of these heroes, who speak about it with tangible emotion.
President Macron visited Serbia in July. How important is this event and what are the concrete results of the meetings he had in Serbia?
– This visit of President Emmanuel Macron was the first of the kind in 18 years. It was high time to do so, considering the importance of Serbia for France. It is one of the closest neighboring countries to the European Union, developing at a steady speed, and which also has important challenges to tackle. France and the EU cannot afford not investing in the region. It's important to keep in mind that the EU is the first economic investor in Serbia, and by far its greatest trade partner. This should be supported by strong political ties. This visit coincides with a new strategy of France in the Balkans, a working document which was published in April 2019. This strategy, calls inter alia for more political-level contacts. The presidential visit was one of them, but so were the visits of the Defense Minister, Mrs. Florence Parly, on 13 December 2019, and of the Secretary of State for Public administration, Mr. Olivier Dussopt, who was in Belgrade on 9-10 September this year too. Other visits will follow. These political momenta give impetus to old and newer cooperation. For example, Mrs. Parly's visit was followed by a visit of the General officer for International relations, at the Chief of Staff headquarters, who discussed with his counterparts the prospect of joint military exercises, peer to peer institutional and technical cooperation etc. This really makes sense for us, as Serbia takes part in several peace-keeping missions along with French troops. The same goes with Mr. Dussopt's visit which I just mentioned. It boosted our cooperation in the field of public administration, management of careers, digitalization etc. Minister Branko Ružic went to France two months later, and the director of the French "National School of Administration" (ENA) will be in Belgrade in January, to implement the decisions taken earlier, share know-how and expertise. A full-time French resident is dedicated to this cooperation, imbedded in the Serbian Ministry of Public administration and Local Self-governments. These are off course only recent examples, but in reality our cooperation covers most of the fields: culture, language courses – about 100 000 Serbs currently learn French – student exchanges, economy, good governance, security, fight against terrorism and organized crime…
France is one of Serbia's biggest and most important trade partners. What do you think of the current state of the economic and political relations of our two countries?
– Our cooperation is good and promising in this field, but we can do better, given our potential, French know-how, Serbia's vivid economy and high scale projects. More than 120 French companies are active in Serbia, and employ about 12 000 people. This is visible to the public, with the opening ceremony in Belgrade, on 10 December, of Decathlon, our sport equipment shop network. At a bigger scale, the Nikola Tesla airport concession contract signed by Vinci Airports in 2018 is also visible. Other projects are still underway, but will play a decisive role in the future, such as the Vinca waste management facility developed by Suez. Michelin, Schneider Electric or Crédit Agricol are also developing their activities in Serbia, so are several SME's, probably less publicized, put a clear indicator of the interest of French businesses for Serbia. That's by the way another practical result of the presidential visit in the long run: it gave more visibility to Serbia in the French business environment. Investors understand that there is potential in Serbia and feel encouraged to explore what is still a new market for them. I do hope that in 2019, our bilateral trade will pass the 1bn€ threshold, as we reached 950M€ in 2018. But as I said, there is still an important margin of progression.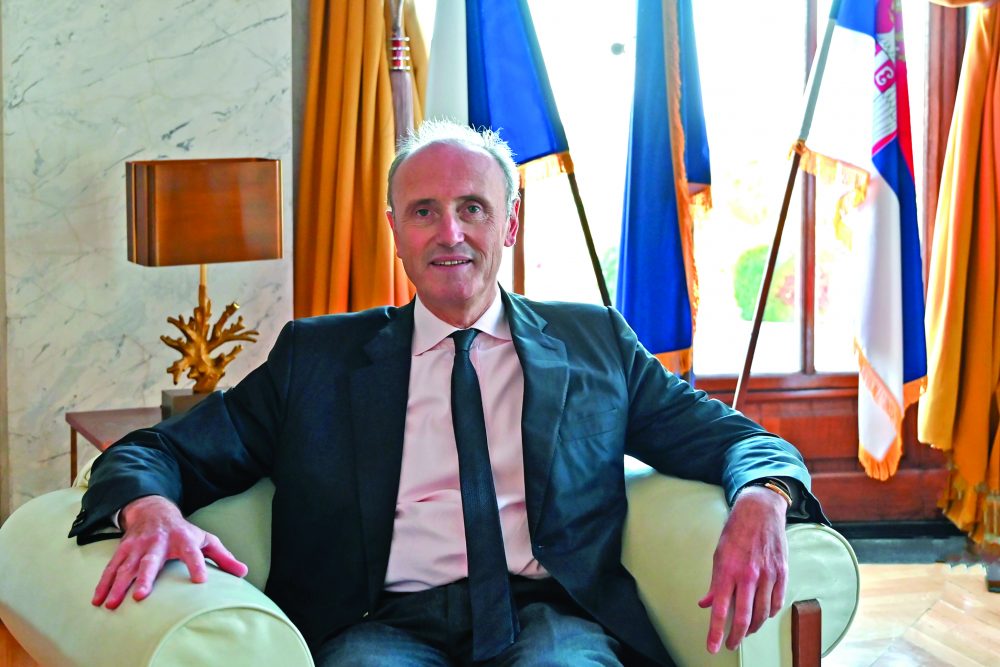 What do you think of Serbia's efforts to join the EU?
– Serbia has its place in the EU, this is a clear fact since the Thessaloniki summit in 2003, and I commend the opening of a new chapter in December 2019. The opening of 17 chapters means that much effort has been put into aligning Serbian legislation and norms with the "EU acquis". For this process to move forward in a timely manner, we would also hope to see more than two chapters closed. Significant steps should also be taken regarding rule of law, as it is at the core of EU values. Efforts are being done and should be acknowledged, but a strong political will is needed in order to build trust in public institutions, the judicial system, and political life in general. Moreover, as many already know, France is advocating a reform of the EU enlargement procedure, to make it more practical, visible and beneficial for citizens and the administration. Opening and closing chapters do have a significant impact on institutions, and this process is dearly needed. However, it is too technocratic as such for people, who cannot appreciate the added value of the EU this way. A more inclusive Erasmus program for youngsters is needed, more traveling possibilities, substantial sectorial funding when a cluster of chapters is negotiated, including giving candidate countries the right to participate in EU fora as an observer. These would be real-time improvements for a sustainable EU future. With this comes the concept of a reversible process: this means that if a candidate-state no longer works toward EU accession, these incentives should be stopped or reversed. Some scholars even suggest a provisional entry into the EU before full membership is granted. Indeed, entering the EU is not just about putting on efforts to join the club. It's about long term values and policies, without which this unique political entity could weaken overtime. Other non-papiers circulated among member states, and I'm happy to know that the debate is on the table. We are eagerly waiting for proposals from the EU Commission in January, in order to move forward in a timely and comprehensive manner, i.e. settling the reform of the accession process by the Zagreb summit in May 2020.
What issues should be a priority for the Serbian government in 2020?
– In my view, the Serbian government should keep focusing on the economic field, as macro-economic trends are very positive. The fiscal consolidation policy helped stabilize the economy and boost public finances. According to international observers, the business environment is gradually bettering, but there is still room for improvement in 2020. Reforms are necessary to improve social life and tackle several outstanding issues, such as demographic loss over the years, brain drain and worker's emigration. It is also a mystery for no-one: Serbia will soon move into an electoral process, at the local and national levels. Since my arrival, I perceived a major polarization of public opinions. A dialogue between the ruling coalition and several opposition parties, facilitated by the European parliament, took place over the last three months. It led to a series of recommendations and commitments that should be urgently fulfilled. Here again, a strong political will is necessary to open up public debates, grant freedom to mainstream media. Whatever are the results in the elections, I do hope this dialogue will resume, as there is a dear need of confidence building to soothe public life.
What activities is the French Embassy planning to carry out in Serbia?
– There will be many activities, in the political, economic, cultural spheres. Amongst the most visible events of the first semester, there will be the month of "Francophonie" in March, with a rich cultural program organized by all the Embassies who hold French as an official language. We will also organize, in April, the festival "Good France / Goût de France" around French gastronomy, in partnership with a network of participating restaurants, mostly in Belgrade, Nis and Novi Sad. Three French companies will participate in the Belgrade dance festival in March 2020 ; we will also support and accompany Novi Sad as European capital of Culture 2021.