As a Balkan country, Turkey only wants peace, stability and prosperity for the region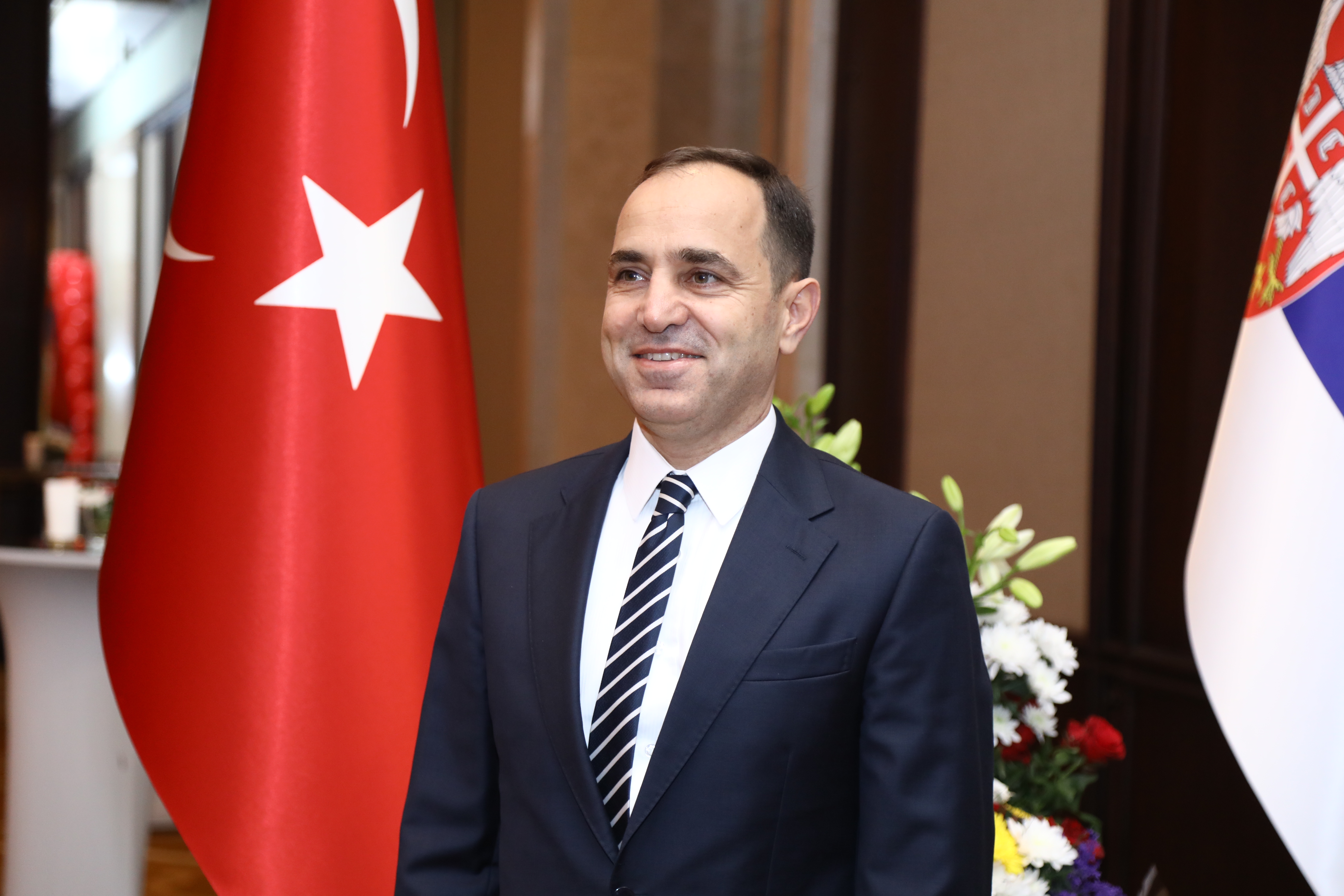 This year marked the 140th anniversary of diplomatic ties between Turkey and Serbia. In a special interview for Diplomacy&Commerce, H.E. Mr Tanju Bilgiç, the Turkish Ambassador to Serbia, talks about President Erdogan's visit to Serbia, bilateral relations and potential for cooperation.
In October, President Erdoğan paid a two-day visit to Serbia. How important is this for the relations between the two countries?
— President Erdoğan's visit on 7-8 October 2019 was successful and important in many respects. I would like to start by expressing my gratitude to President Vučić and all Serbian authorities for making the visit such a success. Turkey and Serbia have been experiencing the best period in their history of bilateral relations which are developing in every segment. The contribution of the Presidents of the two countries to these relations is huge. Both leaders are visionaries. They paved the way for us and we diplomats/bureaucrats are walking down this path. Exactly two years ago, President Erdoğan had a very successful visit to Serbia. After that visit, the trade between the two countries substantially increased. The number of Turkish businesspeople investing in Serbia has increased. The two countries have also begun to cooperate in many areas, and we have experienced frequent bilateral visits. I believe that President Erdoğan's recent visit is going to create a similar momentum. The investments made by the Turkish businesspeople in Serbia to date have exceeded $200 million and have created 8,000 new jobs. We have signed nine agreements, opened six factories and had a groundbreaking ceremony for one. Also, the groundbreaking ceremony of the Belgrade-Sarajevo high-way took place, while the renovation of the Novi Pazar-Tutin road has also begun. TIKA launched ren-ovation projects too. These are all elements that will contribute to the already positive agenda of the relations between the two countries. It was also good that the visit coincided with the 140th anniversary of the establishment of diplomatic relations between the two countries. Another important aspect of the visit in terms of relations between the two countries was that we received a positive response to our request to open a Consulate General in Novi Pazar. Sandžak region and Novi Pazar are the bridges that bring our countries closer. The opening of our Consulate General will help further develop the relations between the two countries. The High-Level Cooperation Council also had a second meeting during the President's visit and further opportunities for cooperation were discussed. Another factor that made the visit important was the Trilateral Summit among Bosnia Herzegovina, Serbia and Turkey which had not materialized for a long time. These are very important steps concerning not only our bilateral relations but also regional stability and prosperity.
What was discussed during this visit?
— As I mentioned above, very concrete steps were made during the visit. Nine separate agreements were signed in the segments such as military, security, social security and family, protection of cultural heritage, industry and technology, electronic communication and postal services, science and technology, and protection and promotion of SMEs. So, our areas of cooperation are going to expand. Several groundbreaking ceremonies that marked the beginning of road projects took place. Factories and completed renovation projects were opened. We know that the road to peace and stability in the Balkans passes through Serbia. As a Balkan country, Turkey only wants peace, stability and prosperity for the region and we view our relations solely in this context. All these topics were discussed during the visit, namely how to improve our relations and how to contribute to the region's prosperity and stability. Concrete steps have been made in this direction.
Can you elaborate on the Belgrade-Sarajevo Highway Project? What are the deadlines?
— The Belgrade-Sarajevo Highway Project is not just a road project, as President Vučić has always pointed out. It is a peace project that will connect the two countries, peoples and even hearts. Therefore, it is extremely important. This project also coincides with Turkey's approach to the Balkan region which is very clear. We want peace and stability and greater prosperity before everything else in the Balkans. It is our greatest desire to have the project completed as quickly as possible.
Turkish investors are interested in investing in Serbia. Are there any new projects on the horizon?
— The value of the investments made by Turkish busines speople in Serbia has exceeded $200 million and they have created 8,000 new jobs. The Turkey-Serbia Business Forum was also held during President Erdoğan's visit, with the aim of working towards expanding both the trade volume and investments. As I said earlier, 6 factories or new production units were opened in Priboj, Kragujevac, Žitoradje, Vladičin Han, Leskovac and Kraljevo, during the President's visit. The groundbreaking ceremony for a factory in Ćuprija took place too. Our bilateral economic and commercial ties are the driving force behind our relations. I expect new Turkish companies to invest in Serbia in the future.
So far, the Turkish Embassy has coordinated large-scale investments in Serbia. How would you describe the Serbian market and current business climate?
— Serbia offers many opportunities to Turkish investors. When you invest here, it is possible to reach wide geography without having to pay tariffs. Serbia is closer to Europe, so transportation costs decrease automatically. Besides, the Serbian state offers advantageous opportunities for foreign investors. President Vučić's efforts in this regard are admirable.
Turkey is a textbook example of a country that succeeded in maximizing its tourist potential by taking a very serious approach to this industry. What would you recommend to Serbia, as a developing tourist destination?
— Serbia is a country with strong tourism potential, as well. Also, it is located in the midst of the Balkans which makes it easy to reach it both from Europe, Turkey and the surrounding areas. It is important to facilitate travelling with infra-structure projects. Better roads, more airports and more railways should be built with this purpose in mind and I can see that Serbia is already investing a lot of effort into this. Improving accommodation facilities is another important element. Serbian people, just like the Turkish people, are very welcoming and friendly. This is also a plus for you. Besides, the knowledge of foreign languages is very good here, especially in big cities like Belgrade, Niš and Novi Sad. As tourism is ultimately a service sector, these elements are very important. I think Serbia is on the right path to improve its tourism capacity. I would also like to underline the importance of good communication and promotion strategy here.
When it comes to cultural exchange, which projects are you the proudest of? Which segments still have untapped potential, and in that sense, what are your plans for the future?
— Turkey and Serbia are cooperating in various segments with culture being one of them. We are very proud of the work that Yunus Emre Enstitüsü and TİKA do. The number of our Serbian friends who have studied Turkish at the Yunus Emre Institute has reached 900. TIKA has completed 257 projects on which it spent over $30 million to date. These include humanitarian and development assistance, as well as some renovation projects. I am the most proud of the restoration of the Ram Fortress, on which we have spent $3 million. I have witnessed that the restoration of this Fortress, which is one of the most beautiful fortresses on the Danube and it contributes greatly to the development of tourism in the region. During President Erdoğan's visit, we also signed an agreement on the reconstruction of the Kasapčić Bridge in Užice, which was destroyed during the German bombing in World War II. If we can make progress on this project before my tenure ends, I will leave Serbia much happier. I also think that the two countries should co-operate more in sports. Serbia is successful in almost every sport. Although Serbian athletes have been contributing to the Turkish sport for years, we should benefit from this potential more.
---
TURKISH STREAM GAS PIPELINE
What is happening with the Turkish Stream gas pipeline?
— The Turkish Stream project envisages the construction of a gas pipeline across the Black Sea to Turkey's territory in Europe and further onto the border with Greece. The seabed section will be 910 kilometres long and the land section will extend for 180 kilometers into Turkey. As you probably know, the seabed section was completed almost a year ago. The project is going to have two segments – the first will be used for supplying gas to the Turkish market, and the second for supplying gas to the Southern and South-eastern Europe. Each segment will have an annual capacity of 15.75 billion cubic metres.
---