Czech and Serbs will always be brothers
Czechoslovakia and Yugoslavia were born together, but they died differently – Yugoslavia in blood and Czechoslovakia following a peaceful divorce. We talked with the Czech Ambassador to Serbia, H. E. Tomáš Kuchta, about the past and future of our two countries.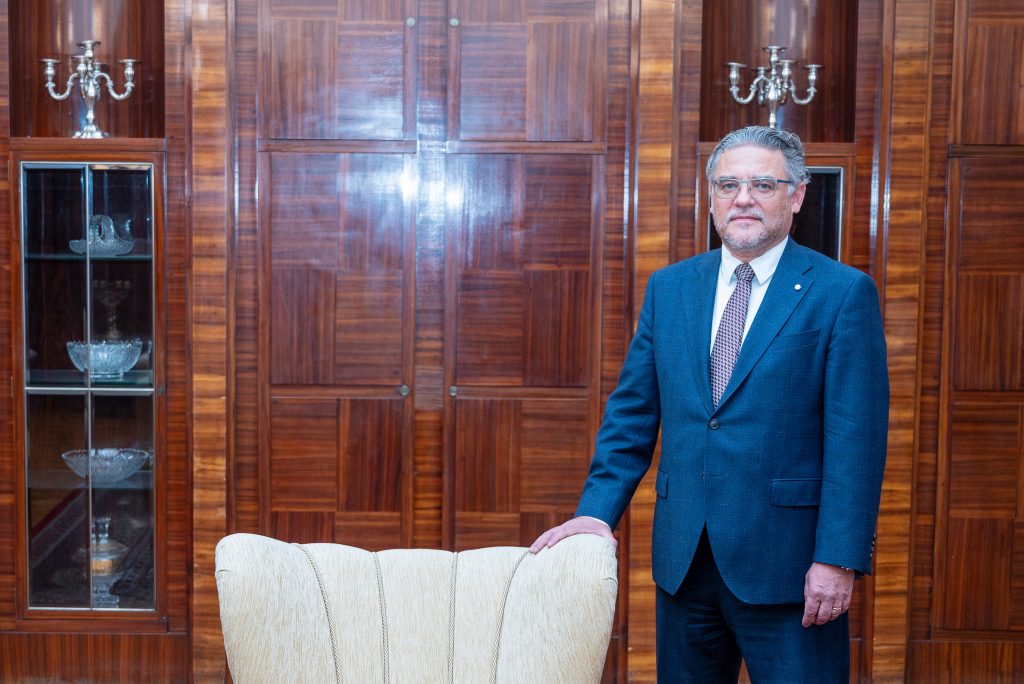 It seems that we have been heading in different directions lately. How much of the old "love" that existed prior to 1991 is left?
Our bilateral relations have always been very intense in every respect, while friendly feelings of the Czechs towards the Serbs are firmly rooted in our emotional setup. The Czechs will never forget the support they got from the Serbs after the invasion of the Five Armies of the Warsaw Pact in August 1968. I don't think that we are heading in different directions. On contrary, our bilateral contacts on all levels had been very intense before the coronavirus pandemic. I hope that the visit of Prime Minister Andrej Babiš on February 10 started a new wave of fruitful meetings of the Czech and Serbian officials. We will form an intergovernmental commission for economic cooperation, which has the task to move forward our bilateral economic relations. I hope this will take place during President Aleksandar Vučić's official visit to Prague, planned for April or early May, depending on the situation with the pandemic. We have always been the strongest supporters of the EU enlargement, consider Serbia a key country for the whole region and favour its accession to the EU. We have been committed to assisting Serbia in the fight against illegal migration and helping to improve border protection and National Immigration and asylum system in the last several years. Serbia has already received technical financial assistance from the Czech Interior Ministry, amounting to 2.5 million euro. A number of the Czech police officers in 28 contingents have been deployed for additional protection of Serbian borders over the last several years. We are willing to support your efforts farther. The plan is for our Foreign Minister to visit Serbia in late March. He will be accompanied by a delegation of businesspeople if the pandemic allows. We are also planning for your Telecommunications Minister to come to the Czech Republic also in the second half of March. There are plenty of other activities that we have in mind. All in all, I think that the relations between our two countries have never been as intense and good as they are today.
What can Serbia learn from Czechia, as its 'older sibling, about the EU accession process? 
Adapting the country's legislation is a key component and must be understood as a vital interest of all citizens of any candidate country. You have to see EU membership as a big opportunity. Serbia is a country with great potential. It has well-educated, hard-working people. So, there is no reason to think that future membership could be somehow some kind of a second-category membership. You have all the prerequisites to become a full fledged member of the EU. This is the opportunity to achieve a higher living standard thanks to the influx of foreign investments and attractive jobs all over the EU. This could be a good motivation for Serbia to integrate. Czechia, especially in the years following our accession and during the first 15 years of our EU membership, i.e. between 2004 and 2018, received net financial assistance from the EU funds of nearly 29 billion euro. We have never been as wealthy as we are today. But that's not the only change caused by the EU membership – we have managed to get rid of the greatest part of our unpleasant communist burden. The rule of law is comparatively better and the human rights of every citizen are protected by functioning laws, court rulings are rooted firmly in relevant laws, media are free, etc. Also, bilateral relations with our neighbours have never been better. Twenty-five years ago, Czechia and other Visegrád countries were in a similar situation as Serbia and other Western Balkan countries today, eager to join the European family of prosperous, peaceful and democratic states. Since our principal goals were the same, we decided to team up together and form the Visegrád Group, a quite successful regional initiative that marks its 30th anniversary. While the political dimension of the Visegrád Group has allowed us to jointly lobby for our goals in Brussels, and the activities of the International Visegrád Fund, set up in 2000, solidify the cooperation between our countries in the areas like education, culture and civil society, thus helping overcome stereotypes and possible historical burdens. We are convinced that the experience with social-economic transition and regional cooperation is transferable and applicable also to Serbia and WB6. The establishment of the Western Balkan Fund can be considered as a valuable contribution to the region's path to EU membership. The Fund can become a powerful tool in promoting cohesion and restoring the social fabric damaged by the developments in the region in the 1990s.
---
The Visegrád Group has allowed us to jointly lobby for our goals in Brussels and boost the cooperation between the V4 countries

---
We are trying to actively help Serbia, especially through bilateral development and transformation cooperation projects, as well as European instruments, such as twinning projects. Specialized cooperation programmes are managed by the Czech Ministry of Interior. These programmes relate to so-called security cooperation. Our Ministry of Industry and Trade also has its programme, while the Ministry of Finance has a technical assistance programme. Students from Serbia and other regional countries can benefit from the scholarship programme of the Czech government, which helps university students to study and get their degree for free at several Czech public universities. We also have economic diplomacy projects, co-financed by several Czech ministries. At the moment, we don't have a Czech Cultural Centre but we are working on it. A small part of our assistance to Serbia is also aimed at supporting the activities of the Czech national minority that we consider to be an important bridge between our countries. We appreciate the support of the Serbian state to this community. I do not doubt that the accession of Serbia and other countries of the Western Balkans to the EU will continue. It is based on pronounced aspirations and efforts by the regional countries, as well as on already adopted EU policy frameworks. So, let's continue in the same direction. I'm very optimistic that one day we will find ourselves as members of one EU family.
Czech culture was very popular and influential in former Yugoslavia (Kundera, Hrabal, Forman, Menzl). Many contemporary filmmakers and writers were directly inspired by their Czech counterparts. However, now, it seems that we have drifted apart a bit. How can we enhance cultural cooperation?
We have a really good plan to do that. A Czech company is preparing a project to modernize the Avala film studios. This comprehensive project does not cover only the studios but also the surrounding buildings and through it, the Czech company wants to bring back the art of filming with the Czech flavour. Czechs want to open a school for film technicians and studio staff. We have the same experience in Czechia and our film studios have attracted numerous foreigner filmmakers, not only from the United States but also from South Korea and Japan. These are small but very important steps. I am very happy to be able to help and promote this kind of cooperation aimed at making the Yugoslav film great again and to explore new possibilities together.
---
Czechia became one of the most important foreign investors in Serbia

---
How would you rate the economic cooperation between the two countries?
I see several options that can be beneficial for entrepreneurs and companies in both countries. External trade statistics show that bilateral trade between Czechia and Serbia has had an upward trend in recent years. Total turnover increased by 185% since 2010, of which exports from Czechia by more than 140% while import from Serbia went up by 260%. We expect this development to continue in the coming year. Serbia is a very attractive investment destination for our companies. I'm proud to say that Czechia is one of the most important foreign investors in Serbia. Our biggest investment is probably the acquisition of Telenor, the largest mobile phone operator in Serbia, which also formed the first fully mobile commercial bank, Telenor Bank. I would also like to mention the Mattoni 1873 Company, which acquired the leading Serbian producer of mineral waters and soft drinks Knjaz Miloš. Some of the latest investments include the opening of Dr Max pharmacy chain, which has a strong market share. 
How can we enrich and boost the brand of Czechia in Serbia and vice versa?
Traditionally, Czechs always go to Croatia for the holidays because of the seaside. However, an increasing number of tourists want to explore the very pristine nature, forests, thermal springs and all natural attractions in Serbia. There are also organized cycling tours for tourists who come to Vojvodina, for instance, and want to visit our Czech minority here. We want to inform the Czech tourists of all the opportunities regarding vacationing in Serbia. Three weeks ago, I visited Tara National Park which I see as a big tourist opportunity. Still, a lot of work needs to be done.