Travelogue by Vanja Kovačev
April 2021
The Turks truly deliver the safe travels promise, so what are you waiting for – pack your bags and @goturkiye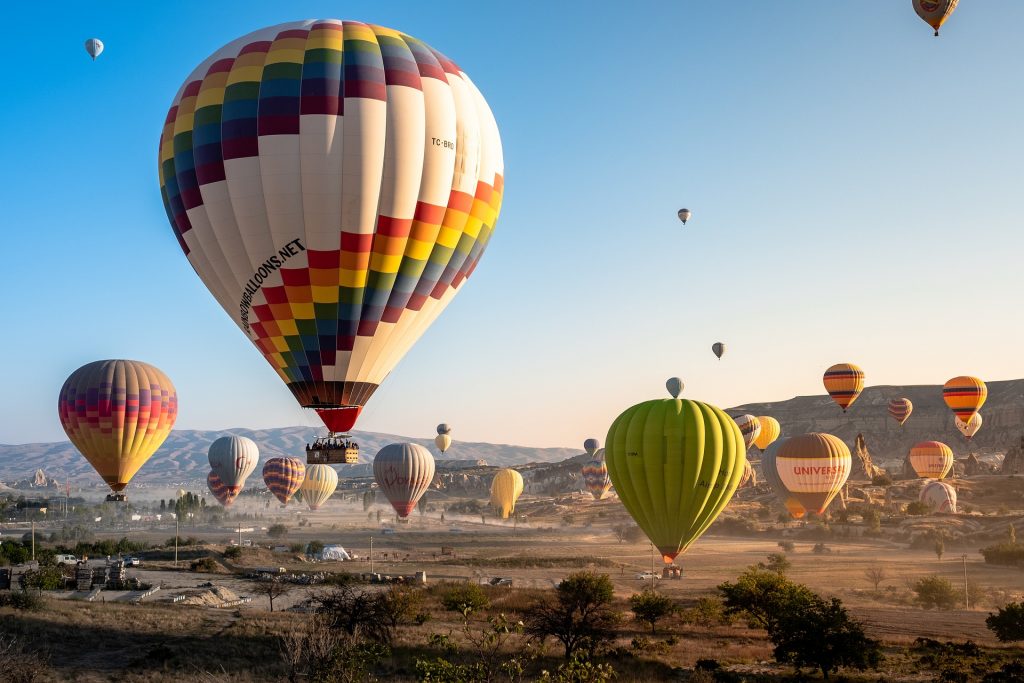 Epic view over the Cappadocia valley decorated with as many as 300 balloons floating gently up in the air (image by Timur Kozmenko, Pixabay)
I am sure that while you read these lines you agree with me that we all need a break from 2020 sad, non-travel, #stayathome routine- Flash news – It is possible to enjoy holidays in Turkey just like before, perhaps even better, safer.
To travel or not to travel? That is the question now. Travel! Do not feel the guilt – you are only human. You have deserved it. We all like to travel and to explore the world so turn your ship towards East and allow Turkey to pamper you with luxuriate and whisper to you the ancient stories that smell like carnation and taste like kadayif. Rich in flavour and opulent scent, this holiday destination has everything your heart desires.
My father says: "Vanja, it is the call of the Orient, you can't resist it!  Yes, it was always calling me. We are all called by it. Because of the oriental mystique, exotic and diversity. In case of people from Balkan, it is definitely because of the history and trans centurial connection and mixed emotions about being "under" the Ottoman empire for 500 years. The Orient rings with a special cling in our inner dome of our Balkan souls.
When you decide to explore Turkey in April like me, you can experience a lot: from half a meter snow in Cappadocia – the country of fairy chimneys– volcanic ash sediment that were formed when lava covering the tuff (consolidated volcanic ash) gave way along pre-existing cracks of sloping areas and became isolated pinnacles, chiselled caves, underground cities and hot air balloons, as well as the beautiful Sun&Sea in Antalya and Alanya. Tourist workers are "craving" for the comeback of tourists, the prices are very good and Turkey's "holiday Meccas" are not overcrowded with tourists. Pure enjoyment!
Cappadocia- the land of beautiful horses
Like an EXPO of mother nature's geomorphological artwork, Cappadocia is breath-taking, so different from everything an average European has seen, packed with so many stories about past times, the cradle of civilization – Mesopotamia and conquers from the East who, when seeing "the Moon looking like" surface of Cappadocia just passed by continuing to the West not asking the locals for any taxes. The tales of the ancient Hittite people and their crafts become alive when Erkan Akburak from the Venessa Seramik in the Cappadocian city of Avanos showed me the Sun worshiping wine jug and other almost magical handmade ceramic artistic creations with the typical motifs of the tree of life, tulips and carnations on the turquoise or dark blue and white painted surface. A walk in the open-air museum in the Göreme valley is "a must see" with its Dark and Amazing Blue or Buckle (Tokali) Church with frescoes dating to early 9th and 10th century, painted in bands of rich red and green, representing scenes from the Bible. These and many other cave churches here "hide" the tales of the first monastic practice established in Cappadocia.
The view from the Pigeon valley to the Uçhisar castle is still in front of my eyes, a month after the journey.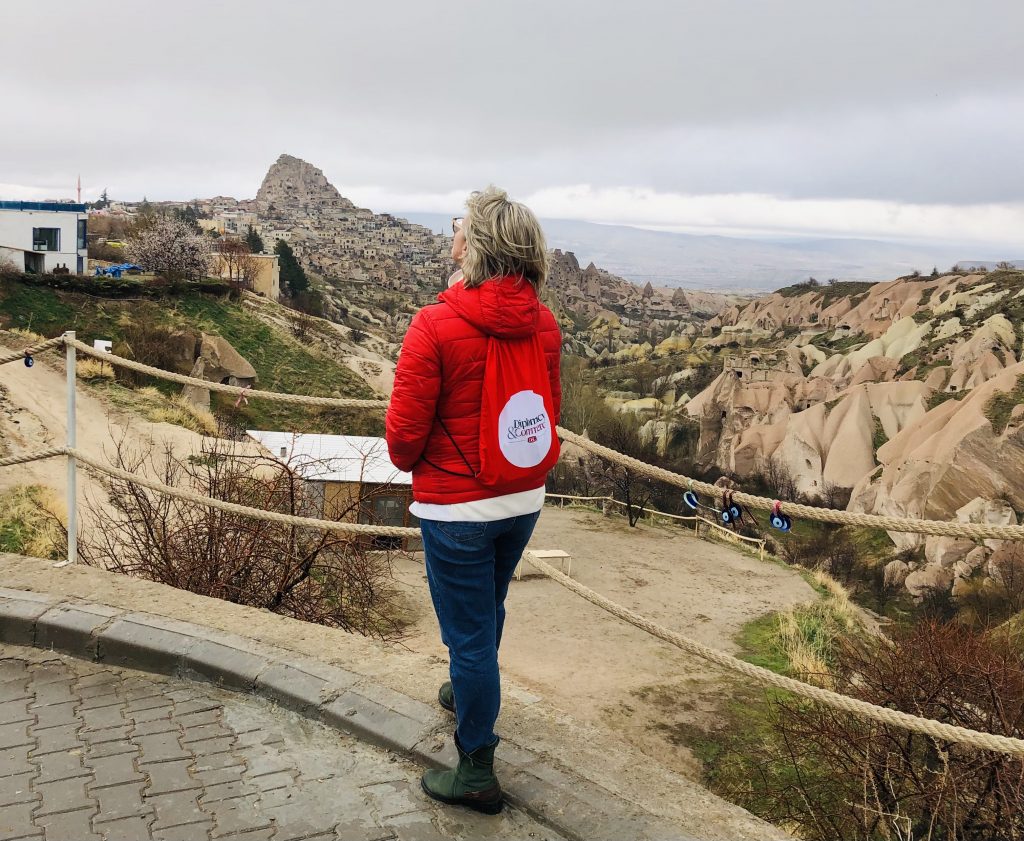 The view from the Pigeon valley to the Uçhisar castle
I loved the matchless towns like Ortahisar, Nevşehir, Avanos, Göreme and Ürgüp and its Cave hotel Kayakapi – the first boutique hotel in Cappadocia licenced by the Ministry of Tourism. The hotel looks surreal – chiselled in stone i.e. volcanic ash sediment. This hotel provides one with unique cave stay experience that hides comfort of a mini private hammam, bathrooms with heated floors and comfortable beds that enchant you and take to the land of Cappadocia dreams. All cafés and restaurants are also "tucked in" caves with wide terraces that provide epic views over the Cappadocia valley decorated with as many as 300 balloons floating gently up in the air. One of them we visited is in an 800-year-old cave – Fresco restaurant Food tastes amazing in this "witnesses" of natural phenomenon. A special feeling is a No.1 Restaurant in Ortahisar  
Cappadocian hotels, restaurants and cafés, that, in ancient times, used to be shelters from invaders, are now equipped with Wi-Fi, tv sets and other modern world amenities that make your stay in Cappadocia so luxurious and typically Turkish opulent. Riding horses through the hills and valleys of Cappadocia is a great way to finish a day full of adventures. One of the "must visits" in Cappadocia is also the underground city of Kaymakli opened to visitors in 1964, consisting of 8 floors below ground – 4 of them are open to the public.  Unique feeling! Felt like time travel experience!
On the road from Cappadocia to the Mediterranean Sea – some 550 kilometres distance, you will cross the amazing Taurus Mountains – a mountain complex in southern Turkey, separating the Mediterranean coastal region from the central Anatolian Plateau. The journey on Konya and Aksaray road takes you also to the famous Sultan Hani Caravanserai – the biggest masterpieces in Seljuk period and one of the largest caravanserais in the world. This ancient, popular stop on the Silk road offered free lodging with a food and freshwater fee for ancient traders and their camels.
Once you have left the snow behind you, Antalya and its amazing seashores welcome you with the touch of the gentle Mediterranean breeze and sun that is tenderly cuddling your skin and inviting you to relax in one of hundreds of hotels of Antalya, Alanya, Belek, Kemer, Side beach towns that decorate the sea cost of this holiday paradise like pearl necklace.
Alanya is vibrant and its hotels will take your breath away both when it comes to variety, size and offer- believe me you have never seen such assortment of hotels. Now I understand why Serbian families choose Alanya – it is children's wonderland with pools, slides, aqua parks and games and animations. Both Antalya and Alanya have historical artifacts, museums, natural beauties, and beaches.
Couples who would like to indulge in an elegant, serene sun and sea utopia, should definitely stay at Paloma Grida Resort & Spa in Belek which left a special mark in my heart. I can still hear Belek waves calling me back.  This summer I might just go there.
It is confirmed – Turkey has taken all necessary precautions whilst considering first and foremost about your safety during your entire visit full of friendly people who see you as one family.
This story will continue soon, so read more about Turkey on www.diplomacyandcommerce.rs  in DC travelogues by Vanja K.