It was an entire century of hard work and commitment of our scientists, engineers, experts and all other employees, who have been improving and developing our world-renowned brand for many generations
"I believe KONČAR will stand out in the future and will increase its presence in the market to the satisfaction of both clients and citizens in Serbia. We also hope to make a more significant contribution to the development of the local economy, recognising our competencies and local partners as much as possible", said, Ivan Tomšić, Member of the Management Board of KONČAR – Power Plant and Electric Traction Engineering, Director of Representative Office in Belgrade.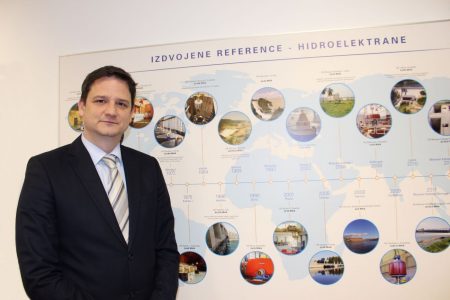 This year, KONČAR celebrated 100 years of successful business performance. As the company developed, what would you like to highlight about such a significant anniversary?
Yes, KONČAR Group celebrated its centenary at the beginning of this year. Our history has been marked by numerous achievements worldwide, where we now operate based on the principle of a unique approach to each client, while continuously investing in research, development and human resources. Today we can proudly say that we are the regional leader in the electrical industry and rail solutions. Over the last century, KONČAR has always strived for excellence, innovativeness and competitiveness, which is reflected in the development and manufacture of high-technology products exported to 130 countries.
What is power engineering like today? How has KONČAR been adapting to new trends?
The last decade has been one of the most dynamic periods of development, primarily in terms of technology. We are currently living in a new power engineering reality, an era of power grid digitalisation, in which KONČAR is actively involved. This is supported by the fact that KONČAR has managed to respond to these changes timely and successfully.
The company has focused on the further development of technologies and products that will combine green and smart solutions, enabling our partners to stay up to date with European trends, but also with the global initiative and the overall direction in which power engineering is heading.
Regarding digitalisation, we have stepped up the implementation of comprehensive digital transformation, not only of our products but also of our processes, in order to use all the potential and the capacities we have available.
What is KONČAR's biggest strength in terms of its contribution to the countries in the region, including Serbia?
The region represents our most important market. In Bosnia and Herzegovina, our presence is continuous. We are constructing a new 400 kV substation Ohrid in North Macedonia, which is also very important for Albania, where we achieved great results in electricity transmission in the last 15 years. We have increased our activities in Montenegro as well.
---

"KONČAR has participated in the construction of almost all major infrastructure facilities in Serbia, including the majority of hydro power plants"

---
In terms of references, but also its size and potential, the Serbian market is particularly noteworthy. KONČAR has participated in the construction of almost all major infrastructure facilities in Serbia, including the majority of hydro power plants. However, considering the size and strength of the Serbian market, I have to point out that our results have not been significant in the last 30 years or so, particularly if we consider our comparative advantages, such as proximity – which certainly allows for a quick, high-quality response, identical standards, a common history of the electric power system, language, etc. In the upcoming period, we see the greatest potential in revitalising the existing hydroelectric power plants and in constructing new power engineering infrastructure facilities and railway infrastructure.
How has the company performed this year? Has the pandemic affected the realisation of transactions or the number of new contracts?
Despite the coronavirus crisis, KONČAR Group's business has continued growing steadily throughout 2021, which can be seen in all key performance indicators. Compared to 2020, consolidated operating income increased by 18.5% in Q1-Q3 2021. Export sales are still growing and have increased by EUR 20 million (11.1%) compared to Q1-Q3 2020. Order intake shows a year-on-year increase by 51%. At the end of September, the backlog reached the highest amount ever – EUR 693 million, representing a 22.4% increase compared to the balance at the beginning of the year. This year we have concluded a contract with Rimac Automobili for constructing a 110/20 kV substation, which will be used to power the future Rimac research and production facility.
For the first time ever, we have won a contract in the demanding Japanese market. In the context of that project, KONČAR is to provide services to the Japanese client which include design, manufacture and supervision of assembly of three generators for two different small hydropower plants. This is the first time that Japanese investors have opted for a European generator supplier. As a result of a years-long systematic approach and sales activities in the Swedish market, we concluded a contract with a Swedish distribution system operator, Vattenfall Eldistribution. We also signed a contract with a Swedish transmission system operator, Svenska kraftnät. The contracts relate to a very complex reconstruction of a 130 kV facility at the substation Finnslätten in Västerås and the replacement of the protection system on four 400 kV substations.