Serbia's position has changed to the extent that the circumstances in the world have undergone a huge change because, from a major health and economic crisis caused by the Covid-19 pandemic, it entered a crisis created by the war in Ukraine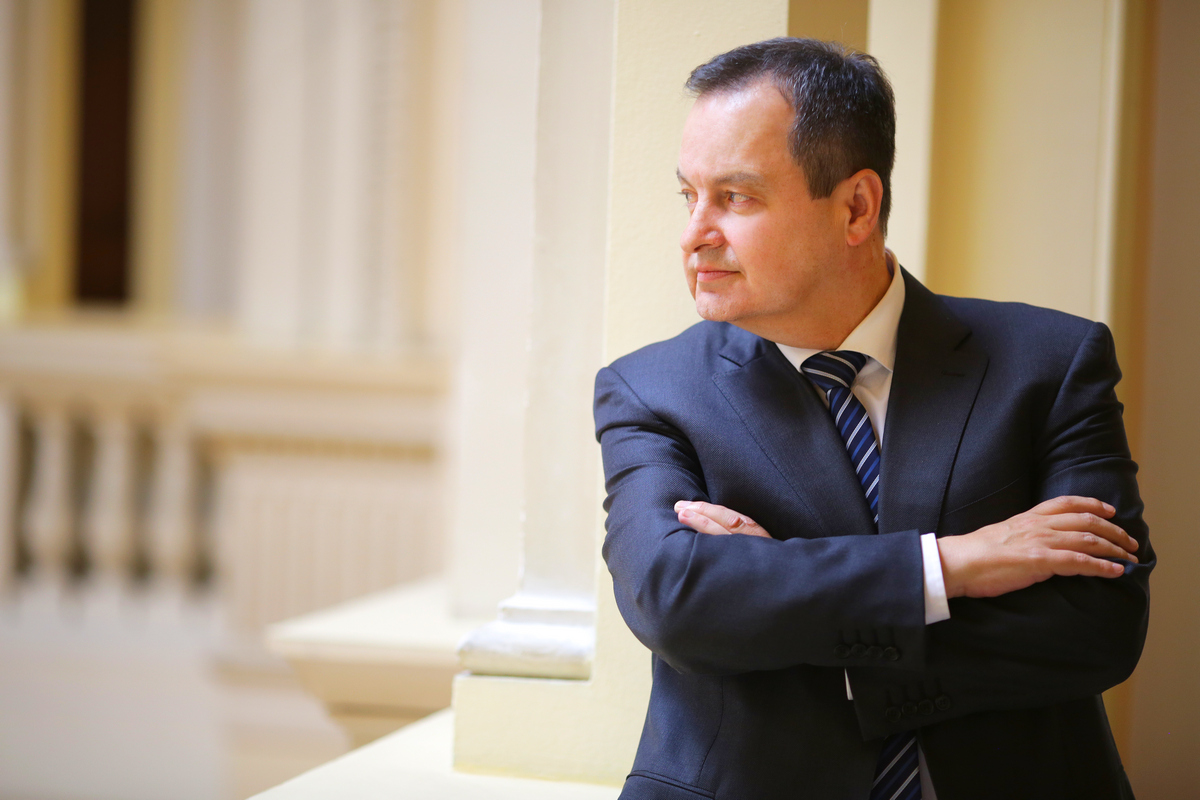 In his interview for our magazine, the new/old Serbian foreign minister, Ivica Dačić, talks about the current topics – changes that happened since his last term in office, whether terrorism is again becoming a global problem, his opinion about the Russian-Ukrainian war, Serbia's territorial integrity, human rights and complicated international relations.
You have been re-appointed, Serbian foreign minister. Could you tell us how different is Serbia's current position in the context of international relations (compared to when you were foreign minister the last time)?
Serbia has been exercising a clear foreign policy for years, and it has not changed in that sense. First and foremost, our foreign policy is focused on preserving our territorial integrity and sovereignty when it comes to Kosovo and Metohija, and of course, there are other priorities, such as joining the European Union, developing relations with neighbouring countries, as well as with all other countries in the world with which we realize our state interests. Serbia's position has changed to the extent that the circumstances in the world have undergone a huge change because, from a major health and economic crisis caused by the Covid-19 pandemic, it entered a crisis created by the war in Ukraine. However, our foreign policy remains the same while we are trying to respond to these new challenges from the same position.
During the previous term in office, you were very active (and successful) in getting certain countries to withdraw their recognition of Kosovo's independence. Will you continue with the same practice?
That was part of our state policy, through which we wanted and have succeeded in reverting things to their logical beginning and adapting them to the current dialogue that takes place under the auspices of the European Union. Many countries, 19 of them, withdrew the recognition of Kosovo and Metohija's independence in the previous period, and that was their rational response to the fact that a solution was still being sought and that the recognition was premature.
---

Several countries are ready to reconsider their recognition of Kosovo's independence

---
Under the new circumstances, we have been honouring our commitment outlined in the Washington Agreement, which is to refrain from initiating further withdrawals of recognition. But this is conditioned by Priština's behaviour, that is, Priština refraining from applying for membership in international organizations. However, Priština has violated that commitment and has announced membership candidacy for several important international organizations, so Serbia will have a clear answer if it really comes to that.
For a long time, we have been receiving information from the authorities that several other countries have withdrawn their recognition of Kosovo's independence. Why are those countries not disclosed publicly? 
We do not want to violate our obligations under the Washington Agreement, but we also do not want to put our friends who are ready to withdraw their recognition in an awkward position. Several countries are ready to reconsider their recognition of Kosovo's independence. We have their written notices stating that and that is enough for us at the moment.
Considering that you have been a foreign minister before, what will your position be when Western countries ask Serbia to impose sanctions against Russia?
This is a very important topic and a decision on it must take into account various aspects of our state interests, and therefore assessments from all segments and departments of our policy, not only external ones. So, in answering that question, we have to look very closely at which of our interests can be realized, and especially which can be jeopardized. We must take good care that none of our vital state and national interests is harmed or called into question by any of our decisions. This is a difficult task and everyone is involved in solving it – from the President of the Republic and government departments to our large companies. In any case, whatever our decision might be, it will protect our state interests, ensure the stability of our economic and political environment and of course, protect the best interests and living standard of our citizens in the first place. Every decision we make takes into account, first and foremost, the best interests of our country and our citizens.
The US sanctions in Cuba are still in place, as are the sanctions by Western countries towards Iran and others. As a country that went through that kind of hell in the1990s, how should we view sanctions, as a practice of the modern world? 
We are always and everywhere opposed to such practice, because we know very well, better than anyone else, that sanctions are an unfair instrument in international relations, which cause the greatest damage precisely to the citizens of those countries that are under sanctions. This is Serbia's principled position and it is strongly based on our experience as a country and all our citizens. It is not an arbitrary policy. I must say that our arguments in this regard are always convincing and all international stakeholders we spoke to regarding sanctions have shown both understanding and respect for our position.
If we oppose the unilateral declaration of independence and the violation of territorial integrity, then why can't we clearly and loudly condemn Russia in this war against Ukraine? Why is that so difficult? Isn't the bully always the same, no matter where they come from?
I cannot agree with your assessment, because every single time Serbia was the topic of discussion in international organizations, we clearly advocated the protection of the sovereignty and territorial integrity of Ukraine. This has been our position since 2014, not only since March of this year. Therefore, our position on the sovereignty and territorial integrity of Ukraine is clear, loud and unchanged. But at the same time, we remind all those who protect this principle in the case of Ukraine to apply the same criterion to Serbia, because our sovereignty and territorial integrity were grossly violated in the case of Kosovo and Metohija. Unfortunately, several countries do not adhere to this principle, but they rather stick to their political interests, and that is what we are trying to instigate change in the international arena, by insisting that the same standards apply to everyone.
---

Our position on the sovereignty and territorial integrity of Ukraine is clear, loud and unchanged

---
As a current Deputy Prime Minister, you are also in charge of security issues. What kind of threats is the world dealing with currently? We saw the resurgence of terrorism in Istanbul. How can we fight against terrorist threats?
As the First Deputy Prime Minister and Foreign Minister, I take part in the activities of the National Security Council and in that respect, my peers from the government and state institutions and I are responsible for all matters that concern security. We are quite worried about the resurgence of terrorism in our surroundings, and the case in Istanbul was particularly unsettling because one of the Serbian citizens, Dragana Ristić, was injured in that attack. Our attention needs to be on point when it comes to fighting terrorism which is the sickness of the modern world and is far from being eradicated. Generally speaking, Serbia is a safe country when it comes to international terrorist actions thanks to, first and foremost, the systematic work of our security services and other state bodies. However, we should not rest on our laurels. We always insist that the fight against terrorism must be done jointly by all countries, accompanied by close cooperation, information exchange and joint action. Terrorists don't worry much about national borders – they act globally – so we, who fight against them, must also have that approach.
What is happening today with having an ideology? It seems as if they no longer exist. For instance, you are a leftist, but you have some very conservative views. If you are a sincere leftist, shouldn't you unconditionally fight for the rights of the disenfranchised, such as women, migrants and the LGBT community?
I would like you to tell me in which way my or my political party's views are conservative. They are actually the complete opposite. I would like to remind you that the Socialist Party of Serbia (SPS) is the first political party in Serbia that had an LGBT member in its top leadership, not to mention that we are always at the helm of our political scene in terms of the number of women and young people in the party leadership, as well as having members from the broadest strata of the population – from pensioners and workers to the unemployed and people with disabilities. I am proud of our attitude towards minority groups and the fact that we have managed to sway the entire political scene in that direction because we deeply believe that the task of the state and all its institutions is primarily to protect the rights of those people who need the society's support. If you call that an ideology, then I agree, but I think that this is solely implementing a responsible policy which has been continuously trying to change Serbia for the better for a long time.