Jazz – it is that elusive freshness permeating the daily hustle and bustle and reaching straight to our hearts, touching our soul and bringing faith in tomorrow. It is the never-ending love which protects us from problems and hardship. It is thanks to Jazz, and its inexhaustible source of emotion, that our soul can discover freedom. So hurry up and use the opportunity to enjoy all love and jazz have to offer performed by the talented and sentimental Vasil Hadžimanov and Oleg Kireyev!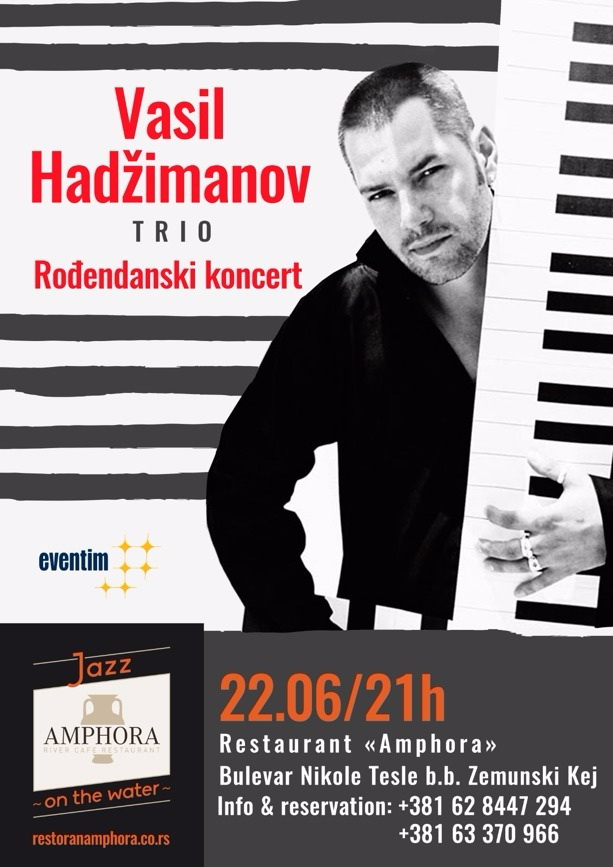 There are two jazz concerts on the lovely banks of the evening Danube just for you! In the restaurant "Amfora", a temple of Italian romance, you will enjoy the hottest world class music in the fresh evening twilight, under the stars. A relaxing chilled glass of wine, delicious food, and jazz music await you soon.
22.06 Vasil Hadžimanov Trio (the piano). Birthday concert
The Vasil Hadžimanov Band celebrates 20 years on the music scene in 2017. They have produced six original albums, which won numerous awards, while their music is renowned as highly significant artistic endeavour in Serbia, from a national and cultural aspect. Vasil's idea of combining the traditional Balkan folk rhythms with modern western music styles (jazz, funk, rock, world music…) in his music is completely authentic and represents a new approach to jazz music.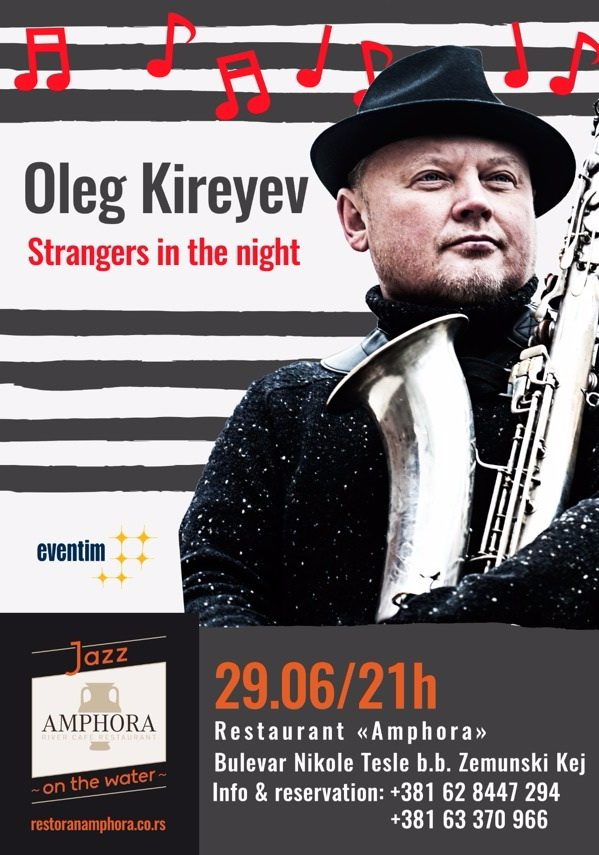 29.06. Oleg Kireyev Band (the sax)
Oleg Kireyev has been a popular jazz musician since 1984, and he has taken part in numerous international festivals since the 1990s. The author of many provocative and innovative jazz projects during a career spanning three decades, Oleg was described by "The Express Star" journal as a Russian sax player with the reputation of a virtuoso with a gift for hard swing and great excitement". "Incredibly good", "light and enthusiastic" "with a great sense of class and style" are phrases music critics have used to describe the sound of his sax. Some of the festivals where he has performed are: The London Jazz Festival, The Jazz Improv Festival of New York, and The Montreux Jazz Festival". The legendary musician Bud Shank described Oleg's performance as "a beautiful combination of genres which includes many players. I hear the echo of the 20s and John Coltrane in combination with unstructured jazz". Oleg's band "Orlan" performed in Nišvill, in front of tens of thousands of audience. He held a concert on Kolarac on May 17th 2017.
The concerts start at 21:00. Tickets can be ordered by telephone +381 62 8447 294 or bought at Eventim sales points.
Restaurant "Amfora" http://www.restoranamphora.co.rs Bulevar Nikole Tesle bb, Zemunski Kej