By Sonja Ćirić
"I believe that we still live in a male-dominated world and I often feel that injustice. It is completely irrelevant to me what name will people assign to my profession, as long as they read books"
Jelena Lengold is one of the few creative artists that we, the journalists, do not need a special reason to interview. Each of her new books attracts attention because the books that preceded the newest one were very popular among readers and abundantly rewarded. She has written 16 books, the most recent being the book of poetry called "Muddy Hint of Rain" ("Mutni Nagoveštaj Kiše"), where she writes simply yet vividly about everyday events and emotions worth remembering. There is also the collection of stories "The Disenchanted World" ("Raščarani Svet") about middle-aged experiences of life and foreboding of death and uncertainty, and the novel "Giving Up" ("Odustajanje"), an exciting story about the three segments of life of the main female protagonist. Jelena won countless awards for her books, including the EU Prize for Literature (EUPL) for her story collection "The Fairground Magician" and the EUPL Writing Contest for "Jasmine and Death". Jelena Lengold's prose and poetry have been translated into eleven languages.
As of this spring, your book "The Fairground Magician" is also available in Spain, while the last year's edition, published in Greek, was the 11th edition of this collection of stories abroad, which makes it one of the most available books by a Serbian writer in the world. Why is this book so special?
There is no special secret about it – it is a good brand endorsed by the EU Prize for Literature. The book was awarded in 2011 and thus has launched itself. After that, I wrote a few more collection of stories and poetry, as well as a novel, but, for the most part, foreign publishers are still interested in translating "The Fairground Magician". Honestly, sometimes I feel sorry for this book. I am looking forward to the publication of another of my books in Germany this year, the novel "Giving Up".
Your topics are close to every one of us – interpersonal relationships, love, fears, injustice, memories… You don't write about everyday situations or history, like many of your colleagues, at least not directly. Why is that so?
Because I find things that are universal, that happen on an intimate level, in the solitude of a room or in the anonymity of someone's, seemingly ordinary, life, much more interesting than historical or political turmoil. In a sense, as I write, I am already addressing a future reader. And I imagine that my readers are not only the people from my town, but they could live anywhere in the world. Only when I do that, it makes sense to me to write about topics that literally every person in the world can relate to.
---

Unfortunately, gender equality does not exist, neither in our country nor anywhere in the world. In general, there is no equality in the world

---
Your books are recognizable by their unusual, but also very noticeable and memorable titles. In addition to the abovementioned "The Fairground Magician", I would also like to single out "The Disenchanted World" and "At 3 o'clock at Kandinsky's" when it comes to collections of stories, "Giving Up" in terms of novels and "Muddy Hint of Rain", your latest collection of poems. Can you describe for us what exactly is 'the disenchanted world', who did you meet at 3 o'clock at Kandinsky's, what did you give up and what is a muddy hint that forebode the rain?
There is the old Latin saying that goes "Nomen est omen" which seems to apply not only to people but also to books. Sometimes, in the last year or two, I have been wondering what I wanted to tell myself when I chose "Giving Up" as the title of my last novel. I will have to write another book soon, enough to break the melancholic destiny of that title. But, the truth is that, at my age, I gave up a lot of things with joy and relief. Sometimes it can be hard when you are young and when everyone expects a lot from you. A friend of mine says: "I am no longer young enough to be disappointed. I can only be pleasantly surprised now." It's a joke, but there is so much truth to it, which is liberating.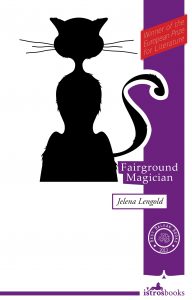 At the time when novels dominate, stories and poems are still your trademark. What is it that these shorter forms allow you to do that novels do not?
Yes, that's quite unusual. At a time when we live fast lives, people are looking for longer and longer forms of art like a 10-volume-novel or series lasting several years. That's an interesting absurdity. Fortunately, there are still fans of stories. But, since I am aware of how things are at the moment, I also wrote a novel, and the difference in sales is obvious, in favour of the novel. For me, stories are more pleasant to write because they contain diversity. With every tenth page, I enter a new life and a new world, and when you write a novel, you are stuck with one person for at least a year. It's not easy. It's like you are put in a prison cell with that person.
Let's go back for a moment to our first topic of conversation… Are you under the impression that there are very few translators from Serbian into foreign languages in our country, i.e. that this is the main reason why our literature is insufficiently presented in the world?
There may be very few of them, but enough, because Serbian literature is not that dominant in the world in terms of the number of writers relevant enough to be translated. I have experienced more times our state authorities failing to support the translation of my books, than not being able to find interested translators or publishers. Foreign publishers expect the Serbian state authorities to invest something in their writers. Serbia sometimes does that, sometimes it doesn't. Our state resources for culture are pitifully small, and I have a feeling that we are not working systematically on promoting our writers in the world. We are more left to our own devices, fending for ourselves.
In that case, who is looking for whom first – the writer for the translator or vice versa?
That depends on the writer. Intrusive writers 'chase down' their translators and they are willing to pay for their book to be published in a foreign language. Then, there are also writers who are waiting for someone from abroad to invite them. I belong to the latter category. I think this is a more natural order. I don't like intruders. Of course, you can always have an agent who will do the job for you. Certain people offered to be my agents after I got the EU award, but it seemed to me that I would be losing my freedom if I said "yes" to them.
Did the state authorities participate in the translation of your books?
Yes, several times, and I am grateful to them for that. I have been to major European book fairs a few times, following the invitation of our Culture Ministry. They also rejected some foreign publishers on several occasions and did not finance my book. As I said, the budget for culture is very small, having a ridiculous small share of the state budget of below 1%. When we observe what kind of MPs we have and who creates those budgets, we should not be very surprised that this is the case. They really don't look like people to whom culture would be a priority.
---

The present time has given birth to a special category of people, all over the world – violent, hot-tempered, macho, and everything that comes with that

---
The Law on Gender Equality was recently passed in Serbia. What changes do you expect to happen now? Do you use the male or female term for the word "writer"?
Unfortunately, gender equality does not exist, neither in our country nor anywhere in the world. In general, there is no equality in the world. It is an illusion, an ideal that some people aspire to, and most only pretend to aspire to it. In reality, most people do not think that everyone is equal at all. In reality, most people think that their lives are worth more than the lives of other people. They also think that their life is worth more than animals, plants, nature… People lack elementary humbleness and empathy in order to understand their place on the Earth and to truly care for and respect others. Yes, I believe that we still live in a male-dominated world and I often feel that injustice. It is completely irrelevant to me what name will people assign to my profession, as long as they read books.
The phrase "women's literature" stopped having a derogatory meaning only at end of the last decade, considering that it used to be a synonym for lower-value literature. What is your take on that?
I am afraid that in Serbia, that phrase still has an offensive meaning. I almost gave up trying to persuade the proponents of that phrase not to use it because they will obviously never understand it. The present time has given birth to a special category of people, all over the world – violent, hot-tempered, macho, and everything that comes with that. That ultra-right charge that we can see all over Europe is a step backwards, in every sense, even in terms of women's and human rights. So, one should not get carried away that we are constantly climbing the line of progress. We are not.
­The French publisher, Gallimard, recently complained that they had been inundated with manuscripts, and explained this phenomenon by people having more spare time due to the pandemic. Was this the case with you too?
Nothing much has changed in my life because of the pandemic, in terms of communication with people, because I lived a secluded life even before that. I am tired of people and prefer solitude. But the pandemic brought on another element – constant fear and anxiety. As far as I'm concerned, they're not particularly good allies of writing. For me, this year was spent more reading than writing. Other people's books have helped me greatly.