Karavan (English: Caravan) is a word that is associated with long journeys and calls to adventure and new experiences. Smoked cheeses from Mlekoprodukt's Karavan brand will bring all that to the table! They are made by the traditional method, without shortcuts, from real milk of controlled origin, by smoking high-quality cheese on real beechwood smoke. The result is cheeses that surprise the palate and invite further gastronomic adventures.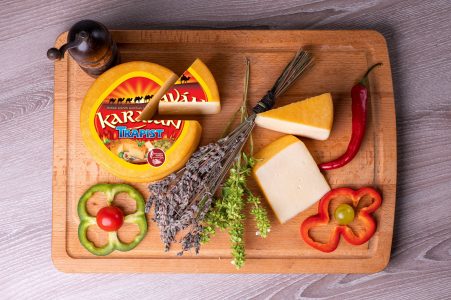 Karavan Trapist, a cheese whose sumptuous aroma and rich texture carry associations with feasts full of simple dishes, has been an important part of the Balkan and Central European table for centuries. Mlekoprodukt's Karavan Trapist, naturally smoked on beechwood, has an additional, noble aromatic layer that gives it complexity and makes it seductive and irresistible, whether we use it as an ingredient in dishes or serve it as part of a snack. Each rich sandwich with meat will become a real gourmet delight enriched with a thin slice of Karavan Trapist, and cut into cubes and served at room temperature with walnuts and dried fruit, it will be an irresistible pair of light red wines with a fruity character.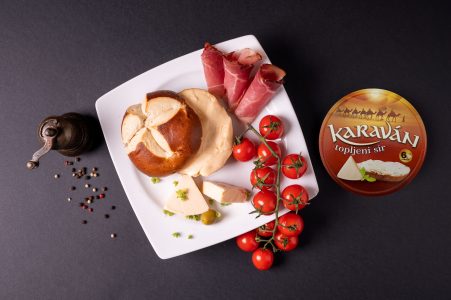 Karavan semi-hard cheese, the famous Mlekoprodukt's  Kashkaval cheese, an authentic cheese with a pleasant and delicate taste and aroma, is made with traditional top-quality milk technology. That same cheese, when smoked on a beechwood, becomes a Karavan semi-hard cheese, with a recognizable rustic elegance. It is adapted to the widest range of usage, easy to cut and grate, flavors that consumers have long loved. It can be served as a part of a snack, in sandwiches, and it can also be used in complex dishes that are prepared in the oven… For this cheese, the range of applications is practically unlimited. So, it will be a wonderful pair of creamy Chardonnay aged in oak barrels.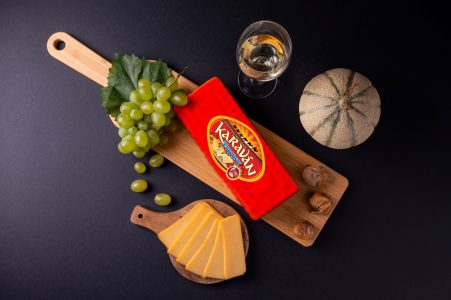 Karavan Turist, melted, naturally smoked cheese with an extremely delicate structure and aroma that carries the call for adventure, is part of the table of people who are not satisfied with everyday tastes. Unsurpassably tender, creamy and hearty, Karavan Turist will fit extraordinarily with any appetizer, accompanied by crunchy homemade bread, top-quality dry meat and fragrant, nutmeg white wine, chosen to accompany its ripe and sophisticated smoky notes.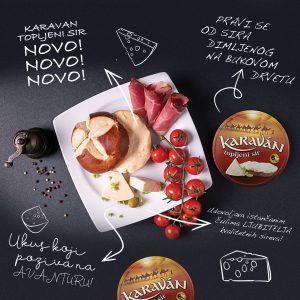 Karavan smoked cheese in portions, the melted Karavan cheese in individual portions stands out from just any melted cheese you've tried so far! It is made by the highest standards, by smoking quality cheese on real beechwood smoke. It is packed in such a way as to be associated with family breakfasts, picnics, socializing at the table and other festive occasions. It is always ready to become a part of a quick and quality snack in an instant, and it's interesting and impressive taste will raise every meal to a higher level. Crackers spread with melted Karavan cheese are an excellent base for bubbles in sparkling wines or refreshing cocktails.