Economic relations between Belgium and Serbia are constantly progressing, but there is always room for more development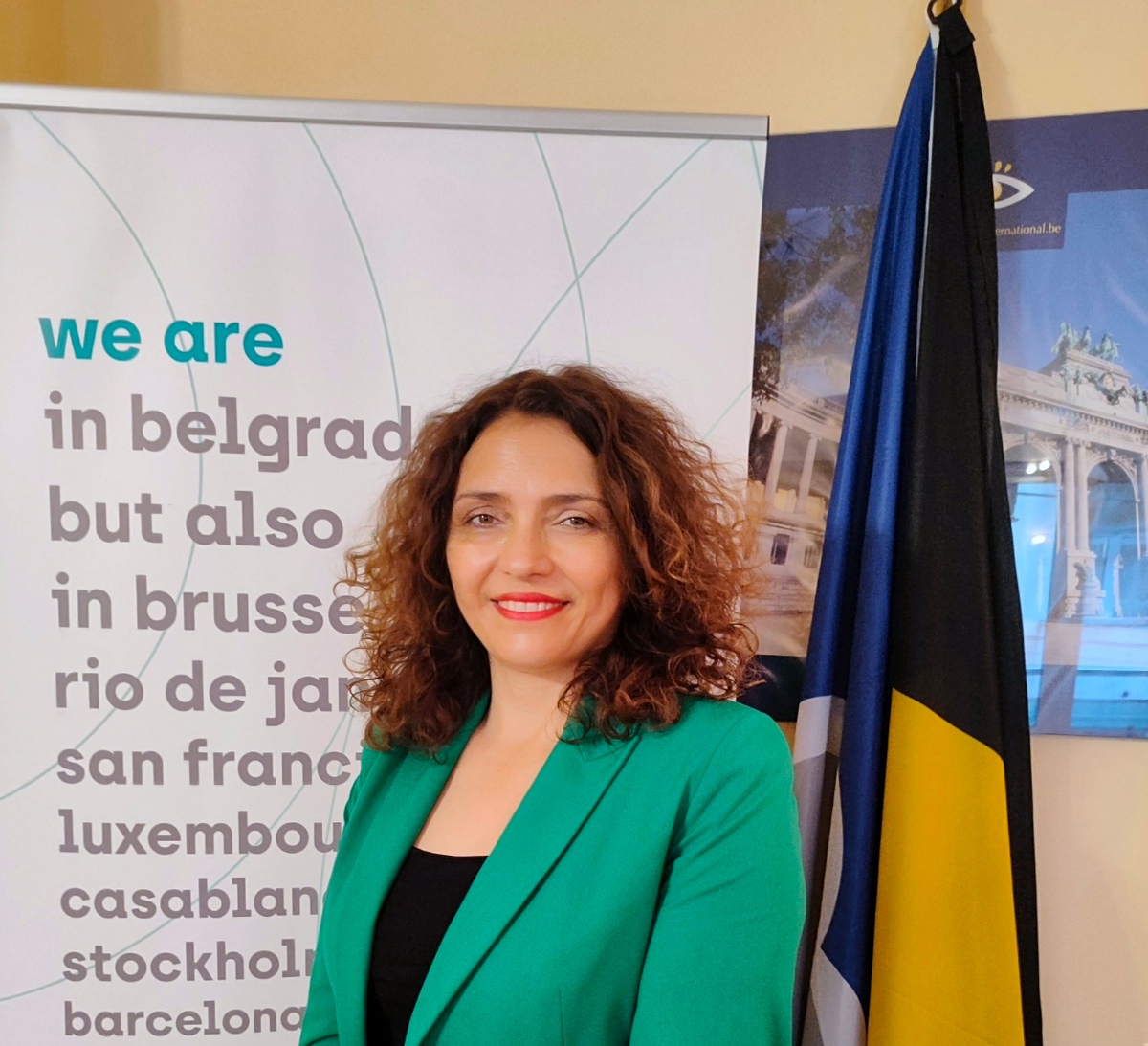 In the interview for our magazine, Economic and Trade Counsellor at the Embassy of Belgium in Belgrade, Marijana Milošević – Tufegdžić, spoke about Serbia's geostrategic position, its appeal to Belgian investors and how the Open Balkan initiative can contribute to the development of economic relations.
Can you explain your position in the Embassy to us? You are not a classic economic attaché, but you are the head of the economic department of the Belgian embassy. What is your role and how important is it for the economic cooperation between our two countries?
Belgium has economic and trade advisors in over 80 countries worldwide and I am a proud member of this big family. Our office in Belgrade provides support to Belgian companies that want to expand their business to Serbia and offer their products and services here. We support them in finding potential local partners, identifying local business opportunities and profitable sectors, establishing connections with the private and public sectors, and facilitating the organization of B2B and B2G meetings. We want to bring Serbia, as a business destination, as close as possible to Belgian business people, as well as to introduce Serbian business people to Belgian know-how, technologies, and products. Also, we support local companies that are interested in expanding their business in Belgium, as their investment destination. Our mission is to bring local business communities together with companies and partners from Belgium. We also strive to build economic bridges between the two countries and help Belgian and Serbian companies improve cooperation and find new synergies.
You represent three Belgian state agencies in the Serbian market. What can you tell us about them and what are their interests in Serbia?
Each of the three Belgian regions – Brussels Capital Region, Wallonia and Flanders – has its own regional agency focused on export support and promotion. The motto of our parent agency -Brussels Agency for Business Support – hub.brussels (https://hub.brussels/en/) is "Our business is to help yours" and this best represents the agency and its commitment to support the Brussels-based companies and entrepreneurs at every stage of their development, as well as by being a partner to foreign companies that choose Brussels as their business destination. We also represent two other regional agencies – Wallonia Export & Investment Agency ( https://www.awex-export.be/ ) and Flanders Investment and Trade (https://welcome.flandersinvestmentandtrade.com/en ) which also provide full support to businesses from their respective regions. Following the Belgian motto – "L'union fait la force" – all three agencies have joined forces under our auspices intending to support Belgian companies that want to expand their activities to Serbia to be as effective as possible. Every year, we carry out various activities such as thematic seminars, presentations and economic delegations, all to bring the two countries' business communities closer together, finding additional opportunities for cooperation and exchanging experiences. Last year, the first Memorandum of Understanding was signed between the City of Belgrade and the Brussels Capital Region, which was presented to the public in September, during the visit of Pascal Smet, State Secretary of the Brussels-Capital Region, responsible for Urbanism and Heritage, European and International Relations, Foreign Trade.
How much has the global crisis caused by the pandemic affected the trade between Serbia and Belgium? Is the current situation balancing out and at what level is the trade?
The pandemic-induced crisis caused was a really big shock for everyone, and although it shook the entire global community, it turned out that the business community is quite resilient and quickly adaptable because crises often create new solutions. Even the very turbulent and challenging year of 2020 did not significantly disrupt the long-term positive trend in the Belgian-Serbian trade. In 2020, the value of Belgian exports to Serbia fell by only 3%. This decline was compensated very quickly, and soon after, in 2021, Belgian exports to Serbia went up by almost 14% and amounted to o 440 million euros. The total trade in goods stood at almost 700 million euros. During the first eight months of this year, the value of exports reached 260 million euros, which is a 30% increase relative to the same period in 2021.
---

Even the very turbulent and challenging year of 2020 did not significantly disrupt the long-term positive trend in the Belgian-Serbian trade

---
We hope that this trend will continue in the future. Economic relations between Belgium and Serbia are constantly progressing, but there is always room for more development. Belgium is a leader in many economic sectors, and there are indeed numerous areas in which it is possible to improve or develop cooperation – from environmental protection, water treatment, waste management and renewable energy sources to biotechnology, IT, smart city solutions and innovation in different sectors. The opportunities for further cooperation, as well as for the transfer of technology and know-how between the two countries, are truly endless.
Are Serbia's slow EU accession negotiations harming business? How important is the candidate status for Belgian companies that plan to invest in Serbia?
In general, investors invest in stable countries, so candidate status is proof of that stability for many investors. Also, for emerging countries, such as Serbia, a political risk assessment is very important for investors. Every step forward that Serbia makes in its accession process builds the confidence of foreign investors regarding investing in Serbia because it demonstrates that Serbia is a more stable market for investments. I would like to underline that during the last decade, the EU has been Serbia's main economic partner, the largest investor and the biggest provider of financial assistance.
What are Serbia's comparative advantages over other regional countries and does Belgium see Serbia as an entry market for the entire region?
Serbia is the leading market in the Western Balkans region, in terms of economic potential, population and territory. Although it is landlocked, Serbia has an excellent geostrategic position, given that it is at the crossroads of pan-European corridors. Belgian companies that have decided to invest in Serbia come from various sectors – the food industry, metal processing industry, IT, construction and renewable energy sources. Some of these companies use Serbia as a base for doing business in the entire region, while others view each country separately. In any case, the experiences of existing investors are very important for either their further expansion in the Serbian market or for the expansion of business to other regional markets. Existing investors who are successfully operating in the Serbian market are the best recommendation and the biggest "comparative advantage" for attracting new companies.
What do you think about the Open Balkans Initiative and how does it contribute to economic cooperation between Serbia and Belgium?
Regional initiatives aimed at creating a Western Balkan common market, which would function based on the four economic freedoms (free flow of people, goods, services and capital) are certainly in the best interest of the regional business community. Regional cooperation boosts stability and prosperity, especially in a crisis, because it has the potential to transform the region and further develop its economy.
---

In general, investors invest in stable countries, so candidate status is proof of that stability for many investors

---
Recently, foreign investors have often been seeing the region as a unique investment destination. Regional initiatives are the best way to strengthen economic cooperation, facilitate the growth of Western Balkan economies, improve the business climate, attract foreign investments, increase employment and provide an effective response to major challenges and crises.
What is your advice for Serbia? What does the country need to fix to further improve its business environment?
In recent years, Serbia has made important steps in creating a stable platform for the country's economic development and a stimulating investment environment. I think it is very important to continuously work on improving the business environment, reducing and eliminating some administrative barriers and better implementing the rule of law. Of course, we don't need to especially highlight how important stability, predictability and transparency of the business environment are to Belgian companies, but also to all foreign and domestic companies. These improvements would not only increase the trust of Belgian or other foreign investors in Serbia but, more importantly, would bring benefits to domestic companies. Also, further developing ties between foreign investors and local companies would help maximize benefits for the overall economy. By improving business conditions and increasing the market's appeal, due to its proximity to EU countries, Serbia will be able to benefit from the reorganization of the global supply chain in terms of nearshoring. Satisfied investors are the best economic ambassadors of a country.