A husband and wife partnership with biodynamic approach to winemaking
In vino veritas and the truth is that love is the key ingredient for a good wine and a good life. Mc Culloch couple – Englishman Don McCulloch and Serbian-born Seka Nikolic witness about the good life in Vojvodina where one girl's childhood memories live in every corner of Erdevik and the quiet life of Fruska Gora which gives a lot of good energy after intense working years.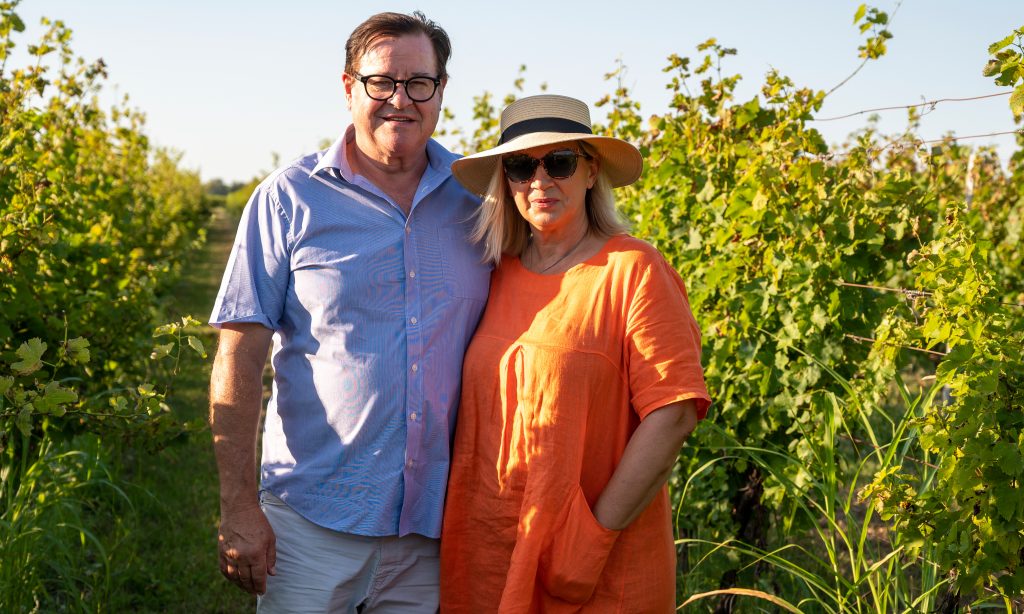 Don and Seka Mc Culloch welcomed our DC "dvojac bez kormilara "offering us to sit in their UK-Yugoslavia beautiful house decorated with interesting details such as cow horns, shell shaped ornaments and Seka's paintings. Don tells us how McC winery captivates holistic and "old world" methodologies to work with nature reminding us that the vines were grown in Fruška Gora as early as 296 AD and that modern viticulture was brought here by the Roman Emperor Probus. "Our wines are unique being completely organic and our maxima is "quality is more important than quantity. As a producer of food – and the wine is soul food- we have a huge responsibility to people who drink our wines not to put chemicals in our bottles. I have heard that as much as 125 mg of chemicals can be traced in a bottle of commercial wine now. When making wine, one has immense responsibility."
McC wines are organic both when it comes to the technology being used to make it and the soil that the wines are growing on. "It took us 2 years to "prepare" or rather to cleanse the soil for the vineyard and when it was de-chemicalised we planted our "vinograd" and had our first vintage in 2011, says Don.  And then, during our conversation, an interesting energy twist happened when I asked Seka who strongly intrigued me, where she originally comes from. She said from Sarajevo and we both started smiling as a wave of positive vigour "took over" the atmosphere when Seka and me realised we both come from the same city. The story is like in so many people from former Yugoslavia; Seka was born in Novi Sad but grew up and lived in Sarajevo being the daughter of a "vojno lice". When I spoke more to her during that August afternoon, I realised that Seka had several different nuances in her look- a certain English charm, a bit of Spanish sun in her eyes but Sarajevo spirit was her true inner fire.  Once a Sarajevo girl – always a Sarajevo girl. Seka is now Bio-energy practitioner who is celebrated all over the world for her exceptional powers appreciated by many including Sol Campbell of Arsenal and others, tennis stars Djokovic, Radecki, Cash and others, Rock stars Bruce Dickinson of Iron Maiden, Ian Paige – Deep Purple, Roger Daltrey -The Who, Seal, Jimmy Page, Kylie Minogue, actors like Vanessa Redgrave, Sally Hawkins,  Joely Richardson and so many more. Seka got her bioenergy education in Italy, lived in Spain and finally moved to UK as per invitation by the Royal family and then met Don. Don worked as a Scotland Yard detective and an expert for terrorism. He discovered the passion for winemaking and organic vineyards while working as security officer for Prince Charles.
And the rest is history! After UK, Spain, Italy, Canary Islands and New Zeeland the book of their lives is being written in the serene village of Erdevik on the slopes of Fruska Gora where Don and Seka make exceptional wine for the last 14 years. When asked if they just woke up one morning and decided that they want to become winemakers Don and Seka look at each other and smile.
Seka Mc Culloch: When my husband retired in 2009, he was not a person who can sit in a house and do nothing. I suggested why don't we have something, a vineyard or something in my country. Don has always loved Fruska Gora. Lot of my family live around here and I had such a nice memory from childhood so I always wanted to bring that back. Don was always into this vine idea and he knew a lot about organic and biodynamic winemaking because he learned about it while working for Prince Charles who is very interested in biodynamic approach.
Don Mc Culloch: I think I was very lucky that I met Seka in London and that I heard a lot about your country especially Fruska Gora which was always one of those places that to me was like a magical name and a place I always wanted to visit. I was 30 years serving police officer in London, 27 years of that was in Scotland Yard, working with a British Royal family for 15 years and the last 10 years with counter terrorism. When I worked with the Royal family with prince Charles who has a lot of organic farms all around the country, I started hearing the word biodynamic and so that just sort of encouraged me to go and find out a little bit more about that. When the opportunity came to perhaps create our own vineyard we both thought why not to try to follow as best we can the biodynamic principles and try to do something very special with the land, look after the land not to contaminate the land, to do something amazingly healthy and make good wine.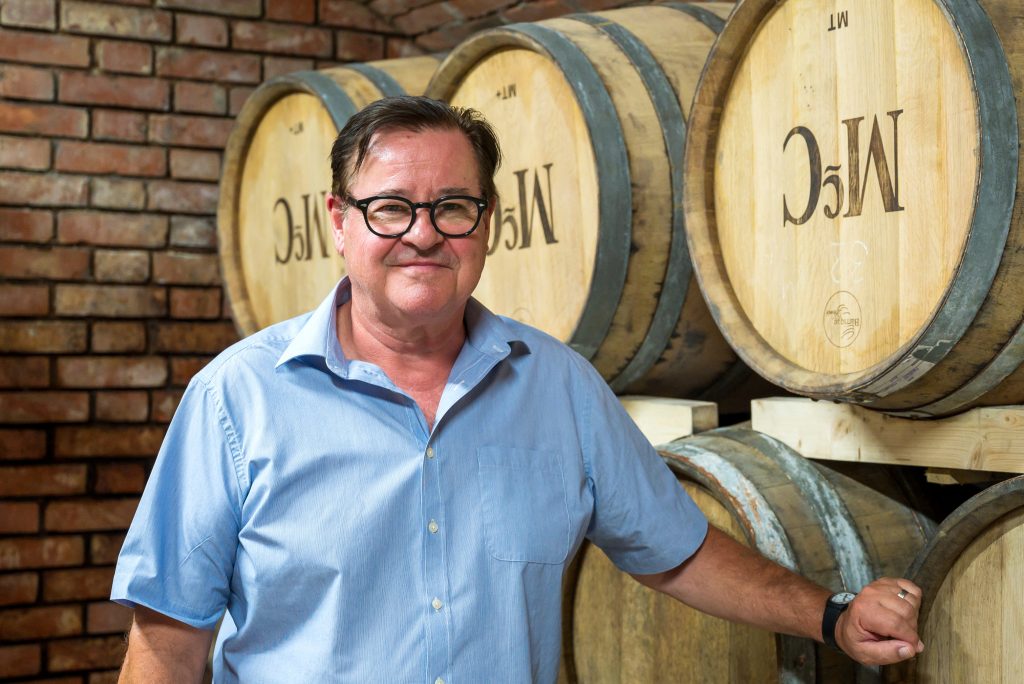 Love to Seka brought you to Serbia but Don it seems you were destined to move here?
Don Mc Culloch:
"Yeah, I think so. In terms of Yugoslavia I am additionally connected because my father Norman Mc Culloch coincidently was here during the 2nd World War 1943 with partisans. He spent about 18 months here. He was a Royal Marine Commander and he came ashore at Split and was fighting the Germans with partisans. When I was a youngster we were brought up with Tito, we always knew who Tito was, had the pictures of Tito in the house because I think Tito made quite an impression on my father, I am not saying directly but in general, so I always knew about Yugoslavia. One of the first places I visited when I was 13 was a school trip to Opatija and that really opened my eyes to a different world because London at that time was pretty depressed and it was a terrible place to be; there was still a lot of bombed out places so coming here that was my first journey to Yugoslavia.
McC is a unique winery. Organic and holistic are the two keywords?
Don Mc Culloch:
Yes, we look at winemaking fairy holistically and as an organism so everything we do here is in accordance with that approach; we keep the waste from the winemaking process which we compost with the biodynamic preparations and then we put it back on to the land. So, there is a cycle, this constant flow in the organism going on that just sort of enriches the land and just makes it more powerful. The idea is for the grapes to be fed by the land. We don't feed the grapes so all we try to do is to feed the land and then the grapes have to get on with themselves, so we don't do any systemic feeding, everything is purely through the root of the vine so that it becomes strong by the preparations we put on and in that way it produces a good vine, in my view. A lot of the Grand Cru vines of France are all biodynamic so this is a starting point. If you look in Romanée-Conti and Pétrus – all these people they are all biodynamic. So, it was my idea to produce a biodynamic vineyard because it is a step up from conventional wine making. "
Mc Culloch couple now live in Erdevik growing the organic grapes and making seven different types of wines which are served on the English court and in Serbia's best restaurants and wine shops.  In 2014 McC red wines received 3 winning medals. The Coupage 2011, the red wine from McC first ever vintage won a Bronze in the Decanter World Wine Awards, and then went on to win a Silver in the Vino.rs Great Serbian Wine Tasting Competition in Belgrade. The Vino.rs Awards then put the Coupage 2012 to the test and awarded it a Gold. The Coupage 2011 and 2012 are made from 4 red grapes; Merlot, Malbec, Cabernet Franc and Cabernet Sauvignon and are aged in Serbian oak barrels for 12 months.
Read more about McC wines, Don and Seka and book your visit on www.mccullochwines.com
Interview by: Vanja Kovačev