As far as life in Serbia is concerned, no country we have been to so far can surpass Serbia in terms of a pleasant climate, good, healthy food and spontaneity in human interactions. My husband agrees with me on that.
I came to Sweden when I was 26 years old. Wherever I went, it was in the framework of a certain Swedish micro-culture. So, one way or another, I have been living in Sweden for more than 30 years. Unlike Serbia, in Sweden, I have no school friends, my relatives or old neighbours. Every time we return from a diplomatic mission, we live in a different place. Serbia, on the other hand, is a constant in my life – people who knew my late parents and my brother, my Belgrade friends and Banovo Brdo where I grew up, are a haven for me and an important part of my identity.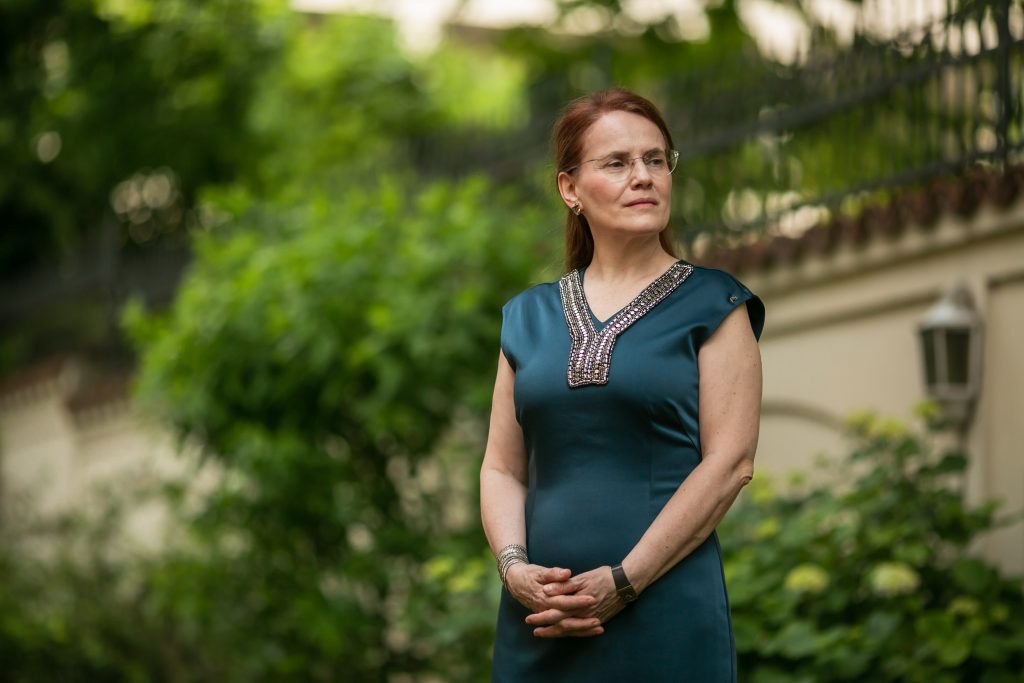 What is it like to be the wife of an ambassador and what does that entail?
The first rule that must be remembered at all times is that wherever you appear, you are always first representing the country, and secondly, yourself, as a private person. I represent Sweden with my appearance, speech, social media posts and even my professional work. Being a hostess of a home is another important role that I was entrusted with. This is a form of education, because our concierge and I get very detailed instructions on how to take care of everything that makes up our household – from textiles and porcelain, through furniture to artwork and paintings. We are assisted by a team of experts from the Swedish Ministry of Foreign Affairs. Usually, these are very interesting and engaging people who can teach us a lot.
I should also mention meeting successful Swedes who come to visit us and fantastic Serbian guests coming from all walks of life with whom we got closely acquainted. If you have an embassy which staff is also well-coordinated, acts in solidarity, is filled with good working spirit and love for work, which is what the Swedish embassy in Belgrade is like, then that is true bliss.
---

I sympathize with my colleagues, but I must remind you that things we create through our effort are much better valued and preserved

---
You are the president of the International Women's Club (IWC) in Belgrade. Which projects are you especially proud of?
Our choice of target group for this year proved to be a complete hit. As we were preparing for raising funds just before the last year's bazaar, we decided to distribute our annual donation among projects that deal with the improvement of living conditions and health of the elderly. We had no idea that their lives would suddenly become so complicated. It turned out that help had arrived at the right moment. Of the six projects to which we allocated funds, four entailed distribution of humanitarian packages containing food, hygiene products and similar necessary items, among other activities.
Our partners – Hleb Života, Amity, Laris from Čačak and an association from Babušnica – distributed humanitarian packages before, during and after the implementation of special measures, following the prescribed rules in geographically diverse places throughout Serbia. This made the difficult period of isolation easier especially for elderly people in remote rural areas. Of course, we could not help everyone, but we are proud to have been useful at the most critical time.
You are a music academy graduate and a pianist and you are also active in projects that entail expanding the classical music audience. What is the situation in Serbia like in that regard?
I think there is a misconception that the Serbian audience, who is interested in culture, shows very weak interest in classical music. We must not forget that Serbia is a country with a very short tradition in artistic music, unlike the countries of Central Europe. When I was a student, back in the 1980s, we enjoyed a very strong support from the state institutions and classical culture foundations in general, but since the base of that legacy in Serbia is not strong enough, classical culture can no longer stand on its own feet, so to speak. We need to observe things through a filter of the general situation in the modern-day culture.
The number of people attending cultural events has been declining in all cultural segments if we don't count the online consumption of cultural 'products'. Music institutions, as big as those in the time of Yugoslavia, are unlikely to be established again. But we, the cultural workers, should engage in establishing new institutions. This is a difficult and exhausting job that, most likely, pays nothing, but without solidarity and awareness of the common good, nothing will happen. Unfortunately, there is a great deal of exhaustion and lethargy among cultural workers. I sympathize with my colleagues, but I must remind you that things we create through our effort are much better valued and preserved. There are also problems in culture in Sweden, especially with the preservation of classical musical heritage. The situation with culture is not simple or easy anywhere.
---
What impressions will you take with you when you leave Serbia?
We have one more year left at the Swedish Embassy in Belgrade, so I am not thinking about leaving as yet. We also have an apartment in the city, one of our daughters is studying here and we will come back regularly to visit friends and relatives. It could happen that one day we are going to become Belgrade pensioners in part.
---