In various historical stages, various parts of Croatia were under the rule or influence of Austria-Hungary, Turkey and Italy, hence the country has inevitably 'mixed in' the ingredients of those cuisines, with all their differences, into its culinary profile.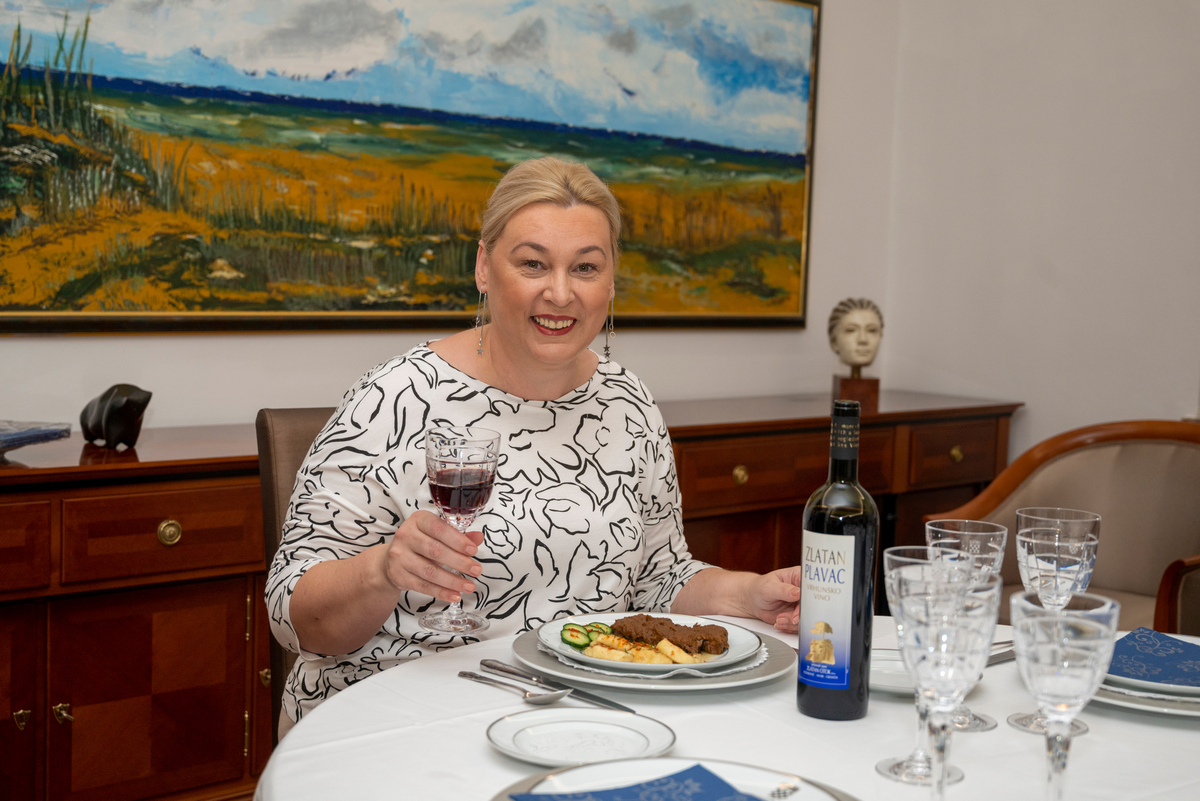 As the closest neighbours and two nations that are historically and traditionally close, the people of Croatia and Serbia also share many similarities when it comes to cuisine. We spoke with Mrs Mirjana Biščević, the wife of the Croatian ambassador to Serbia, H.E. Hidajet Biščević, about Croatian cuisine and its similarities and differences in comparison to Serbian cuisine.
How would you briefly describe Croatian cuisine to a total stranger?
I would say that the easiest and most accurate description of Croatian cuisine for total strangers is contained in a simple slogan – "everything that features in your country's cuisine is already a part of our, Croatian cuisine". In other words, Croatian cuisine is in many ways the result of geography and history. Because of this fact it is also distinctly regional. Dalmatia, Slavonia, Međimurje, Zagorje, Lika – they all contribute to our heterogeneous Croatian cuisine. When I mentioned geography and history, I was referring to various empires and rulers that have passed through and ruled our area – our country leans on Central Europe, the Mediterranean, the European Southeast and the Balkans. In various historical stages, various parts of Croatia were under the rule or influence of Austria-Hungary, Turkey and Italy, hence the country has inevitably 'mixed in' the ingredients of those cuisines, with all their differences, into its culinary profile.
And this is why we have a wide range of dishes and wide differences. For instance, look at the Dalmatian recipes and the "lightness" of their ingredients, then jump to Slavonia where, in contrast to fish and chard, you will be greeted by spicy kulen, sausages, prebranac… Then there are cakes from Međimurje, brimming with fruit, honey, poppy seeds and walnuts, in comparison to simple Dalmatian fritters. Simply put, Croatian cuisine is an abundance of differences.
What are the similarities and differences between Serbian and Croatian cuisines?
Starting from the regional diversity of Croatian cuisine that I mentioned above and based on my experience with Serbian cuisine, the difference lies in the greater uniformity of Serbian cuisine. I don't claim that Serbian cuisine is "more sparse" in any way. On the contrary… But it is certainly simpler. And there are fewer regional differences, excluding Vojvodina's cuisine with its idiosyncracies which sometimes amaze me, such as freshwater fish with pasta, an incredible combination and incredibly delicious. Honestly, when I came to Serbia, I thought that "mlinci" was autochthonous Croatian pasta, which in our country, is regularly combined with roast turkey. But, carp with mlinci! That's a real revelation!
---

I am grateful for the opportunity to get to know this beautiful country better

---
I would like to mention another difference that I have noticed during my life in Serbia – here, more attention is paid to soups, chowders and stews of countless types and ingredients. There are, of course, all kinds of soups in Croatia too, but it seems to me that the soup menu here is richer. I would also like to add that my impression is that meat, of all kinds, is the key to everything in Serbian cuisine. Meat and barbecue here are, let's say, an everyday occurrence and a menu staple. There are also differences in the larger range of dough-based dishes – burek, proja, polenta – to name a few. I have to mention a wide range of salads too, like urnebes, šopska, srpska, etc. And, finally, since I was born in Zagorje, Croatia, I thought that various brandies were our unrivalled "trade mark", but, I have to admit, you have surpassed us in that. Even after two and a half years of living here, I still can't remember all the varieties of various fruit brandies. Last but not least, I must note a recent trend in Serbia, that we, in Croatia, started experiencing some twenty years ago, and that is improving the quality of wine and oenological culture in general.
What do you miss the most from your homeland?
I wouldn't say that I feel 'shortchanged' when it comes to food, now that I live in Serbia. Our respective cuisines are similar for the most part and they intertwine, so, figuratively speaking, I replace the occasional desire for Zagorje's štrukli with a good cheese burek. I noticed that there is also a strong preference for Mediterranean cuisine here, so the sporadic nostalgia for the Adriatic is easy to replace. Just as there is no waiter in a Serbian restaurant or pub who is not able to "override" my nostalgia – they are unmatched.
What food do you enjoy the most while in Serbia?
As always and everywhere in the world, the relationship between man and food depends on the mood. Nothing, believe me, except, of course, love, can reveal the mood of a person to the extent of their choice of food. Food is simply an external expression of our state of mind. It is difficult, for example, to imagine that you will go for a roast lamb dinner or barbecue, in a company of a lot of noisy people, if your girlfriend left you this morning. So, to be completely honest… When I'm in a good mood and when I feel fresh, energetic and healthy, by God, roast pork will only boost that mood. When I want to have a quiet meal and collect my thoughts, grilled perch fillet is irreplaceable – it's simple and leaves enough time for contemplation. Sauerkraut, for example, will warm your soul on a frosty day. Indeed, I could go on and on.
You certainly have a lot of official duties as the ambassador's wife. But when you manage to have free time, how do you spend it here?
This may sound strange to you, but I love embroidery. It somehow calms me down and it almost lulls me into the traditional world that is slowly disappearing in this madness of the world. I also love exploring Serbia, with weekend trips becoming a kind of ritual – Fruška Gora, the Deliblato Sands, the Rtanj Mountain… I am grateful for the opportunity to get to know this beautiful country better. Not to mention how many good people you meet in those places and small villages. I hope that my husband will not hold a grudge against me when I say this, but when I go on these trips, everything he does somehow takes a back seat. When meeting people face to face they are simply people, provided they are good human beings.
---
(My) Dalmatian pašticada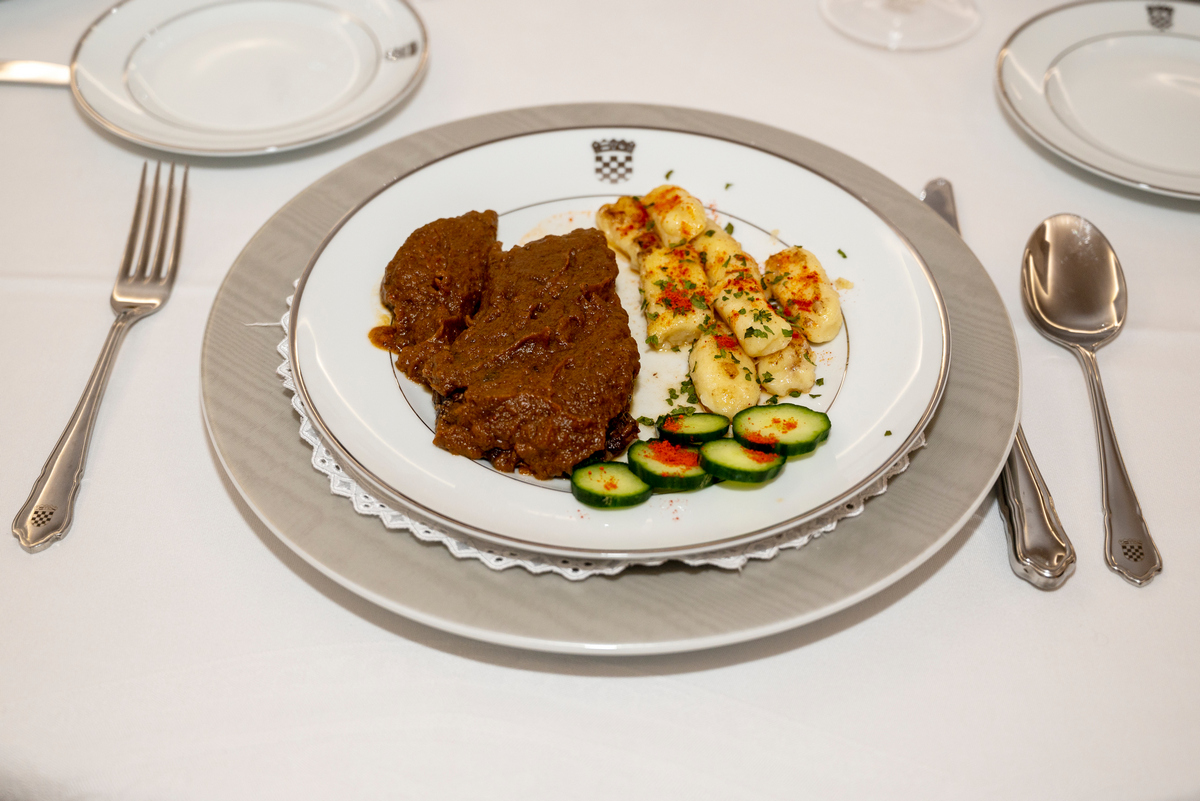 Without a doubt, this is one of those Croatian dishes that has become its symbol. If there is such a thing as authentic Croatian dishes, such as, for instance, Skradin risotto, then Dalmatian pašticada is definitely one of them. Dalmatian? The term is quite general, because there is no part of Dalmatia that does not boast that their pašticada is the best, be it Korčula, Trogir, Šibenik or Dubrovnik. Each of them adds a small detail to the dish that makes the difference – in some versions, it's prunes, in some figs or prosecco, or even sweetened red wine. Anything else is a local myth!
I was born in the part of continental Croatia called Zagorje and over time I learned a lot of words from the Dalmatian dialect. I know that "pinjur" is a fork, I know that "pajola" is the plank on the bottom of a boat, that "pape" is a father, "pinel" is a brush… I even know that strange, almost lasciviously-sounding word "picaferaj" actually means "the man who lights the street lights". But, I neither discovered nor mastered the origin of the term "pašticada" and I'm not the only one. OK, we know that the dish was invented during the time of the Venetian Republic, I know that it spread to both shores of the Adriatic. We also know that, in the end, it became a firm staple in the Croatian culinary tradition, but it's hard to say what the term really means. Someone will refer to the etymology of the Italian language and say that it actually means "mess", someone will boldly claim that it means "to crumple", someone will connect the word "pašticada" to the term pasteurization…
Anyway! Pašticada, including dozens of its local varieties, remains perhaps the most recognizable autochthonous Croatian dish.
In my version of pašticada, to serve ten people, you will need:
2.5 kg of pure beef leg
100 grams of dry bacon
400 grams of carrots
200 grams of parsley root
100 grams of celery root
2 large onions
7 cloves of garlic
7-9 cloves
a pinch of nutmeg
7-9 peppercorns
3-4 bay leaves and a small sprig of rosemary
8-10 prunes
3-5 dried figs
2 tablespoons of tomato paste (I used concentrate)
1 litre of red wine
0.5 decilitre of dark vinegar (if the wine is more acidic, add only 1 tablespoon)
1 large spoonful of plum jam
salt
2-3 dl of vegetable stock
The preparation starts with the so-called "spiking", i.e. sticking sliced pieces of bacon, carrots, garlic and cloves into the cuts in the meat you made with a thin knife. After that, comes marinating the meat – the salted and spiked meat is immersed in a marinade of red wine (preferably use red wine of stronger taste) and vinegar, as well as black peppercorns, bay leaves and sprigs of rosemary. Chop the root vegetables and onion, then add half of the quantity to the marinade. Cover and refrigerate.
All varieties of pašticada have in common that the meat should be aged in the marinade for at least 24 hours, although many believe that 48 is even better. If you marinade it overnight, that would also do.
On the second day, the marinated piece of meat is dried with a cloth or napkin and flash-fried in hot oil (some people even use heated lard), in order to create a thin crust and retain all the aromas in the meat itself. Strain the vegetables from the marinade, and prepare the marinade for stewing. Place the rest of the onions that are not used for the marinade on the frying fat and gently fry until they become glazed. Now add the vegetables from the marinade and the rest of the chopped vegetables. Simmer until the vegetables "wither". Add meat, marinade and vegetable stock. Now add dried figs, prunes and nutmeg.
At that point, the "secret" of pašticada begins to unravel – meat and vegetables are cooked together on low heat for at least three hours. I cooked my pašticada for four hours. When the meat is already completely soft, the whole piece is separated and cut on a chopping board into thin steaks, approximately 1-1.5cm thick. Next, add two tablespoons of tomato paste, 1 tablespoon of plum jam, and, if desired, 1 dl of prosecco or sweetened red wine (I didn't add any!) to the vegetable mix, which should be soft and cooked. Take out the bay leaf and rosemary, and make a medium-thick sauce with a stick mixer out of the mixture.
In the meantime, I'm preparing the gnocchi that will go with the sauce and as a side dish to the meat. Serve gnocchi and meat and pour over the sauce.
Ingredients for gnocchi:
1 kg of peeled potatoes
300 grams of flour and a little more for sprinkling (I used coarse flour)
2 eggs
50 grams of melted butter
1 teaspoon of salt
Cut potatoes into cubes and boil them in salted water, drain and make a puree, add butter, mix well and cool. Beat two eggs with a fork and add them to the cooled potatoes. Now, gradually add flour to make a medium-hard dough. Mix the dough with your hands until elastic, soft and sticky.
Sprinkle some flour on the work surface, take a portion of the dough and roll it with your hands, as if making a sausage, 2cm wide. Then cut the long dough into smaller pieces, about 2cm each until you use up all the dough.
Place the gnocchi on a clean cloth and make sure to separate them so they don't stick together. Cook the gnocchi in boiling salted water for 2-3 minutes until they float to the surface. Strain.
Next, put breadcrumbs on the melted butter, put gnocchi on top of that and fry them all for a minute.