In the last few years, we have invested significant funds in the development of infrastructure, because this is a prerequisite for economic growth.
 Located on the border with Croatia and Montenegro, Trebinje is a unique place. It is also called 'the town of the sun and plane trees' and is the hometown of our great poet and academic, Jovan Dučić and the miracle worker St. Vasilije Ostroški. Culture is an important segment of Trebinje's identity, while its abundant cultural heritage makes it the cultural centre of the region of Eastern Herzegovina. Dučić's legacy – 'Trebinje – a town of culture' – is also well known. We spoke with Mirko Ćurić, the mayor of Trebinje, about the town's economic development, rich cultural and historical heritage and plans.
What are you especially proud of when it comes to Trebinje, and what are the biggest challenges for you as the mayor of Trebinje?
Cultural heritage, long history and rich tradition, as evidenced by the legacy of many greats such as the famous Serbian poet and successful diplomat Jovan Dučić, the holy and miraculous St. Vasilije Ostroški – Tvrdoški, as well as other important figures from our past such as the prominent philanthropist Luka Ćelović Trebinjac, are segments of our collective memory that embody the spirit of this place and evoke the sense of responsibility to take great care of everything that our ancestors left us. I am especially proud of that because today you will recognize the people of Trebinje by their truly caring attitude towards their hometown, ancestors and past, and especially by their efforts to preserve the authenticity of Trebinje.
---

"Cultural heritage, long history and rich tradition evoke the sense of responsibility to take great care of everything that our ancestors left us"

---
In this respect, bearing in mind the town's rapid modernization and the need to adapt to today's way of life, the greatest challenges are related to Trebinje's urban planning, since our town has the highest number of construction sites in the Republic of Srpska. Despite this, we work hard to ensure that modernization processes and lifestyle changes do not destroy the local spirit and purity, both physically and spiritually, as well as our past recollections and numerous cultural and historical monuments, because these components unequivocally speak of our identity, who we are, and where we belong. In other words, we seek to preserve Trebinje's authentic values while supporting modern tendencies of development.
Where does Trebinje's economic power lie? Which economic branches are crucial here and how can you boost the town's economy?
 In the last few years, we have invested significant funds in the development of infrastructure, because this is a prerequisite for economic growth. We have built numerous roads – both in town and suburbs – improved the water supply, irrigation and sewerage system, and built several other facilities. Energy is the strongest economic branch in Trebinje, with agriculture also strongly developing mainly thanks to private farms which we have helped to market their produce. We do not have large polluters in the town, and due to the attractive geographical position of Trebinje, its rich cultural and historical heritage, an abundance of attractive locations, proximity to the Adriatic coast and ecologically preserved environment, we see great economic potential in the development of the tourism industry.
In recent years, we have recorded growth in the number of tourists who come from many countries in Europe and the rest of the world. We are constantly improving the current tourist offer and facilities in order to make your stay in Trebinje an unforgettable experience, but also ensure that you will come back. The city centre, centuries-old plane trees, Dučićeva Street or, as well call it, the Promenade, the Old Town, numerous monasteries, as well as entertainment facilities such as Grad Sunca, the water park and the adrenaline park, are just some of the parts of Trebinje's tourist offer, which we expand every year.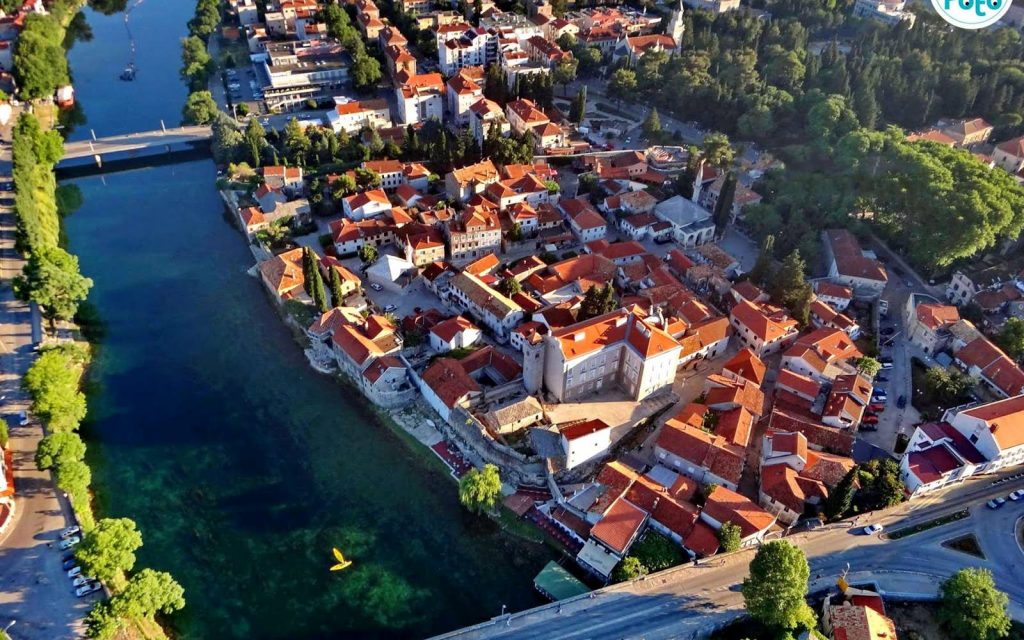 What is the current economic and cultural cooperation with neighbouring towns like?
Maintaining and building relations with the countries in our immediate vicinity, as well as having general regional stability, are development and progress factors in any community. In that sense, we tried to establish economic and cultural ties with cities and municipalities in the immediate vicinity, and our cooperation mainly rests on various development projects financed from the European Union funds, pre-accession funds, as well as local budgets. The projects we implement together are mainly related to economic development, with a special emphasis on tourism. With the support of the Republic of Srpska Government, we plan to build a free zone in Trebinje, to give companies an opportunity to operate under more favourable conditions. This project will certainly have other effects, i.e. a positive impact on our partnership with other cities, especially in a business sense.
There has been a lot of talk about an extremely important project – the construction of the airport in Trebinje. How far along is the project and are Serbia and the Republic of Srpska cooperating on some other projects too? 
The governments of the Republic of Serbia and the Republic of Srpska have given their support to an important project for Trebinje, that is the construction of an airport. In addition to better transport connections, the airport will inevitably accelerate economic development and create new opportunities. In the last three years, the Republic of Serbia has supported other important projects in Trebinje, such as multimillion investments in the revitalization of the Old Town, the construction of a modern kindergarten in Trebinje, as well as the construction of a monumental Serbian Orthodox stronghold – the Mrkonjići Spiritual Centre. We are grateful to both governments for supporting development projects in Trebinje, as well as the support that we receive from the citizens.
How much have you been investing in preserving Trebinje's cultural heritage and cultural development?
Preservation of the centuries-old Herzegovinian tradition, culture and our entire heritage has made it possible for us today to proudly carry the epithet of the town of culture, but also to warrant Dučić's long-standing legacy to his descendants. Bearing in mind that, for centuries, our ancestors had resisted and survived very turbulent times, caused by various historical circumstances, and built this town with a lot of love for future generations, today, we have a moral obligation to follow in their footsteps. While we fully understand that life and interests change with time, and that newer generations may have different interests and priorities than the previous ones, we remain committed to creating and improving cultural content while, of course, preserving the essence of Trebinje's cultural life.
---

"Energy is the strongest economic branch in Trebinje"

---
Consequently, we have many cultural events, especially those that take place during the summer, which give Trebinje an irresistible charm. Here are just a few of them – the Saint Sava festivities, Dučić's Day, Museum Night, Kolo International Art Colony, Vidovdan festivities, Amateur Drama Festival, Music & More Summerfest International Festival of Classical Music, Mediterranean and European Film Festival, Transfiguration Celebrations – the celebration of the town's Patron Saint Day, International Dance Festival, International Children Entertainers' Festival, Trebinje Guitar Festival and Dučić Poetry Evenings.
You have been the mayor of Trebinje since February 2019. Which results, achieved during your terms in the office, would you like to single out? What are your plans for the next period?
Since 2019, we have continued with the development and investment activities and we have launched, continued and completed numerous projects. The most important projects are the infrastructural ones, like construction of a new irrigation system, water supply system, overhaul of wastewater treatment plants, developing the left bank of the Trebišnjica River and coastal segments, construction of a new fire station, the Palace of Justice, the War Memorial Room, construction of a modern indoor marketplaceOur objective is for Trebinje, the indoor pool, the Mrkonjići Spiritual Centre, participation in the construction of an apartment building for young married couples and one for refugees and displaced persons, reconstruction of the Trebinje-Ljubinje motorway segment, construction and reconstruction of streets, pedestrian zones, access roads, children's playgrounds and other areas in urban and suburban settlements, revitalization of the Old Town, construction of a running track at the stadium in Police, installation of video surveillance systems throughout the town and replacing lighting fixtures with the latest LED technology in the town centre and  its outskirts.
---

"We seek to preserve Trebinje's authentic values while supporting modern tendencies of development"

---
 In addition to infrastructural investments, we have been working on improving the operations of the Agrarian Fund, through the project titled "The Herzegovinian House", as well as making various investments in improving Trebinje's tourist offer.  We have run social care programs for high school students, university students, young people, women, young married couples, and war veterans and their families on a regular basis. All these programmes were implemented independently or in cooperation with the institutions of the Republic of Srpska. The Serbian government lent its helping hand and supported us in several projects. A new and more modern Trebinje, which welcomes everyone, is the result of these good relations and working in synergy with state institutions. Our commitment and responsibility for doing what we had promised have marked this period, so we are continuing in that direction in the future.. Our objective is for Trebinje to develop into a unique contemporary environment with good living conditions that meet today's standards. We also want Trebinje to continue to be a town where all our guests and friends will always be happy to come.