The prestigious ArtLink-Société Générale Most Promising Young Music Artist in Serbia Award for 2016 was conferred at a gala event on 13 December 2016 at the Belgrade City Hall, attended by representatives of the City, diplomatic corps, media and business.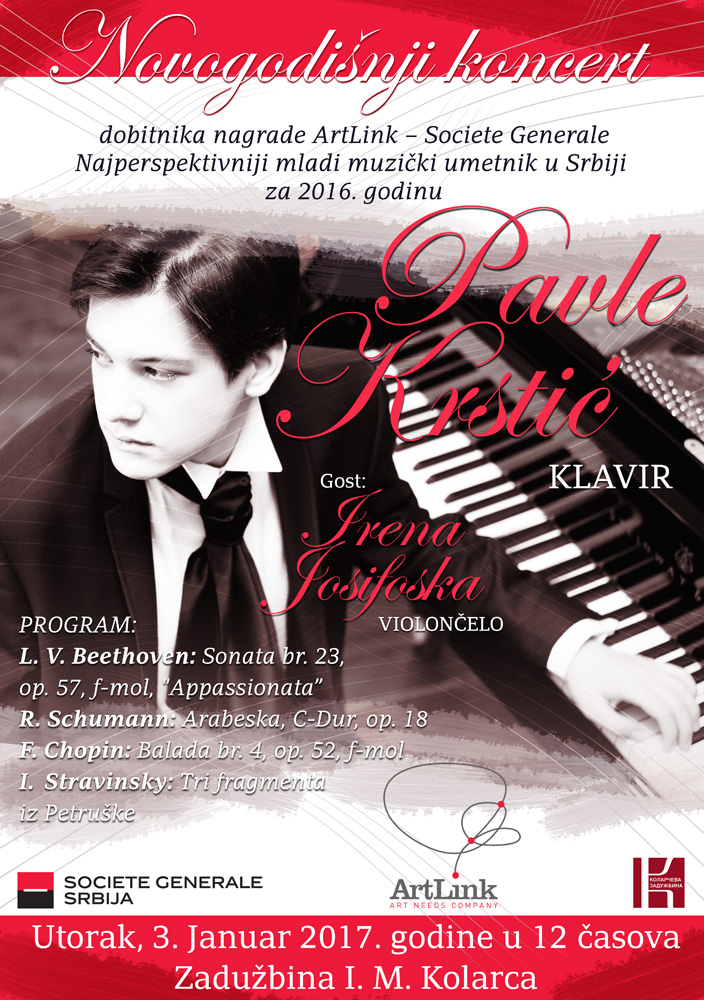 The Musical Surprise of the Year is Pavle Krstić, a young pianist from Novi Sad, who is the winner of this singular Award for 2016. In addition to the monetary part of the Award, the recording and publication of the CD with his performances, the young pianist will also be provided opportunities for several concerts in Serbia and abroad, the first of which will be the traditional ArtLink New Year's Concert at the Great Hall of the Kolarac Endowment in Belgrade, at noon, on 3 January 2017, organised by ArtLink and the Kolarac Endowment's Centre for Music.
Ms. Maria Rousseva, CEO at Societe Generale Serbia and Ms. Jovanka Višekruna Janković, Artistic Director of ArtLink, presented the Award to Pavle Krstić, based on the decision of the Award's Jury, consisting of pianists Uki Ovaskainen and Rita Kinka, and the music editor of the Kolarac Endowemnt, Mirjana Lazarević.
The recent recipients of this prestigious award include some of Serbia's most eminent young music artists the likes of Irena Josifoska, Nemanja Stanković, Stanko Madić, Sanja Bizjak, David Horvat, and others.
Upon receiving the Award, Pavle Krstić performed a piano recital of works by Rachmaninov and Chopin.
Prior to the presentation of this year's Award and the ensuing recital, ArtLink unveiled its new CD release by last year's Award recipient, young horn player Urmin Nes Majstorović, with the works by Strauss, Mozart, Dukas, Gliere and Rachamninov, accompanied by the live performance of Mozart's Horn Quintet in E Flat major, K.407.
At the event, Ms. Jasna Dimitrijević, Director of Kolarac Endowment, presented on loan to young violinist Marija Radovanović, ArtLink Young Virtuosi's concertmaster, a violin donated by the Embassy of Japan to the Kolarac Endowment.
With the evening's event at Belgrade City Hall ArtLink-Société Générale Young Talents' Music Cycle's concluded its 2016 concert season, expressing profound gratitude to all partners, associates, and media who contributed to a successful realization of numerous events promoting young music artists in several towns across Serbia.
Pavle Krstić, brief biography
Pavle Krstić is a student at the prestigious University of Music and Dramatic Arts Mozarteum in Salzburg, Austria, since 2013, in the class of renowned music pedagogue Prof. Pavel Gililov. Pavle begun playing the piano at the age of 6 and completed his primary and secondary music studies in the class of Milena Apić.
Pavle Krstić performed as a soloist at prominent events and prestigious halls in Serbia, as well as Croatia, Montenegro, Austria, Italy, Germany, Spain, Russia, Switzerland, Kazakhstan, Ukraine, Lichtenstein, San Marino, Estonia, The Netherlands… He represented Serbia and the "Balkan Festival" in Tivat, Montenegro (2010), and took part in festival: "Vienna Young Pianists" in Vienna (2012), "Neuhaus Festival" in Moscow (2013), "Astana Piano Passion" in Khazahstan (2014), "Spazio Klassik" in Bolzano, Italy (2016). He also took part in numerous summer and winter academies in Serbia, as well as at "Mendelssohn" in Leipzig, (2014, 2016), "Enharmonia" in Estepona, Spain (2014), "Junior Piano Academy Eppan" in Italy (2015) and "Cigliari International Music Academy" in Sardinia, Italy (2015), "Wilhelm Kempff Academy" at his villa in Positano, Italy (2016), "Mozarteum International Summer Academy" in Salzburg, Austria (2016).
Pavle is the recipient of the scholarship at the International Music Academy in the Principality of Lichtenstein, regularly partakes at intensive weeks and events of the Academy, and as a prominent student performed at the "Next Generation" Festival in Switzerland (2016).
The recipients of this prestigious Award – the ArtLink-Société Générale Most Promising Young Music Artist in Serbia Award – have previously been Serbia's most eminent young artists the like of Irena Josifoska, Nemanja Stanković, Stanko Madić, Sanja Bizjak, David Horvat, and others.
Pavle Krstić, statement on the Award
Besides this being an enormous honour to be chosen for the Most Promising Young Music Artists in the competition of all instruments, and to have been inscribed in the list of recipients of this Award next to the top, and now already acknowledged artists, I see this award as an opportunity for development in every sense. This is one of the rare awards that bestows upon a young artist real artistic activity, and which gives a chance for the beginning of a career. I am exceptionally grateful to Ms Jovanka Višekruna Janković, the founder of the artistic association ArtLink, which provides assistance to young artists when they need it the most, as well as the expert Jury which has selected me this this year.