Rohde & Schwarz has announced a strategic contract with Serbian national broadcaster, Belgrade based RTS Serbia, that sees its R&S VENICE-S server system placed at the heart of a new master control room (MCR) in the broadcaster's production center in Takovska.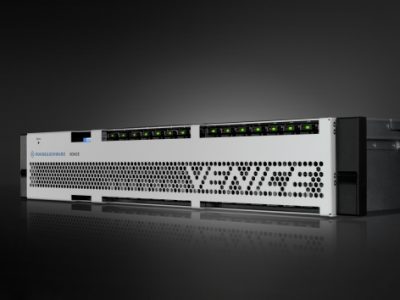 The order includes eight R&S VENICE-S servers being installed to provide content ingest and channel playout facilities for the broadcaster's four national channels. Placed at the heart of the new control room, the server system will be fully redundant with each server having 7 TB of local storage.
The project sees the R&S VENICE-S servers integrated alongside Aveco ASTRA media asset management (MAM) software, Orad graphics and the broadcaster's existing business/traffic management system. The production center's central storage facility is an Avid ISIS installation, which is also integrated alongside R&S VENICE-S. All content ingest and channel playout operations will be fully automated using Aveco's MAM system.
A full member of the EBU, RTS Serbia is among the first European broadcasters to adopt R&S VENICE-S, which was introduced last year. "Replacing our master control room facility is a key strategic project for us, and will place RTS Serbia on a renewed growth path," commented Dejan Jovanovic, CTO at RTS Serbia. "Our selection of a new channel playout server system was a critical decision – after evaluating numerous different vendors we chose Rohde & Schwarz and its R&S VENICE platform. The combination of best-in-class server technology and the reputation of Rohde & Schwarz for customer focus and support made the decision straightforward. For our channel playout servers, we need maximum reliability. Add to this the power and sophistication of R&S VENICE-S within a studio environment, and the decision was clear."4
Reliability and versatility drive R&S VENICE development at Rohde & Schwarz
R&S VENICE-S has been developed with versatility in mind. It can be flexibly adapted to any workflow requirements thanks to its software architecture and scalability. Software applications for ingest and production workflows, plus newly developed capabilities for automation driven channel playout enable the R&S VENICE platform to be deployed across the broadcast ecosystem.
The server system's flexibility comes from a new R&S VENICE-S microservice core paired with commercial off-the-shelf hardware and a video I/O board designed by Rohde & Schwarz. It uses a standard IT server whose reliability and performance has proven itself a thousand times over in data centers worldwide.
R&S VENICE-S has no single point of failure due to the redundancy of all system-relevant components and the unique Rohde & Schwarz virtual storage access technology, which virtualizes a single point of access for redundant storage repositories. Thanks to its unique board design, R&S VENICE can be switched from SDI to IP (SMPTE ST 2110) by simply exchanging the SFP+ modules.
R&S VENICE supports various communications protocols such as VDCP (serial and TCP/IP), FIMS, MOS and more, allowing its integration into any media value chain. It minimizes the need for transcoding by supporting a variety of software-based codecs. Also supported are one UHD p60 channel (bidirectional) and four HD p60 channels (bidirectional); plus R&S VENICE handles HDR material with ease.