Straight "A" for excellence in human resource management
Thanks to its constant commitment to the well-being of its employees and numerous initiatives aimed at improving their satisfaction, Addiko bank in Serbia received this year, the prestigious Employer Partner certificate that promotes and values ​​excellence in human resource management, for the third time in a row.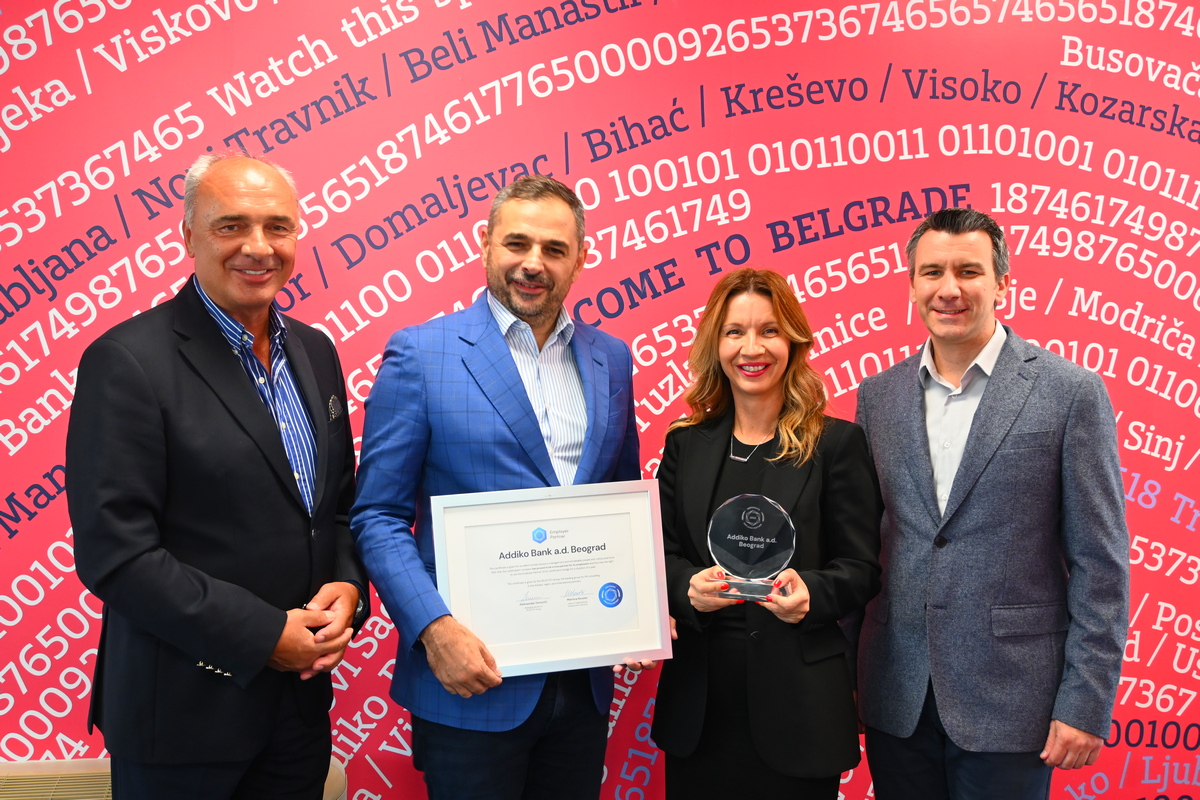 It is a certificate traditionally awarded by the consultants of the SELECTIO Group from Zagreb, which guarantees quality in the overall management of human resources following HR standards that are defined according to the best global HR practices.
By carefully evaluating processes and approaches in working with employees, SELECTIO Group experts analyzed in detail as many as seven HR areas within each organization to look at the entire life cycle of employees, starting with attraction and recruitment, then onboarding and development of employees through engagement and satisfaction, transformation and development, up to different approaches in retaining and rewarding employees, as well as departure (offboarding), but also returning to the company.
Being the holder of the Employer Partner certificate is a great honor, but what makes me particularly happy is that now, for the third year in a row, we have the opportunity to conduct an external assessment of our HR processes and to draw lessons from the assessment that we will work hard on in the coming year. The certificate itself is a kind of recognition, and at the same time motivation for further improvement. Progress in each of the certified areas is what motivates us further so that Addiko bank remains a good place to work – said Marija Mijatovic, Director of the Department of Human Resources and Organizations at Addiko bank.
According to the chief manager of the Employer Partner project, Lara Subic Susa, by receiving this certificate again, Addiko Bank has once again confirmed its "excellence and good connection of all HR practices, as well as a great commitment to investing in its employees."
The excellent initiatives that Addiko bank has when it comes to retaining its employees, their extremely high satisfaction with the cooperation with the HR department, numerous material, and immaterial benefits, and strategically oriented HR are just some of the qualities that set Addiko bank apart from other employers. I would especially like to point out the initiative for mothers who are returning to work after maternity leave, and who today at Addiko thanks to which they have the full support of all their colleagues, followed by extremely great understanding. I believe that this initiative will ensure a pleasant and motivating transitional period for all mothers, as well as that it will be a good incentive for other organizations to provide similar support to their employees – explained Lara Subic Susa.