The Managing Board of the Italian- Serbian Chamber of Commerce has elected engineer Annino De Venezia as the new President.
The Managing Board has accepted unanimously the candidacy of the Italian manager.
Annino De Venezia has succeeded Giorgio Marchegiani, President of the Executive Board and until now CEO of DDOR Insurance Unipol Group, who has led the Chamber since 2016 and who will return to Italy in a next days, where he will take on a new business role.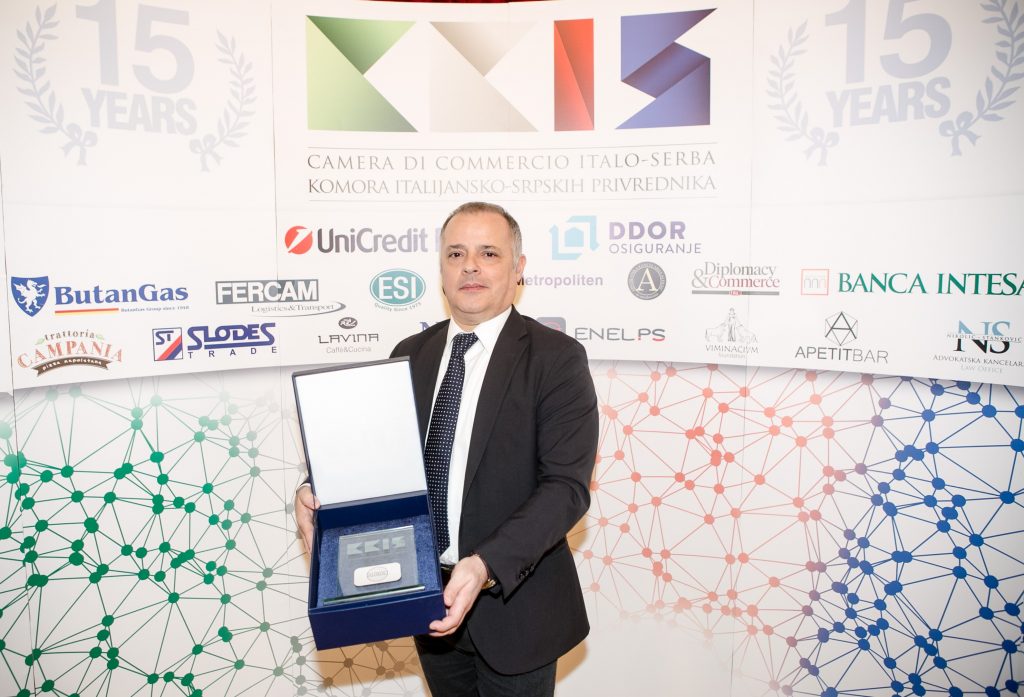 Mr. De Venezia has been working in Serbia since 2015 as the Chief Operating Officer, and since March 2017 as the General Manager of AUNDE SRB D.O.O. from Jagodina, part of the AUNDE Group, which produces covers for the automotive industry. The company has more than 800 employees and has launched a dual education program for high school students. In Serbia, he has always made a significant contribution to the promotion of Made in Italy, as he is a faithful supporter of Italian business and management skills.
De Venezia thanked to all members of the Managing Board for the indicated trust, expressing faith in constant progress, guaranteeing the continuation of lucrative cooperation between Italy and Serbia. The newly elected President and members of the Managing Board expressed their gratitude and friendly emotions to Mr. Marchegiani, thanking him for the passion, perseverance and abilities he has led the association to date, providing to the Chamber the role of one of the most influential and representative business associations in the country.
The Italian-Serbian Chamber of Commerce, which has about 150 members, is part of the network of Italian chambers in the world – 81, present in 58 countries, with more than 20,000 member companies. The work of the Chamber is supported by the Ministry of Economic Development of the Republic of Italy, and performs its activities in coordination and with the support of institutions within the Italian System, including the Embassy of Italy and ICE – Italian Trade Agency.
In addition to the members of the Management Board, today's session was attended by members of the Supervisory Board, as well as the Head of the Department for Economic and Trade Cooperation of the Italian Embassy, ​​Mrs. Fabiana Urbani.
Annino De Venezia said: "I accept this responsibility with great pleasure. My intention is to provide support to companies with Italian capital, of which there are over 600 in Serbia, as well as to numerous Serbian companies with the desire to expand to the Italian market. "The experience I have in the manufacturing sector helps me to understand the needs of economic entities in the process of internationalization and to recognize the benefits of doing business in Serbia and Italy in the economic context after the pandemic. My intention is to visit all members of the Chamber as soon as possible, to get informed with the business needs of each company individually".
Giorgio Machegiani expressed his satisfaction: "In recent years, we have significantly increased the number of initiatives of the Chamber for the benefit of members and the Italian-Serbian business community, facing the challenges imposed by the market and pandemic using a mixed digital-physical model." The Italian presence in Serbia is constantly growing and is expanding capillary, from production through services to renewable energy sources and technology. "We can say that we are two geographically close countries that are becoming more and more economically integrated, with mutual sympathies that strengthen business ties."