Today, Serbian diplomacy has the opportunity to act with much more self-confidence and set many more realistically achievable goals than just a decade ago. I am confident that Serbia will continue to grow stronger, not only in the regional framework, but we will become an example of success at the global level.
We talked with the Minister of Foreign Affairs, Nikola Selaković, about Serbian diplomacy, his first year in the office, the Berlin Process and Brussels, foreign policy priorities, as well as his vision of Serbia in five years. "I think that after years of wandering we have matured as a nation and that our citizens now understand that the combination of balanced foreign policy, state-building responsibilities of policymakers and development policy based primarily on our internal capacities, knowledge and talent, are what makes us winners," Mr Selaković said.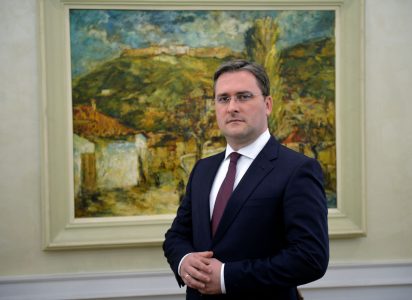 October will mark one year of your term in the office. How would you describe the situation in which Serbian diplomacy finds itself at the moment?
In the past seven years, Serbia has come a long way from a country on the verge of bankruptcy to a country that is an example of success for many other countries today. Our public debt has been reduced from 79% of GDP to 52% and unemployment was reduced from 26.9% to below 9%. In terms of the number of motorways under construction, we are certainly record holders in the region, and probably beyond. President Vučić personally opened over 210 new factories in this period, and we occupy first place in the region in terms of FDI influx.
Today, people in Serbia are less concerned about having a job, and more about how big their salaries are. We have before us a completely changed political and economic reality, and we are witnessing that at the international level as well. From a state whose capacity to make independent decisions in its own best interest was extremely questionable, today we are in a position to have our word respected or at least heard in important decision-making centres. Today, Serbian diplomacy has the opportunity to act with much more self-confidence and set many more realistically achievable goals than just a decade ago. Today's Serbia also has the opportunity to help friends in need, to be proud of their successes, but also to think about expanding the diplomatic-consular network, i.e. returning to the places it had to leave due to the pressure of economic and other problems after the disintegration of the Socialist Federal Republic of Yugoslavia.
In the Ministry of Foreign Affairs, we have started working on modernizing our work and employing younger staff. This will continue in the months and years ahead, with a new Law on Foreign Affairs laying the foundation for improving the Ministry's operations. We have started to approach economic, cultural and public diplomacy more seriously. Results will not come overnight but rather over the course of general development of our administrative, institutional and political capacities, as a pledge to generations to come.
Serbia's membership in the EU is a logical and pragmatic goal because we are part of the same economic and political space. 
Pandemic was just one of the challenges you had to deal with at the beginning of your terms. How would you assess Serbia's fight against the pandemic and its effort to get out of the crisis, cooperation with regional and other countries, economic measures and vaccination?
There is a saying that "when the going gets tough, the tough get going" and our country, faced with the challenges you have mentioned, has shown how far it has come along, i.e. to travel the figurative road from a sick Balkan patient to a successful country in every sense of the word. No one wanted a pandemic and all the humanitarian and economic problems that arose from it. I am proud of the seriousness and responsibility with which our President and Government reacted in the most difficult moments, making the right decisions that saved human lives and our economy.
I became the head of the Ministry of Foreign Affairs at a time when the global diplomatic activity had stopped and when the countries redirected all their capacities to anti-crisis management. Today, many speak pejoratively about anti-covid diplomacy, but they keep forgetting that, for months at the beginning of the crisis, it was almost the only diplomacy practised in the world. In that period, after many years, world media started reporting positively about Serbia. I must point out that all this was thanks to our diplomacy. Our entire state system reacted in the right way and in a timely manner. It made the right strategic decisions, and as a consequence, we sailed much better through health and economic storms, unlike some countries that used to be so far ahead of us until only recently. Today, we have the opportunity to help, not only our neighbours but also old friends around the world who need our help. There are rare opportunities in life and diplomacy when you can help someone in an essential way without having a hidden agenda and out of extremely humane motives. Our friends know how to appreciate such help, which was made clear to me during my recent visit to Africa.
You have repeatedly pointed out that Serbia remains committed to EU accession. What do you think are the most important priorities of Serbia on its path to EU membership?
Serbia's membership in the EU is a logical and pragmatic goal because we are part of the same economic and political space. Our commitment to the implementation of EU standards and values ​​in all fields is unquestionable and we are fully aware that membership in such a club of countries must be deserved. The problem, however, is that our approach to the full-fledged EU membership is not going at the speed and pace we would like it to, because our administrative and other capacities are such that we are confident that this process can be both faster and better. Would Serbia be a regional record holder in attracting foreign investments if our legislation and the overall societal organization were not in line with the selective requirements of foreign capital? I am confident that Serbia has gone much further in the process of harmonization with EU requirements than many in Europe are willing to admit.
We should not close our eyes to the fact that the EU has serious internal problems that affect the enlargement policy, as well as that the dialogue with Priština is a process that affects the dynamics of European integration because no candidate country has encountered such a problem during accession negotiations. The most important thing, however, is to compare our society, regardless of whether our efforts will be valorized in accordance with our expectations, to the most advanced European societies, because that is unequivocally in the best interest of our state and its citizens. Serbia deserves EU membership historically, in terms of values, economics and in every other way, but not everything depends on us in that process.
The Berlin Process is an initiative that has brought measurable results and concrete benefits to the people in the region.
What do you think about the meetings of President Vučić and the Priština delegation, held in Brussels, and what direction should further negotiations take?
I will paraphrase President Aleksandar Vučić – it is unpleasant but also easy to talk to Albin Kurti. Kurti does not participate in Brussels talks with the goal of reaching an agreement on something, but to put on a political spectacle. I do not think that this is a good strategy for people living in Kosovo and Metohija or for the region, but we are not in a position to choose our interlocutors. Serbia has been and remains a constructive partner in the dialogue conducted with the mediation of the European Union because peace and stability are our urgent priorities. And Kurti is not the only politician in the region who does not understand that conversation and the ability to compromise is a prerequisite for resolving disagreements in the Western Balkans. But all we can do is our job and to fight for Serbia, its development and economic growth while preserving stability in the region. No one can object anything to such a policy.
What does the Berlin Process entail and how important is it for regional cooperation, reconciliation policy and overcoming problems from the past?
The Berlin Process is an initiative that has brought measurable results and concrete benefits to the people in the region. It basically rests on the same logic on which the EU is built, as the greatest oasis of peace and prosperity in human history. We have a lot to thank the Berlin Process for, particularly the fact that we have had years of peace, stability and cooperation in a region that is proverbially known for its instability. I am convinced that this is not the best we can do, but it is undoubtedly the path we should strive for. There is no country that wants to see our region stable as much as Serbia, for our region to be stable, for the economy to flourish, and for the flow of people, goods, capital and services to happen with as few obstacles as possible. There is no better validation of our commitment than the Open Balkans initiative, because Serbia, which has long been perceived as part of the problem, is today not only part of the solution but the initiator of a solution to many challenges facing our region.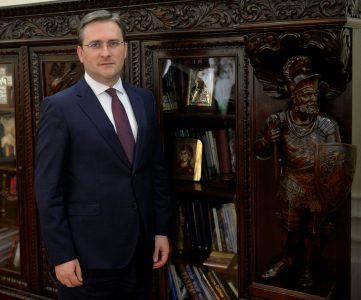 What is it like to head Serbian diplomacy that has been collaborating well with the US, China, Russia and the EU? 
Serbia pursues a multi-vector foreign policy. This means that, despite our firm commitment to EU membership, we are determined to improve relations with the Russian Federation, the People's Republic of China, the countries of the Non-Aligned Movement, but also with the United States. Serbia is determined to keep its position as a militarily neutral and politically independent country in the future too.
We are aware of our position in international relations and Serbia's capacity, because, as our ancestors said, we are not a big nation, but there is no greater nation on the road from Vienna to Constantinople. After all, we are validating this with our political and economic successes in the past seven years. At the foreign policy level, Serbia today acts as a constructive factor, but also as a country that has clear interests, and defends and protects those interests in a legitimate way, based on international law.
What will be the key foreign policy priorities of Serbia in the coming period?
Full-fledged EU membership is certainly our highest foreign policy priority. At the same time, Serbia will insist on improving relations with other important international factors, especially those with whom we have a strategic interest in cooperating. In that sense, we will work diligently, not only to improve and renew political ties with many countries but also to boost the capacity of our economic diplomacy.
Also, our key national interest, but also one of the foreign policy priorities, is to fight for our state and national interests in Kosovo and Metohija. In the end, although this set of topics is not the least important in this series, I would like to underline the work on preserving regional stability, fostering good neighbourly relations and strengthening ties with Serbs in the region and the diaspora. Serbia has long neglected its obligation and right to take care of the well-being of the Serbian people in the region, and that will certainly be one of our priority goals in the coming period.
What will Serbia be like in the next five years? 
After many years, Serbia has strategically thought-out development guidelines, and this is due to the fact that our country is led by a visionary and strong leader like President Aleksandar Vučić, but above all, because there is a strong critical mass of citizens who support such a strategic concept.
I am sure that Serbia will continue to become stronger, not only in the regional framework, but we will become an even better example of success at the global level. I had the opportunity to often witness a phenomenon in conversations with foreign statesmen whereby Serbia's successes are more recognized abroad borders, than in Belgrade. Two years ago, at the celebration of the 11th anniversary of the formation of the Serbian Progressive Party, the President set the long-term guidelines for the development of our country, and they are still valid today. It is about preserving peace and stability, political independence, economic development and caring for young people as the foundation of our future and nurturing a healthy attitude towards tradition and the past with a constant orientation towards the future.