Wednesday, April 29, 2020, 12pm-1.30pm
YouTube live stream: https://bit.ly/2S9lfBe
Organized by Color Media Communications and Serbian–American Friendship Congress, and in cooperation with the National Assembly of the Republic of Serbia, the second online conference dedicated to the Serbian economy will be held on Wednesday, April 29th, starting at noon, titled
'SERBIA'S ECONOMY, THE DAY AFTER'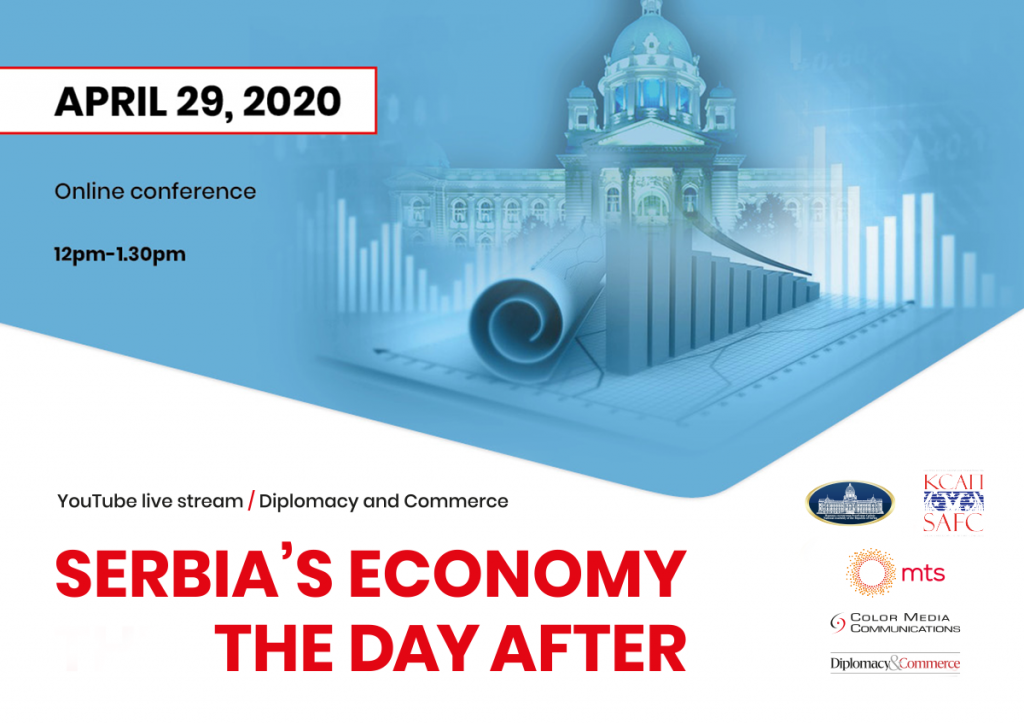 The participants of the online conference will discuss what the Serbian economy will look like after the coronavirus pandemic subsides, the measures devised by the Government of the Republic of Serbia and their implementation, investments after the pandemic, what will certain industries look like and how domestic and foreign companies will organize their operations.
The following topics will be covered – measures of the Government of the Republic of Serbia and their implementation, economy and organizing business operations – risks and challenges, the financial system and the moratorium, and various industries: telecommunications, insurance, tobacco, finance.
The participants are: Vladimir Marinković, National Assembly Deputy Speaker and Founder of SAFC, Robert Čoban, President of Color Press Group, Ivan Đoković, Deputy PM of the Provincial Government and Provincial Secretary for Economy and Tourism, Marko Čadež, President of Serbian Chamber of Industry and Commerce , Dubravka Negre, Head of EIB representative office for Western Balkans, Gojko Stanivuković, State Secretary at Ministry of Finance, Violeta Jovanović, NALED Executive Director, Borko Crnogorac, B2B Product Development Director, Telekom Srbija, Dragan Filipović, CEO of Generali Osiguranje Srbija, Ivan Miletić, Director External Affairs Philip Morris International, Duško Krsmanović, Flagship and Ruža Veljović, Diplomacy&Commerce magazine Director
The online conference will be held on Zoom and you can follow the conference via live stream on Diplomacy & Commerce magazine's YouTube channel https://bit.ly/2S9lfBe
Conference main partner is Telekom Srbija.
For any additional information please contact Jelena Savić jelena.savic@color.rs