Greater security, safety and data protection when paying
Starting from July 21, 2020, OTP banka Srbija, with the support of Mastercard, has enabled its clients to pay with Apple Pay-a. With greater security, safety and data protection when paying with Apple devices, OTP banka's customers can now pay at the point of sale without exchanging a payment card or cash with the seller and without touching the POS terminal with their hands.
The clients using an iPhone or Apple Watch only need to bring their portable device close to the POS terminal and thus make a contactless payment. The client can be certain that only they have the option to pay with the Apple Pay app as they unlock their device either by biometric authentication, such as fingerprint and face recognition of the owner or by entering their device unlock code.
In this way, Apple Pay provides the possibility to pay for goods and services while maintaining physical distance and minimal contact with other people, at all points of sale where contactless payment by payment cards is enabled.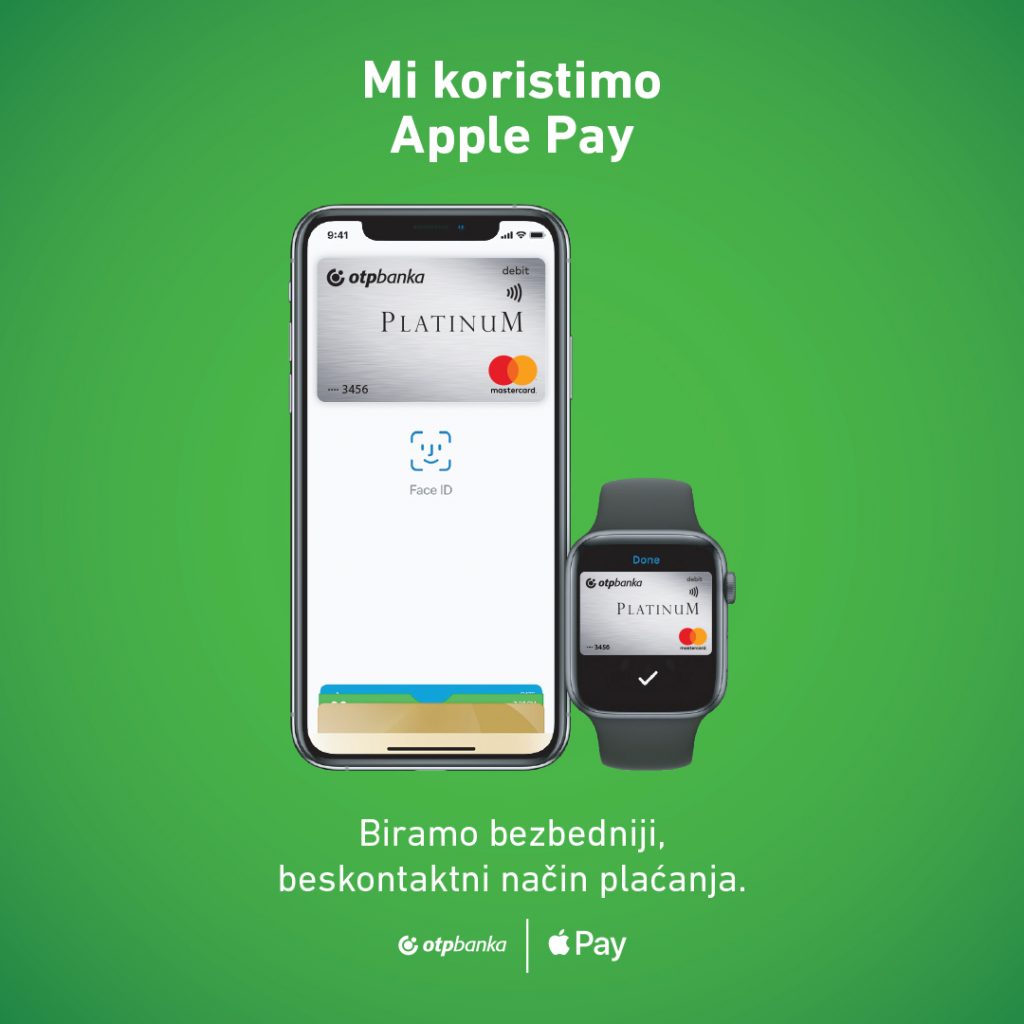 In addition to paying at the point of sale, online shopping is also made easier. Whether online payment is made within one of the applications or using the Safari browser, iPhone, iPad or Mac users who make purchases with Apple Pay do not have to create an account or re-enter their payment card information and data on place of delivery.
Security and data protection are in the core of OTP Bank's cooperation with Mastercard and Apple. Whenever you use your OTP banka's Mastercard® payment card within the Apple Pay mobile wallet, the actual number of your card is not stored on the device or on Apple servers. Instead, a unique number is assigned to a given device that is encrypted and safely stored in a secure element on a certified device chip designed to safely store information, which represents an industry standard.
All OTP Bank customers need to do is launch the Wallet app on their iPhone, tap the "+" sign and follow further steps to add a Mastercard® credit or debit card. As soon as the user adds their card to their iPhone, Apple Watch, iPad or Mac, they can immediately start using the Apple Pay service on their device. At the same time, users will continue to have access to all promotions and benefits that OTP banka or Mastercard provide.
OTP banka continues to push the boundaries in introducing innovations tailored to its customers' needs, and the Apple Pay service can be used by all Bank customers who own an iPhone and one of the Bank's Mastercard® payment cards.