Air Serbia has implemented a series of safety and hygiene measures, in collaboration with the health authorities and regulators, to ensure the safety and well-being of our passengers and crew while travelling. For all flights of the Serbian national airline, including the renewal of commercial passenger operations to Zurich and Frankfurt which commence on Thursday the 21 of May, it will be mandatory to wear face masks for the entire duration of the flight, and all aircrafts will be disinfected regularly. Air Serbia has adjusted all procedures for the passenger journey, before, during, and after the flight to the new circumstances, caused by the coronavirus pandemic.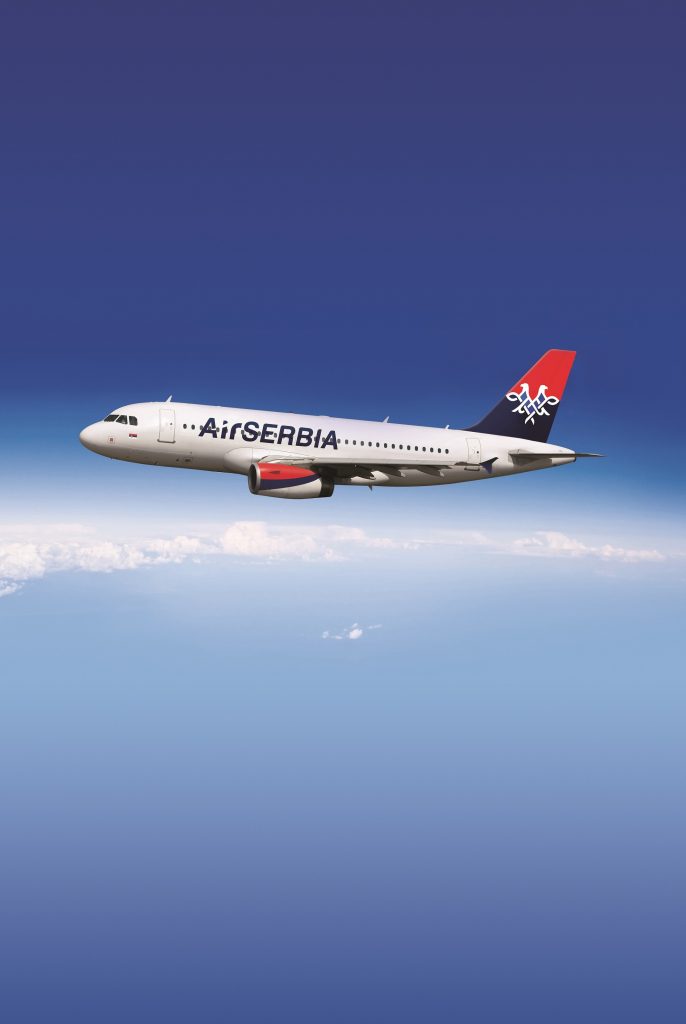 "We want to reassure our passengers that we have undertaken and implemented all necessary measures, in accordance with the highest safety and hygiene standards, as well as instructions of domestic and international regulatory bodies. We have also proactively introduced many measures which are above the industry standards to further safeguard our passengers and crew. As always, the safety of our passengers and crew members are our first priority," said Duncan Naysmith, CEO of Air Serbia. He called on passengers to regularly monitor the company's website, as well as social media accounts, in order to be up to date regarding measures undertaken by the Serbian national airline to ensure that its passengers have a safe and comfortable trip.
The use of protective face masks is mandatory on all flights of Air Serbia, both for passengers and crew members. Additional protective equipment which would be brought by the passengers (gloves and visors) is permitted and welcomed. In addition, all operated aircraft will be completely disinfected every day. When it comes to passenger Airbus cabins, it is important to note that Air Serbia aircraft are equipped with High-Efficiency Particle Filters which control the flow, re-circulation and purification of air. On the other hand, when it comes to the ATR aircraft in the Air Serbia fleet, as recommended by manufacturer and in connection with measures to prevent the spread of the coronavirus, a special procedure was introduced that enables maximum air circulation. Service on all flights will be simplified with a focus on minimal contact. This will include the removal of the inflight magazine and brochures. In the initial period, in line with the recommendations of medical experts, there will be no catering, instead, only water will be served to prevent frequent removal of masks, and thus reduce the risk of the virus being transmitted. For certain categories of passengers, there will also be certain special benefits, and all passengers older than 65 will have check-in priority, free-of-charge, while families checking in for flights will be able to do so using special counters, to make the check-in process quicker and more efficient. Food will be served on our New York operation when it re-commences on the 6th of June.
Air Serbia stated earlier that it would, in the period of 21 May to 14 June, organize a limited number of flights to London Heathrow Airport, Frankfurt, Zurich and Vienna. In addition to that, as of 29 May, the national airline of the Republic of Serbia will start a gradual reintroduction of flights to certain destinations in the region, such as Ljubljana, Podgorica, Tivat, Sarajevo, Banjaluka and Skopje. Air Serbia will also renew commercial flights to New York on 6 June, and on 13 June, the number of long haul flights will be increased to two per week. If the EU travel limitations are lifted by 15 June, Air Serbia plans to increase the number of passenger flights.