The jubilee 20th presentation under the auspices of the project "UŠĆE MOTIVATIONAL SPEECHES", which the Ušće Shopping Centre has been implementing together with the Personal Development Centre LEPO MI JE for the third consecutive year under the slogan "I feel nice because I want to feel nice", will take place on Monday, June 24th, at 8 pm.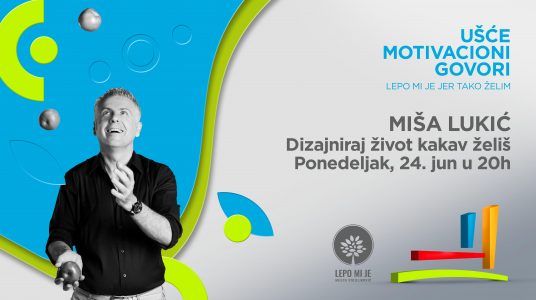 The presentation's theme is "Design the Life You Want" and it will be held by Miša Lukić, one of the most reputable experts in branding and business design in Europe.
The presentation will take place at Cineplex Cinema 10 in Ušće, and tickets can be bought at the Cineplex's box office.
Life is not just one moment that we should get to in order to feel happiness. Life is a continuous creation, an imaginative approach to everyday living, seeing obstacles as opportunity to learn and cultivating curiosity in different situations. We can achieve in lot with small strides, and we can have great success through small life pleasures.
Where is the limit of happiness and success, how can we organize our day, why is it good to mix work and pleasure and how to succeed in that – this is what Miša Lukic will tell us. In his career, Miša has reached the very top of his profession and is widely recognized by his smile and creativity. He is also the best authority on this topic, because he combines strategy, creativity, good intent and hard work on a daily basis, both in work and in life. And he continues to progress…
ABOUT THE SPEAKER
Miša Lukic is a real business leader. He is the founder of the New Strategy Company, which introduces new innovative approaches to solving challenges and finding new opportunities for business development. He is also a regular participant in important charity campaigns.
We know him as the long-time director of the leading marketing agency in Europe – he was the Executive Director of Publicis Group and as such, in charge of the Group's business in 30 countries. He was declared the 2016 Manager of the Year by the Serbian Association of Managers, won the UEPS Lifetime Achievement Award and the PRO.PR Award for his contribution to the development of PR in South East Europe, and was named the Marketing Personality of the Year by the Marketing Council, as well as the Creative Thought Leader.