President of the Republic of Serbia Aleksandar Vučić will host President of the Republic of Turkey Recep Tayyip Erdogan, who will pay an official visit to Serbia today and tomorrow.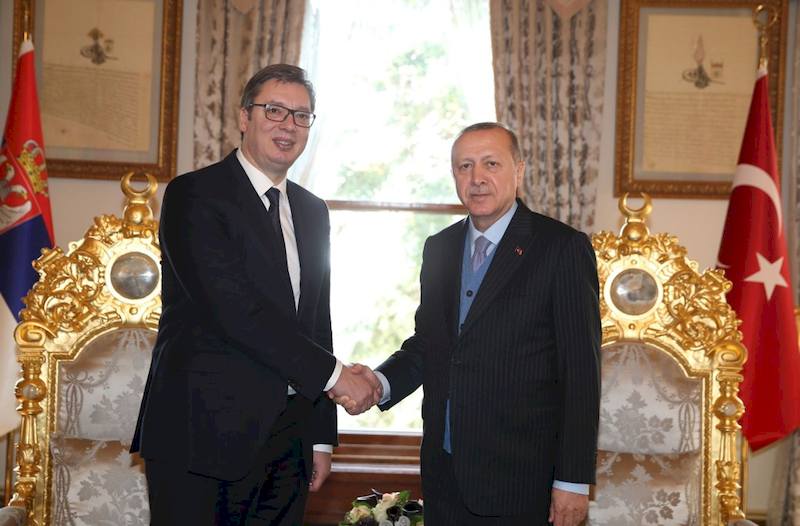 The ceremonial reception for the President of Turkey will be held today at 12.30, in front of the Palace of Serbia.
The two presidents will then visit the exhibition "Serbia and Turkey in the Documents of the Ottoman Archives and the Archives of Serbia", followed by a talk by Vucic and Erdogan at 13.00.
A session of the High Cooperation Council of Serbia-Turkey is scheduled for 14.00, to be chaired by two presidents, and an hour later, Vucic and Erdogan will address the media.
At the same time, a series of bilateral documents will be signed and a joint issue of postage stamps will be presented on the occasion of 140 years since the establishment of diplomatic relations between the Republic of Serbia and the Republic of Turkey.
The Serbian-Turkish Business Forum will be followed by two presidents, and Serbian Chamber of Commerce (SCC) President Marko Čadež and President of the Foreign Economic Relations Committee of Turkey Nail Olpak will discuss economic cooperation between the two countries and plans for its promotion.
On the second day of the visit, on 8 October, Presidents Vucic and Erdogan will host the Trilateral Summit of Serbia, Bosnia-Herzegovina (BiH) and Turkey, which will start at 13.00 at the Palace of Serbia, after which joint press releases are foreseen at 13.45.
The BiH delegation will be led by three Presidency members – Zeljko Komsic from the Croat people and currently presiding over that body, Serbian member Milorad Dodik and Bosniak Sefik Dzaferovic.
The marking of the commencement of the works and the laying of the cornerstone on the construction of the Belgrade – Sarajevo highway will be held at Sremska Raca on the same day at 16.00.