Belgrade, 25 October 2021 – Serbia still has many children from vulnerable groups, especially children with disabilities and Roma children, that the national education system strives to integrate into mainstream education.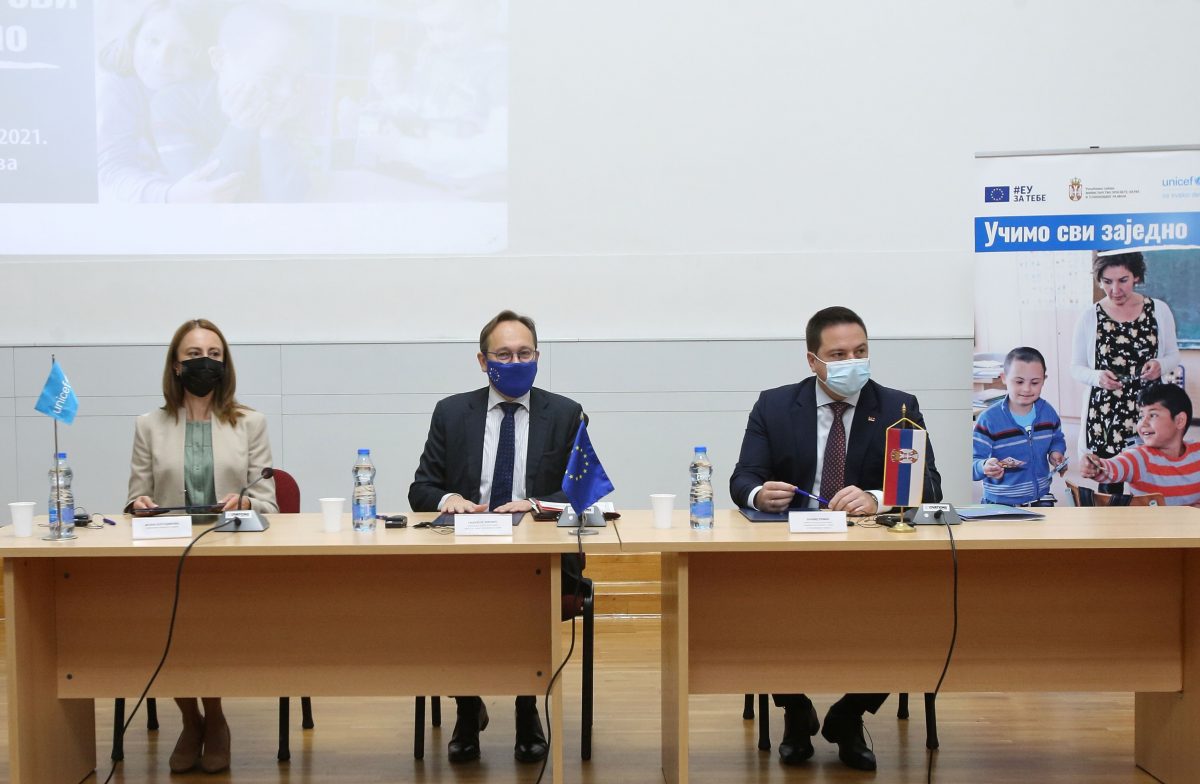 To support the inclusion process, Serbia's First Deputy Prime Minister and Minister of Education, Science and Technological Development Branko Ruzic, Head of the European Union Delegation to Serbia, Ambassador Emanuele Giaufret and UNICEF Representative in Serbia Deyana Kostadinova formally launched the project "Enhanced Equal Access to and Completion of Pre-University Education for Children in Need of Additional Support in Education".
The project worth €4.7 million will support inclusive education through further development of the legal framework, training of education professionals, enhancing the quality of learning, additional support to children and teachers in mainstream schools by developing an enabling environment and procuring equipment to facilitate learning, thus reaching about 1,000 children in need of additional support in education.
The process of education transformation towards inclusion was launched in Serbia over 10 years ago, with the entry into force of the Law on the Foundations of the Education System in September 2009 and has already yielded tangible results. Today, many more Roma children and children with disabilities learn together with their peers, forge friendships, build and strengthen their confidence and sense of belonging in the community.  Yet, it is essential to provide greater support to schools and teachers to achieve fully inclusive education for all children and offer them high-quality additional support.
"Education institutions in Serbia have the legal and professional duty to adapt to every individual child, so that every student can realise his or her cognitive, emotional and social development to the fullest. Hence, with the new Education Development Strategy until 2030, we have laid down further inclusive education development steps, and under this project we will put in place additional support mechanisms, including different professionals, services, institutions, approaches, and work modalities," said First Deputy Prime Minister and Minister of Education, Science and Technological Development Branko Ruzic.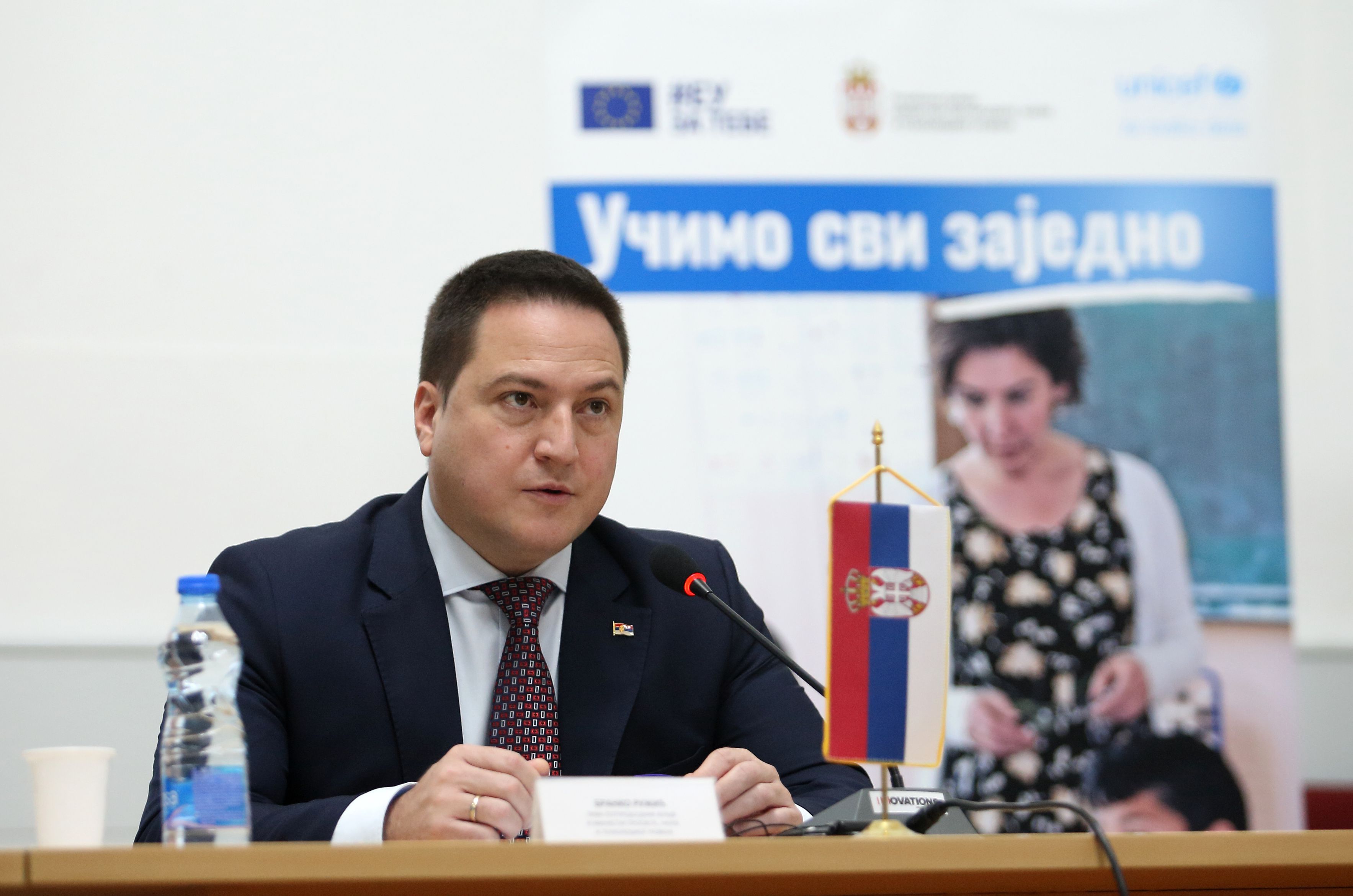 The European Union has long since supported Serbia's education reform process, aimed at enhancing education quality and including every child in the teaching and learning process, and has invested over €100 million in this sector since 2003.
During the signing ceremony, Ambassador Giaufret emphasised continued support that the EU provides for Serbian education reforms. He stressed that most important in this process is to ensure that everyone has an equal opportunity to grow and develop.
"The EU is proud to contribute to improving education opportunities in Serbia because we must all have equal opportunities and support throughout our education.  This project, which will reach at least 10% of schools in Serbia, will directly allow further development and improvement of inclusive education. In cooperation with the Ministry and our partners in UNICEF, an inclusive approach in national policies and legislation will be further strengthened, followed by capacity building of education institutions and over 5,000 professionals. By providing substantial assistive technology to resource centres, diverse educational support will be provided to at least 1,000 pupils and students. This innovative project, worth €4.7 million, is part of wider support and partnership between the EU and Serbia", said Ambassador Giaufret and added that today's event presents is also a part of the joint campaign of EU Delegation and the Ministry of Education, under a slogan 'Changing the World Through Knowledge', which showcases what has been achieved through the reform process of the education system in Serbia.
Accessible, high-quality and equitable education is only possible if all children, including those from vulnerable groups, are included in a school system that ensures they have high-quality support to learn for life. Inclusive education means devising the most efficient way to provide every child with full support to learn together with peers and develop the skills needed to thrive. Inclusive education also calls for improvement in teaching methods and strategies, as well as efforts on the part of all community stakeholders to ensure that all students, including those in need of additional support, are offered an equitable and participatory learning experience and an environment that best suits their needs, requirements, and dispositions.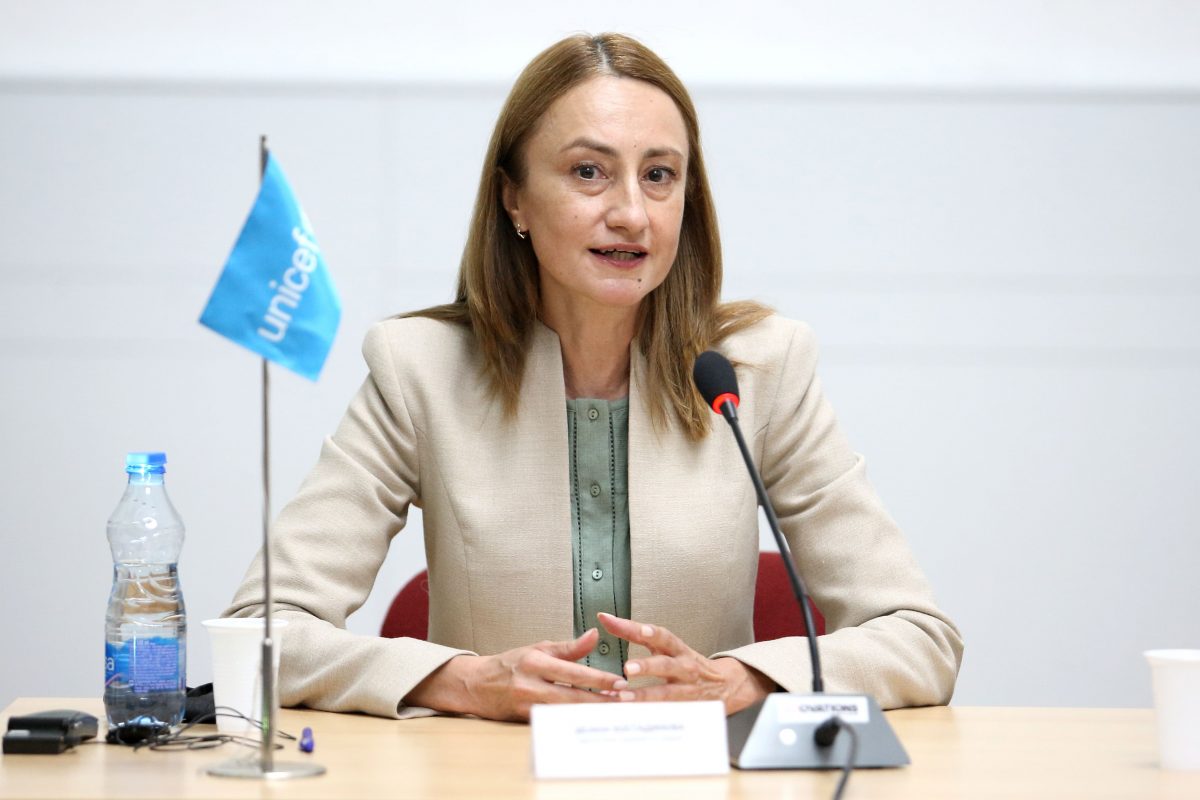 "UNICEF has been a long-standing partner to the Ministry of Education, Science and Technological Development in building inclusive education. Today, our partnership is even stronger, with the European Union joining us in this very important process.  The project we are launching will ensure the necessary support to children with complex learning needs. Nevertheless, we must not forget that inclusive education goes beyond the education sector and encompasses health and social institutions, families, and the business sector. Only through this synergy of efforts and commitment on the part of all stakeholders can inclusive education be achieved," stressed Deyana Kostadinova, UNICEF Representative in Serbia.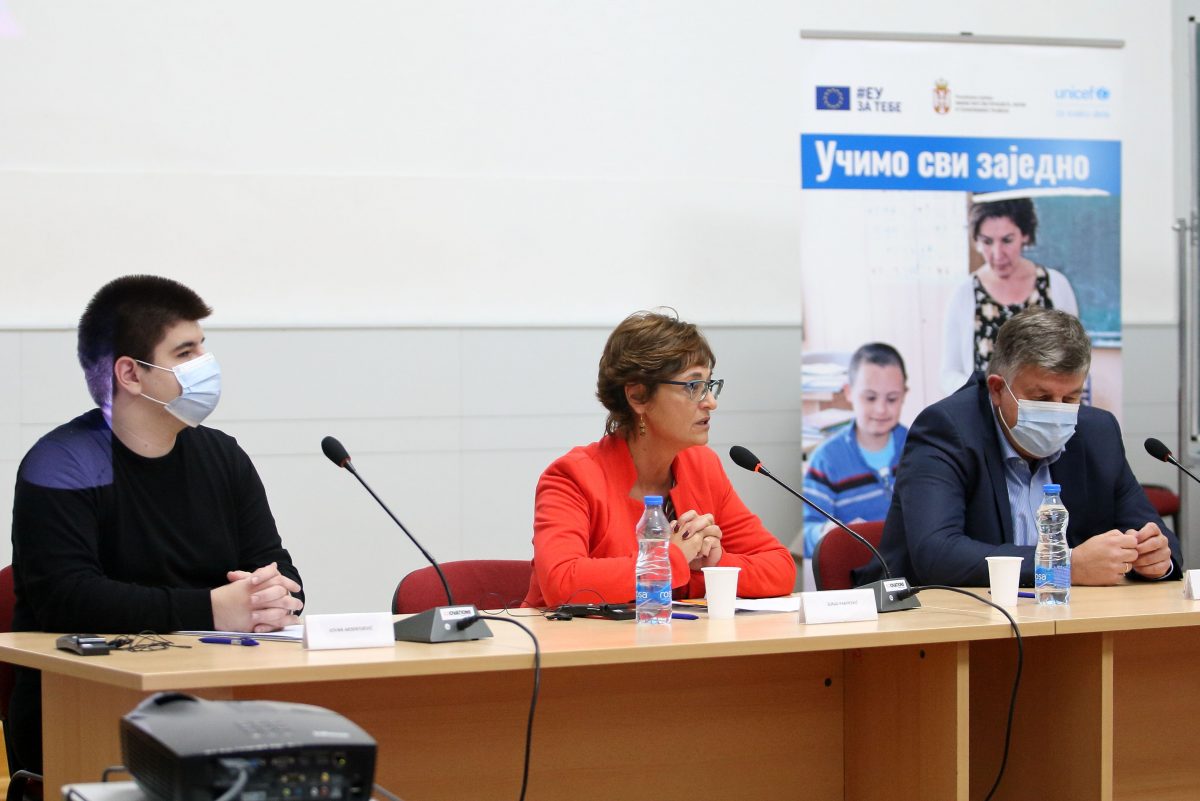 During three years of implementation, the EU-funded project "Enhanced Equal Access to and Completion of Pre-University Education for Children in Need of Additional Support in Education" will have a direct impact on the further development and improvement of inclusive education in Serbia. The project will reach a minimum of 10 percent of Serbia's schools through strengthening the competencies of 4,000 professionals in education and other areas, as well as about 1,000 professionals in all inter-sectoral committees in Serbia.  Planned activities include supporting the development of professional learning communities and mentoring support to education professionals through model schools for inclusive education, work of advisers – specialist staff, resource centre activities and the operation of 20 inclusive education networks in participating municipalities. The project will contribute to the establishment of three resource centres and procurement of assistive technologies to support education of students with disabilities, and will support the activities of the National Coalition for Inclusive Education.
Inclusive education is an investment in the present and the future – an investment in the children of today and those that will shape our society in the future.