Exciting times are ahead for those who are ready to use these opportunities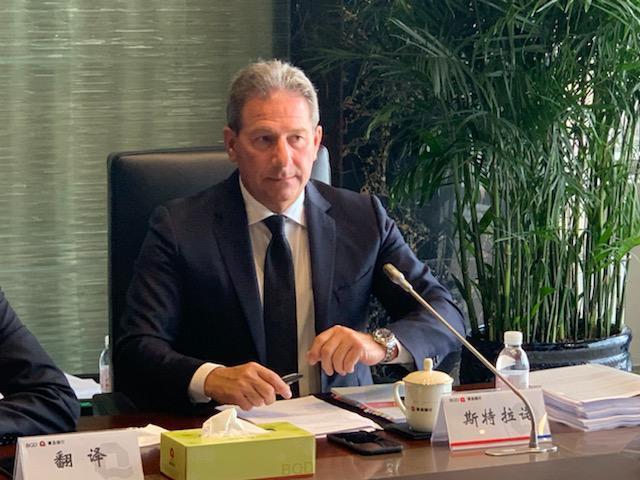 Rosario Strano has been holding the post of Intesa Sanpaolo Chief Operating Officer since January 2018. He started building his impressive profession-al profile within Intesa Sanpaolo in 2002, when he joined the Group as Head of Human Resources and Organization of the Italian and International Subsidiary Banks Divisions. He served as Head of Human Resources and Organization within the International Subsidiary Banks Division be-tween 2007 and 2009 and then continued his career as Head of Resources & Governance Department between 2009 and 2015. He was appointed Group Human Resources Director in 2015 and took on the responsibility of Chief Operating Officer Area in 2018. He is also Member of the Board of Directors of Bank of Qingdao and of Intesa Sanpaolo Group Services. Before joining Intesa Sanpaolo, Rosario Strano held various senior positions in Banco di Roma, Alitalia, Baglioni Hotels, ANSA and Poste Italiane S.p.A.
Intesa Sanpaolo is one of the big-gest Italian lenders and one of the most successful European banking groups with sound capital base and solid performance track records, according to the results of the 1st half of 2019 just published by the Group. Holding the Chief Operating Officer position in the Group, what can you say about the progress and the overall impact the Group has in the market? How do you perceive the forthcoming period and what will be the major challenges for the Group in the near-by future?
— Throughout the years I had the opportunity to witness Intesa Sanpaolo dynamic growth in the Italian market along with a continuous international expansion and I can say that the results in the period behind us were marked as outstanding. Despite a challenging environment in H1 2019, our excellent performance, ultimately reflected in a €2.3 billion net income, confirmed our ability to remain on the path of an ambitious four-year Business Plan that prioritizes a strong and sustainable value, a solid capital position and a significant reduction of NPLs ratio and annualized cost of risk decreased to 47 basis points in H1 2019. Moreover, our operating costs, which decreased by 3.2% on H1 2018, positioned us as one of the top European banks in terms of efficiency and enabled us to invest in the further expansion of the business, while also carrying out our digital transformation agenda. Given our presence in around 40 markets across the globe, our vast support to a range of industries, 67,000 employees in Italy and 24,000 abroad, there is no doubt that Intesa Sanpaolo is an accelerator of growth in the global real economy. At the same time, we are well aware of our responsibility towards the community and the necessity to act as an engine in order to foster the social growth through various projects of economic inclusion and poverty reduction, while also playing a crucial role in the promotion and preservation of cultural heritage on a global scale. When thinking about the period to come, I would say that all the industries face similar prospects, such as: a sound international presence, fast-developing markets, sustaining profits in an unsettling global economic environment and tapping on fresh opportunities emerging from digitalization and technological development. Exciting times are ahead for those who are ready to use these opportunities.
Mr. Strano, your very impressive professional experience has a solid background in the Human Resources area. What are the main challenges and perspectives in nurturing and shaping people as the most valuable asset of an organization, and which is the one that is critical for a company to prosper, especially nowadays in an environment of continuous change?
— Managers tend to devote themselves to an endless search for innovation, cutting edge technology and state-of-the-art products, but in fact what drives us ahead are mainly dedicated employees. I do not think there are critical HR challenges exclusively attributed to the banking industry, but I would say that the most common issues in this area are talent attraction and retention, diversity and inclusion, workplace flexibility, high level training, career advancement plans and, of course, leadership development.In order to address those challenges, Intesa Sanpaolo has embedded people as a key enabler into its four-year Business Plan and committed €1 billion until 2021 for this purpose, confirm-ing its intention to build a strong Bank for the future. Besides the launch of the International Talent Management Program and the Management Academy, I would particularly highlight the introduction of the smart working concept aimed at improving work-life balance of our employees and thus their overall satisfaction on one side, while stepping up productivity on the other.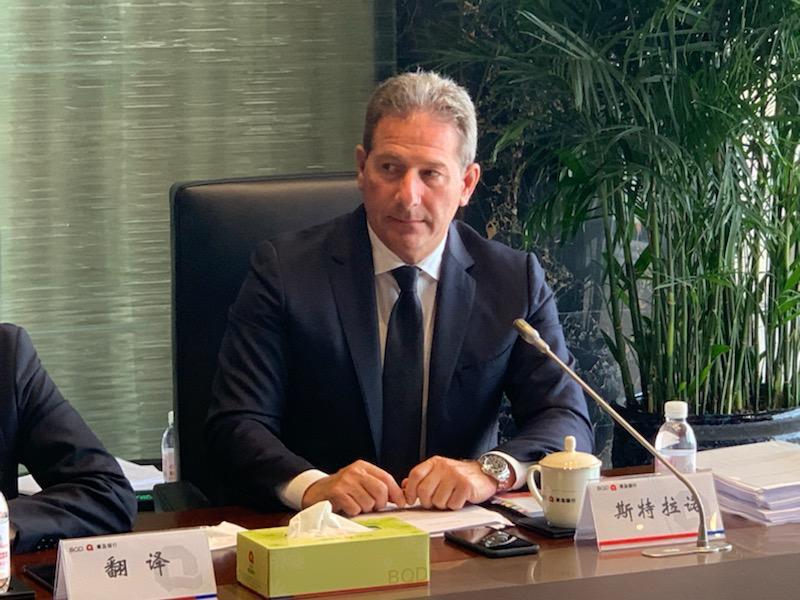 Two fundamental pillars of the current business plan are people and digital, two areas in which you have been, and you are still, working hard. Can you tell us something more about them?
— In my opinion, people and digital go hand in hand in case an organization is striving towards deliver-ing sustainable results and staying at the helm of the market. To prove this thesis, recent researches show that increasing digitalization of the business processes in organizations often fails if the human factor is neglected. It is already evident that digitalization is transforming the distribution of jobs across the labor market, but it is also certain that humans and machines have to complement each other. In defining our Business Plan, we realized that the only way to achieve our ambitious goals is to unleash the full potential of digital transformation and to empower people to use this as an opportunity. Nowadays, managers talk about automating processes in terms of optimizing costs in HR, but we think that technology should not annul relationships, it should streamline lower value processes and allow people to scale up their capacities to serve clients even better. In such conditions, our employees will be able to offer consultancy services and enhance customer experience even more, thus differentiating us from the competition in the global market. In order to give a concrete answer to these needs we hired 3,300 people over the last three years, out of who 2,200 under 32 and 600 in the digital and innovation area to allow the Group to be competitive in the digital modern era.
Today, we're hearing a lot about the technological changes taking place in all areas of the company's operations. What changes are needed in the development of the Organization world? What's the Intesa San-paolo Group doing about it?
— The industrial landscape has changed more than once through history, altering also the face of organizations. As the fourth industrial revolution unfolds, ideas and innovation become the most valuable assets of companies, the blue ocean of untapped potential which adds value and a competitive edge to conservative systems. We all know that due to its important role in the economy, the banking industry is a regulated environment that often puts the brakes on the banks' flexibility, which is not the case with a growing number of non-banking companies that offer similar services at a higher risk and with fewer requirements. In order to be able to strike back to the non-banking competitors and respond to the requirements of the sophisticated and fast changing markets, the banks need to re-organize themselves and consider teaming up with FinTechs to set the pace of innovation in the sector. Intesa Sanpaolo addressed this challenge by forming its Innovation Centre, which currently counts around 100 employees working with startups all over the world to develop new products based on FinTech technologies. Furthermore, partnering with The Floor, a FinTech incubator which we co-founded in Israel, we have recently opened Innovation Center in Hong Kong. Its purpose is to accelerate international scale-ups of Italian companies in Asia and facilitate search for wealth management technology platforms in China.
No doubt Intesa is one of the global banking players, with the clear strategy and a significant impact on societies and economies in all the countries where it is present. As far as Serbia and the neighboring countries are concerned (Croatia, Slovenia, Bosnia) what do you think of the evolution of Intesa Sanpaolo's role in these countries and what differences have you seen with regards to the managerial capabilities and values over all the past years?
— We have a strategic international presence in the Central Eastern Europe region. In Serbia, Banca Intesa has been at the forefront of the local banking sector for over a decade, leading the industry across all key banking metrics. Embracing the exponential growth of technological advancement and growing expectations of the customers, Banca Intesa has recently embarked on a comprehensive digital transformation program that will clear the way for its sustainable growth. In Croatia, we operate through PBZ, the second-largest bank in the country, which has recently become a regional banking hub for our operations in Bosnia-Herzegovina and Slovenia as well, proving itself to be a center of excellence for numerous areas of banking in the Group.
CHINA MARKET
In the last couple of years China has emerged as a raising player in the world economy, thus gradually shifting the global balance of power towards Asia. Can you tell us more about Intesa Sanpaolo operations in that region and its plans in the given context?
— China has long been one of the strategic priorities on our international expansion agenda, both as the largest country by population and a rapidly developing economy, currently second only to the US. Starting off from a representative office in Beijing, opened in 1981, and a Shanghai branch, launched in 1997, we have continued to explore the incredible business prospects offered by the Chinese market through investments in Bank of Qingdao as well as in wealth management companies Penghua and Yi Tsai. Our ambitious expansion plans for the three companies, which include opening dedicated branches and developing attractive products, reaffirm our commitment to China as a very important growth target in our Business Plan. We should observe China, also as a powerful international investor, and a partner for further economic development in other markets where we operate. In line with this we are one of the main supporters of The One Road One Belt initiative (Silk Road), aiming at improving infrastructure, particularly in Western Balkan countries.