Number one creditor of the corporate and retail in Serbia, and a leader in the market of factoring, leasing and e-commerce services
Human Resources Directorate director OTP banka Srbija, Saša Škundrić, talks about how bank is coping with the pandemic-related challenges in the HR sector.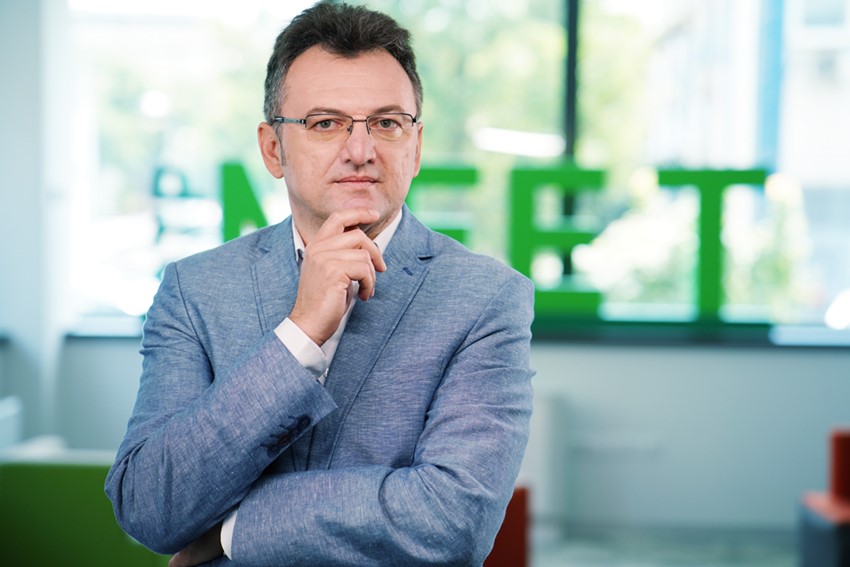 What have been the biggest changes that the pandemic has caused in the HR sector?
Certainly, the biggest change is the transition to hybrid work, but I think it is equally important that the aspect of developing the ability of employees to overcome many challenges and to come out stronger (resilience) has come to the fore. Caring for the mental health of employees is becoming the standard for every company that wants to be a role model as an employer, which OTP banks Srbija certainly is.
Could you tell us about the resilience and wellbeing activities you have carried out?
At the very onset of the pandemic, we launched the campaign called "The hygiene of the Soul" together with a renowned psychiatrist, where through thematic videos we informed our employees about tools and techniques they can use to maintain stability and mental health, prevent and amortize crises and strike a balance between work and life obligations. We also had several other useful activities while maintaining regular and timely internal communication.
What are the positive and negative aspects of the hybrid work model from the employee's point of view?
We have asked this our employees. As the main advantages, they pointed out that this way of working is more economical for them, that they can easily organize themselves and strike a better balance between work and life and their obligations. The negative aspects that our colleagues mentioned are the risk of alienation from colleagues and clients and a blurred line between work and private time during the day.
What are the main challenges for HR in this new reality, especially for your bank?
The pandemic has only expedited certain processes and trends of digitalization and reliance on BI and AI solutions. As the largest creditor of the corporate sector and the Serbian population and a leader in many aspects of business, we are always focusing on the future. We want to be leaders not only in lending and market share but also in creating new and innovative solutions and services to provide our customers with the best possible experience. In achieving this goal, our values lead us to live by innovations and believe in change in our bank, as well as to create solutions that make the lives of those around us better and easier. That is why we are developing the concept of the employee life cycle in order to continuously monitor and improve the experience of our employees, but also to ensure that we demonstrate our company values equally to customers and within our company, among employees.
What innovative solutions you have been using to adapt to the changes and new demands of new generations of employees?
The concept under which we create solutions is the implementation of digital culture. This is the source of numerous solutions and programmes in OTP banka Srbija that aim to support employees in upholding the company's values. We use a digital platform to recruit new employees and a digital platform to introduce new colleagues through mentoring. We have developed a digital concept of learning and training. We have our development programme called DARe, where the talent, via our digital platform, independently choose the dynamics, place and time for learning, thus further developing their competencies of the future – digital, agile and resilience. Also, through the HR digital self-service model, we have a set of information and document available to our colleagues can use without having to contact any of the bank's service departments.
---

"A company that wants to be a leader must constantly evolve and grow, and this development and growth must rest on the development and growth of its people"

---
Furthermore, we have launched an innovative programme where our colleagues are invited to give suggestions related to innovative solutions. The selected solutions are then implemented and the colleagues who gave the best proposals are rewarded. In this way, we are conveying to our employees that each of us has a role and can contribute to the company's development, both through the implementation and development of new solutions.
What approach and philosophy should a company adopt to be a leader in its business segment?
A company that wants to be a leader must constantly evolve and grow, and this development and growth must rest on the development and growth of its people. We are leaders who have developed a culture and environment in which employees are constantly evolving and are ready not only to follow but also to instigate changes and create innovative solutions, all in collaboration with other colleagues and partners so that we can provide our clients with the best service and experience. I would like to mention here a pilot project that we have recently launched aimed at further developing our business through digital solutions and agile methodology. Thanks to this project, we will empower some employees with new competencies, and obtain certain competencies by hiring new team members from the job market.