Slovenian Business Club officially presented the beginning of a business partnership with the world-renowned media house The Economist at Ljubljana Castle.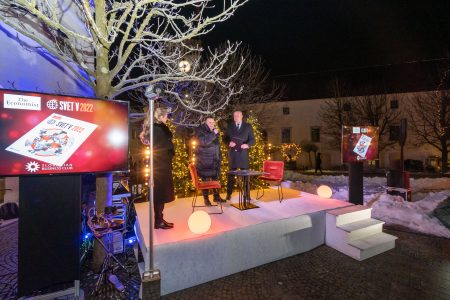 As part of this collaboration, the annual issue of The Economist: World in 2022 was published in Slovene for the first time. The partnership was signed on behalf of SBC by the club's president Joc Pečečnik.
The Economist: World in 2022 offers the best editorial content from global issue of the magazine, as well as top contributions from Slovenian editorial staff. In the journal you can find articles by dr. Danilo Türk, Ph.D. Lučka Kajfež Bogataj, Ph.D. Egon Zakrajšek, Franc Bogović and many other experts and connoisseurs in the fields of geopolitics, logistics, environmental sciences, economics, sustainability, artificial intelligence…
The launch of business partnership between SBC and The Economist was attended by more than 150 top entrepreneurs, members of the SBC.
"This is a historic moment when The Economist magazine comes to Slovenia for the first time in the Slovenian language. SBC brings together top business owners and people from around the world, and partnership with The Economist is an extremely important step towards globalization and internationalization of our operations." said the president of the club Joc Pečečnik.