At the EBRD 2019 Annual Meeting and Business Forum, UniCredit confirmed its commitment to the CEE region as an important growth engine.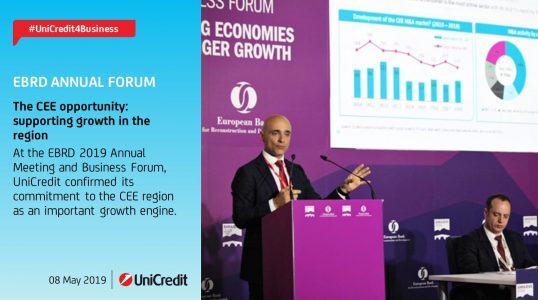 UniCredit to leverage on expected CEE GDP growth in 2019 with the region reaping the benefits of being an open economy and Foreign Direct Investments and EU Funds playing a relevant role for the economy and ensuring growth potential for corporate sector and SMEs.
Corporate sector and M&A market: The CEE corporate sector remains conservative in terms of financing, focusing mostly on traditional bank lending. There is still room for growth in terms of debt and equity financing, although largely dependent on each country's specific factors. M&A in the region has seen the highest deal value of the last 5 years in 2018, though far below historical highs. There were 222 transactions in 2018 (254 in 2017), with the consumer sector being the most active, with 48 deals followed, by TMT and FIG. In 2018, UniCredit was involved in 20 transactions in the CEE region – more than any other investment bank. This positions UniCredit as the leader in M&A league tables in terms of number of transactions for the fifth consecutive year.
CEE shows dynamic corporates and SMEs supporting the economic growth: UniCredit offers a full range of banking products and services to Corporates and SMEs and is focused on further improving its offer, in order to anticipate and meet clients' needs. The CEE SME sector employs 11.4 million people in 3.2 million enterprises, creating EUR 195 million of economic added value. It is largely impacted by trends imposed by the fast changing environment, that are creating new needs to be addressed by banks – regulatory impacts, capital markets and digitalisation. Among other initiatives, in the SME sector UniCredit provides support through the dedicated UniCredit CEE Lounge – an exclusive partnership with the London Stock Exchange Group's ELITE initiative, helping them better understand the various funding options available, as well as prepare them to interact with investors, which might be required to support their future growth. To date, the UniCredit CEE Lounge has admitted more than 60 companies from 11 countries across UniCredit's CEE network. UniCredit also continues to facilitate access to EU fund opportunities, that play a very important role in CEE (approx. 90 billion EUR in 2014-2017, 18% of EU budget).
Andrea Diamanti, Head of CEE Corporate and Investment Banking and Private Banking, UniCredit stated: "As the largest lender in the region and a strong partner of our clients and the communities in which we operate, we strive to support their development and growth. Our strength lies in our deep knowledge of local markets, our strong international network and our continued investments in digitalisation to meet and anticipate clients' needs."