Conference, October 13, 2021, 11.00-12.30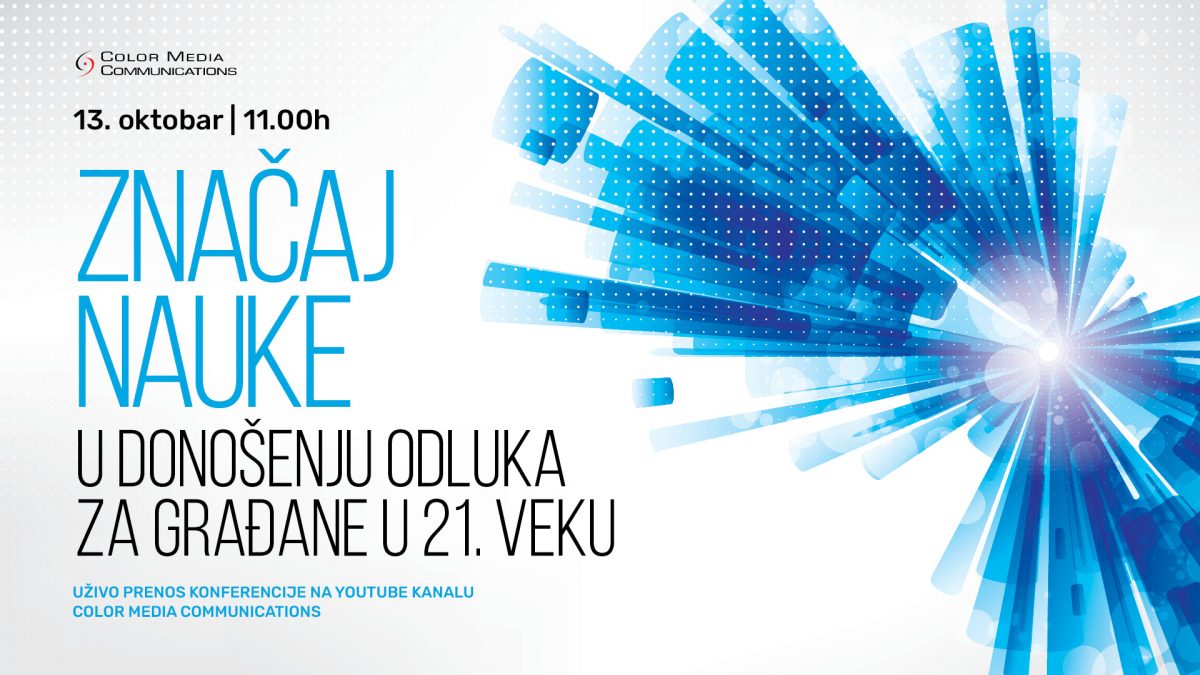 Belgrade, October 11, 2021 – Color Media Communications continues with a series of online conferences that are raising important social issues. This time, the topic of the online conference, which will be held on October 13, is "The importance of science in making decisions that concern citizens in the 21st century."
The conference will be moderated by Robert Čoban, President of the Color Press Group. The conference participants are the following:
Professor Predrag Sazdanović, MD, State Secretary at the Ministry of Health, Government of the Republic of Serbia
Milica Đurić-Jovičić, director of the National Science Fund
Professor David Sweanor, Law professor, Law Faculty, University of Ottawa, expert in harm reduction
Assistant Professor Ana Banko, MD, virologist, the Institute of Virology and Immunology, Faculty of Medicine in Belgrade
Sanja Knežević, Programme Director of the Digital Communications Institute (DCI)
The questions to which the interlocutors will try to give answers concern the basis that people use to make decisions today, namely how to discern what is healthy and what is not, or how to find out what is less harmful.
We will also talk about how important it is for us to make decisions in the 21st century on the basis of scientific facts and not on the basis of rumours, as well as what is more important – science or 'Karens', especially when it comes to topics such as vaccination (for or against), environmental protection (the air that we breathe), healthy diet (what we eat, less harmful options), are cigarette substitutes really less harmful, etc.
Participants will also try to clarify the concept of harm reduction – behaviour, but also public health strategies which are implemented when it is not possible to completely eliminate risky behaviours in order to reduce the negative impact of such behaviour.
The conference's goal is to raise awareness among people of what is healthy and how important it is that the decision-making process is based on science, to reduce the harm of risky behaviour and educate people on how to find less harmful alternatives for themselves.
We would like invite you to watch the conference on Color Media Communications' YouTube channel – https://youtu.be/rn8H8EAnNbY – on Wednesday, October 13, starting at 11 am.
For more detailed information, please contact the CMC team – Jelena Jahura, at jelena.jahura.cpg@color.rs .