From 8 to 12 May, Tašmajdan Park will be the city of the best entertainment place and a blend of unique world cuisines. In the city core of the capital, the first street food festival in the region is held. Like many metropolises, Belgrade will be the world in the Staropramen Street Food Festival, and the best fun is waiting for you at the Staropramen stand. And this time the powder legend celebrates memories, but has a special reason to toast – celebrating the anniversary, 150 years of existence.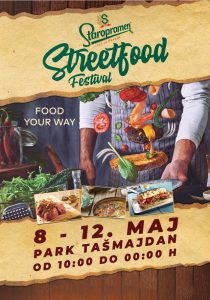 Among more than 15 exhibitors of the highest quality food Staropramen stand is issued with the concept "Food your way", which combines the most varied culinary specialties. There is also a special proposal for a superb gastro-experience, which is created when the most famous powder beer is compared to various types of sausages from the famous Wurst Platz menu.
From the concert of the band Irie FM on the day of opening to the cookery match of influencers Tamara Ćosić (@lepasvakidan) and Igor Stanković (@izorgor) on May 10th, the fun celebration does not stop at the stand of celebrities.
Belgrade will be like London, New York and other world cities these days, knowing the charm created by the blend of festival authentic street food, good music…