Confidustria Serbia, the association of Italian industrialists in Serbia had the opportunity to be present within the 24th Kopaonik Business Forum (KBF) in the Congress Centre on Kopaonik.
Confindustria Serbia had a chance to present during the second day of this year's Forum, on Wednesday, 8 March in the framework of the thematic units "The implementation of reforms: the development of infrastructure, restructuring of the public sector and smart growth" and presented at the panel entitled "The road back home – how to bring our talents back", which focused on the phenomenon of return of young people who after studies and professional training abroad, decided to return to Serbia where they recognised the possibility and need for their knowledge and experience contribute to the economic, social and cultural development of their country .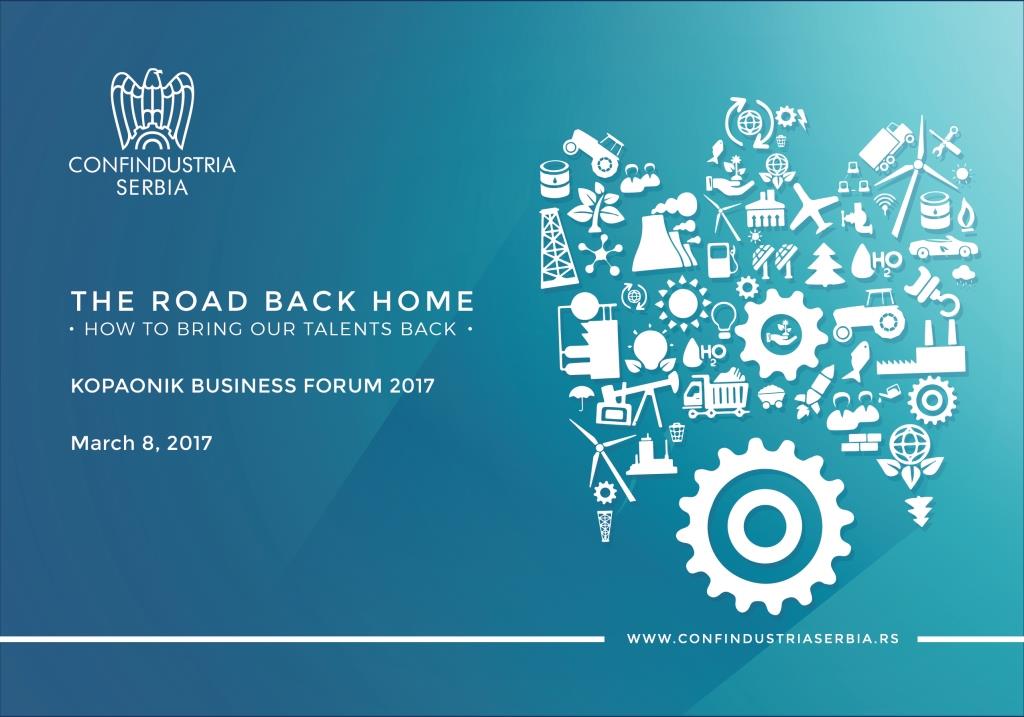 The focus of the panel will be also focused on the mechanisms by which the competent institutions and economy can create the conditions for the stay and employment of young talents, the implementation of support measures, vocational training, as well as creating and implementing concrete programmes and measures of active policy in order to encourage the employment of young, talented people in Serbia.
The work of the panel was moderated by Mr Eric Cossutta, president of Confindustria Serbia, and their views and experiences with the participants of the Kopaonik Business Forum shared:
Mr Marco Landi, the former COO of Apple, who, after his work at Cupertino California returned to Italy and has worked for years in cooperation with young professionals and innovative start-ups which affect the change in the traditional way of doing businessü
Mrs Gabrijela Grujić, advisor for dual education at the Ministry of Education, Science and Technological Development of Republic of Serbia
Mr Zoran Pušković, Regional Sales Manager of the company "ServiceNow", who helped found IBM Belgrade and actively participated in the development of partnerships with nowadays large companies, such as: Comtrade, S&T, Saga.
Mrs Sonja Horvat – Head of Project Management at Axa Insurance, born in Belgrade, grown up and educated in Canada, who in 2011 decided to return to Belgrade district where she continues to build her professional career.