The conference World in 2022 was held in the building of the Parliamentary Assembly of BiH in Sarajevo on December 9, 2021, in cooperation with the Central Bank and with the support of the British Embassy and the EU Delegation. On this occasion, the first issue of The Economist: World in 2022 in Bosnian was promoted.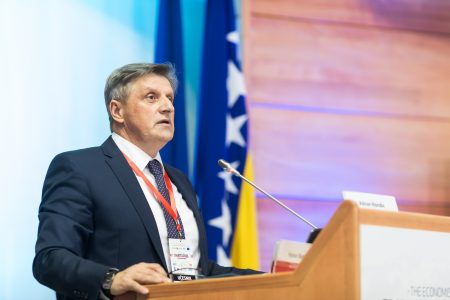 Opening the conference, Central Bank Governor Senad Softic pointed out that a number of challenges lie ahead. In the financial sector, these are negative interest rates, cryptocurrencies, decentralized finance.
British Ambassador Matt Field pointed out that the world as we know it has changed in the last two years and will continue to change: "We will see changes in services, healthcare and pharmaceuticals, we will see shortening supply chains, growth of companies that rely on investments in digitalization. We must be ready for change and think of it as an opportunity."
Krassimir Nikolov, Head of Section European Integration, Political and Economic Affairs Delegation of the EU in BiH said: "Comprehensive economic reforms must be implemented. EU leaders have repeatedly emphasized that the Western Balkans and the EU share a common history but also a destiny."
Minister of Foreign Trade and Economic Relations Stasa Kosarac said that institutions in BiH must have a dialogue with the real sector in order to maintain the economy: "It is necessary to implement international agreements, and they relate primarily to economic cooperation and markets." As part of the first panel of Brave New World, representatives of the diplomatic community in BiH discussed what international relations in the region, Europe and the world will look like after the pandemic.
The focus of Ambassador of Germany Margret Uebber, France Christine Toudic, Sweden Johanna Strömquist, US Ambassador Eric Nelson and EIB Representative for BiH and Montenegro Sandrine Friscia was on energy transition and reduction of Co2 emissions. The second EU4TRADE panel discussed increasing BiH's international and regional trade volume. The topic of the third panel, Money Never Sleeps, was new opportunities and challenges for the economies of BiH and the region. Two Case Studies were presented at the conference. R&S and E&Y presented procurement trends that facilitate business. The second study was on the digital transformation of BH Telecom.