Source: The Guardian
Departure will allow Turkey's president, Recep Tayyip Erdoğan, to further consolidate power
The Turkish prime minister, Ahmet Davutoğlu, has announced his resignation after 20 months in office, consolidating Recep Tayyip Erdoğan's position as Turkey's unrivalled political leader and highlighting concerns about the country turning increasingly authoritarian.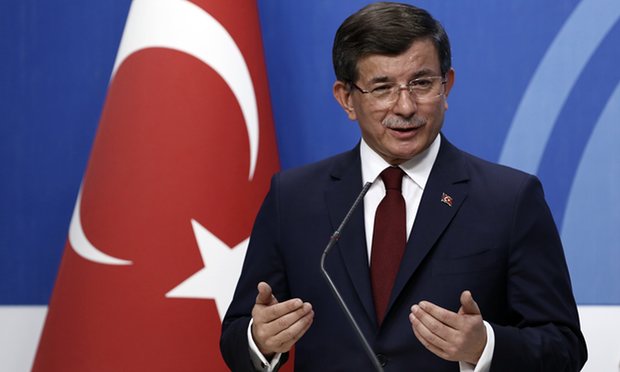 Ahmet Davutoğlu speaks to the media at the headquarters of the AKP in Ankara on Thursday. Photograph: Burhan Ozbilici/AP
The resignation, rumoured for several days amid deteriorating relations between the two leaders, paves the way for President Erdoğan to appoint an even more loyalist party member as Davutoğlu's successor, a move dubbed a "palace coup" by critics and opposition politicians.
Speaking at the Justice and Development (AKP) party's headquarters in Ankara, Davutoğlu said he would step down after an extraordinary party meeting on 22 May and not run for the office again.
"After consultations with the president I decided that it would be more appropriate for the unity of [the AKP] to change the chairman," Davutoğlu said, adding that his period in office had been a successful one: "I have no sense of failure or regret in taking that decision." He said he would "continue the struggle" as a party legislator.
The announcement came one day after intense talks between Erdoğan and Davutoğlu, during which they did not manage to smooth out their differences. Tension had been simmering since shortly after Davutoğlu replaced Erdoğan as prime minister in August 2014 but recently intensified.
The closely watched discussion held on Wednesday night in the presidential palace in Ankara followed the publication of a posting on the anonymous Turkish blog Pelican Brief, named in a nod to the political thriller.
The author, thought to be a journalist with close ties to Erdoğan, accused Davutoğlu of conspiring with Turkey's enemies and western powers to sideline the president.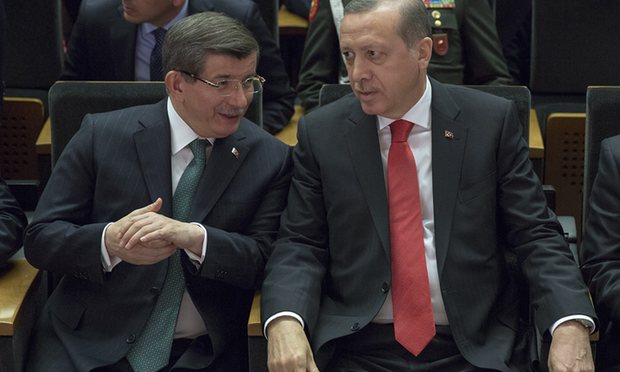 But on Thursday, Davutoğlu refrained from criticising Erdoğan.
"Erdoğan's honour is my honour," he said. "I will not accept any speculation concerning my relationship with President Erdoğan. We have always stood shoulder to shoulder."
Davutoğlu had been expected to play a backseat role as prime minister as Erdoğan pushed ahead with plans to make the largely ceremonial presidency into an all-powerful executive position, but he tried to act independently on a range of issues.
His exit could pave the way for Erdoğan to hand-pick an even more loyalist and pliant head of government and push through controversial constitutional changes to strengthen the presidency.
"This is a catastrophic situation," said Levent Gültekin, a writer and columnist. "This is a decisive step towards one-man rule in Turkey. From now on the only Turkey we will be able to see is the Turkey of Recep Tayyip Erdoğan."
Gültekin added that the next party leader and prime minister would be someone "with no views or opinions of their own".
The justice minister, Bekir Bozdağ, the transport minister, Binali Yıldırım, and the government spokesman, Numan Kurtulmuş, all known to be Erdoğan loyalists, have been named as possible successors to Davutoğlu. Even Berat Albayrak, the energy minister and Erdoğan's son-in-law, is said to be a contender.
Gültekin underlined that Davutoğlu did not have sufficient support either in the AKP or among Turkey's voters to challenge Erdoğan.
"Those that don't like Erdoğan dislike Davutoğlu even more," he said. "The lack of support for Davutoğlu inside the AKP was one of the reasons Erdoğan chose him as prime minister in the first place. He would not have risked it if there was a chance that Davutoğlu could take even one MP with him, because Erdoğan needs the vote of every single AKP MP to reach his goals."
While there have never been open spats between the two leaders, with Davutoğlu largely appearing as Erdoğan's compliant devotee, both men disagreed on major areas of policymaking, including the management of the economy and the possibility of the resumption of peace talks with the outlawed Kurdistan Workers' party (PKK), which Erdoğan staunchly opposed.
The two also differed over the pre-trial imprisonment of academics and journalists, which Davutoğlu opposed. Davutoğlu had championed a deal with the EU to stem the flow of refugees across the Aegean Sea – an issue in which the president has shown little interest.
One major conflict emerged when Davutoğlu proposed and publicly backed legislation aimed at tackling corruption – known as the "transparency package". Erdoğan, who as prime minister had been embroiled in a serious corruption scandal that involved several government officials and his immediate family, made sure the bill was withdrawn.
"Erdoğan does not want anyone in the party who does not fully agree with him, or anyone who would have their own opinion on any topic," Gültekin explained. "Davutoğlu was one of the last AK party politicians who would make suggestions of change to Erdoğan's policies."
Rumours about a growing rift between the two boiled over last week, when the AKP's executive board stripped Davutoğlu of his authority to appoint provincial party leaders while he was on a government visit to Qatar.
"The decision to take away my authority to appoint party leaders is something I would not have expected from fellow party members," Davutoğlu said on Thursday in a rare sign of defiance.