In order to create a friendly business environment, Serbia is moving forward by adopting EU standards.
Vassilis Skronias, minister counsellor for Economic and Commercial Affairs from Greek Embassy in Belgrade, in this interview reveals to us how the Open Balkan initiative reflects on Greek and Serbian cooperation, and what are the main challenges that Greek business experience in Serbia.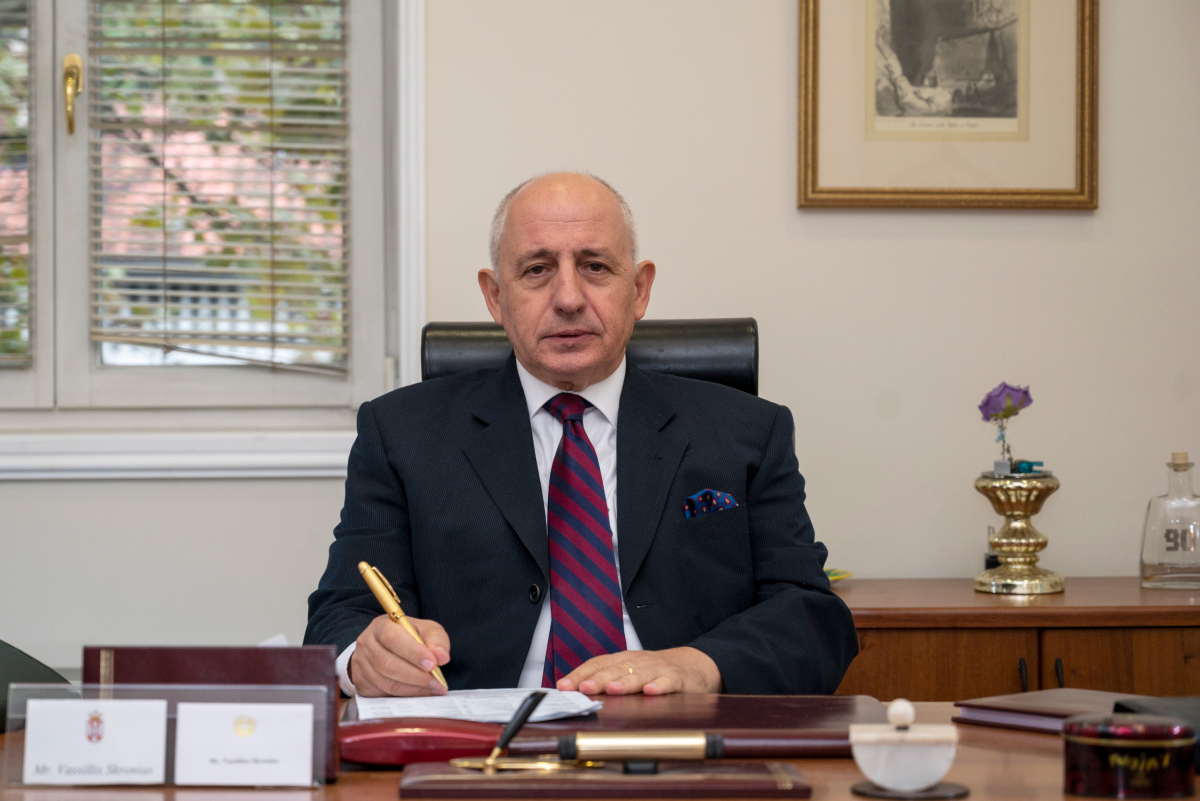 How will the Open Balkans initiative help the development of economic relations in the region, and does the Greek economy see an interest in this kind of integration of its neighbourhood?
The Open Balkan Initiative managed to create synergies in the area of economic cooperation among the member countries- faster flow of people, goods, capital and services, growth of all economic indicators, better and more comprehensive political cooperation, prompt resolution of all internal problems and bureaucratic obstacles.
Since the beginning, the creation of the green corridors for the transportation of foodstuff at the border crossings led to a 17 percent increase in trade in this sector.
It goes without saying that the Open Balkan Initiative is a regional project, but is not a substitute for membership in the EU; therefore, it should complements other EU initiatives. In any case, the Acquis Communautaire should be taken into consideration by all the countries involved in the above-mentioned initiative.
It is well known that many Greek companies are active in Serbia, North Macedonia and Albania, therefore facilitating trade between these countries can only have positive effects. Thus, the Open Balkan initiative creates opportunities also for Greece, mainly in the field of transport and the expansion of networks in multiple sectors, including multimodal transport and cost reduction of products.
Generally speaking about transport,, Greece strongly supports investments and projects within the Trans-European Transport Network (TEN-T), as well as, related to the Western Balkan Countries, the interconnection of vertical axes towards Greek strategic Ports, Highways and Railways (ie Pan-European Corridor X). We value regional cooperation with Serbia, as an effective tool for the development of the South East Europe. The development of transport networks, sustainably mobility, multi-modal infrastructure, modernization of the rail connection ''Piraeus/Thessaloniki-Skopje-Belgrade-Budapest'' are deemed as highly important. Especially the establishment of the Rail Freight Corridor 12 (RFC12), a main Regional Initiative, will facilitate the rail freight transport, from Piraeus to Central and Western Europe.
Does Serbia's non-participation in EU sanctions against Russia harm economic cooperation between Greece and Serbia?
Serbia has its own specific policy regarding sanctions against Russia. Greece as a European Union member-state since the year 1981, is not used to make suggestions to any third  country on its policy choices. I believe the main issue for almost all European countries is the energy efficiency. Hopefully, the sound economic and business relations between Serbia and Greece will not be affected by the above-mentioned issue.
In the EU accession process, did Serbia adopt the necessary standards for doing business and in which areas do you think additional progress is needed?
In order to create a friendly business environment, Serbia is moving forward by adopting EU standards through implementation of modern laws, simplification of procedures and a vast network of trade agreements.  With its skilled easily-trained workforce, the cost-effectiveness of Serbia as an investment destination is among the top appeals for expanding businesses. Thanks to government reforms, it has jumped from 91st position in the world to 42nd according to the last World Bank and IFC indexes, taking less than 12 days to form a new corporate entity.  Duty-free exports, mainly to the EU market, composed of hundreds of million consumers, have turned the country into a manufacturing hub for global businesses looking to expand in Eastern Europe, USA or Asia. In addition to that, it is worth saying that Serbia has managed to address the global economic recession better than most of its neighbours, highlighting the resilience of its economy.
---

Since the beginning, the creation of the green corridors for the transportation of foodstuff at the border crossings led to a 17 percent increase in trade in this sector

---
Nevertheless, as a former ''socialist'' economy country, there are still old practices and areas where improvement is expected, like:  the effective enforcement of the new legal framework related to the free-market and fair competition rules (ie equal treatment at tenders, intellectual property), faster operations and efficient banking rules, privatization of state owned enterprises and banks,, effective jurisdictional system, bureaucracy, anti-corruption measures, energy, environment, rule of law etc. Moreover, there is a need to simplify trading across borders as it is both a costly and bureaucratic process (barriers on issuing export/import licenses, long customs clearance procedures-ie two weeks to import/export goods because of non-tariff obstacles etc), enforce contracts and resolve insolvency, decrease the costs associated with obtaining construction permits, proceeding to the registration of property, getting credit and protecting investors etc.
Is there a joint strategy between the two countries to fight the energy crisis that inevitably awaits us during the winter?
Long time before the actual international energy crisis, Greece used to attach utmost importance in regional energy schemes, like Energy Community, CESEC or SEECP.
The Strategic Partnership between Greece and Serbia provides a solid basis for deepening our energy cooperation, diversify energy sources and routes, and maximize energy security for SEE countries. Thus, we actively support the Interconnector Bulgaria Serbia (IBS) and its connection to Trans Adriatic Pipeline-TAP, through the Interconnector Greece-Bulgaria (IGB) and the Vertical Gas Corridor. The construction of the new Thessaloniki-Skopje pipeline, could be extended in Serbia as well. Greece remains always a strategic partner with Serbia, ready to look upon prospects on bilateral cooperation in the electricity sector as well.
In addition to the above-mentioned,  pipelines in Greece, the existing LNG Terminal in Revythoussa and the recently developed in Alexandroupolis, as well as the Underground Gas Storage in South Kavala, provide additional ways to further diversify natural gas energy sources.
Balkans could become an important transportation corridor for Europe's energy supplies in the medium term. Indeed, Western Balkans, as a new nearshoring destination, could strengthen EU supply chain resilience.
To survive the imminent energy crisis, Greece, among the European Union member-states on one side and in cooperation with few third neighboring countries as well, tries to improve  its energy cooperation with its partners using all available ways and means. On the other side, Serbia benefits of preferential prices related to the Russian gas provisions, representing the two third of its needs. Following Prof. PhD  Zorana  Mihajlovic,  Deputy Prime Minister and Minister of Mining and Energy, approximately 50% of Serbia's energy needs in oil is supplied by Russia or few other providers and the 20% by domestic production; thus the Serbian market will not be affected significantly, in comparison with other countries.  In addition to it, Mrs Jovanka  Atanackovic, State Secretary in the Ministry of  Mining and Energy,  stated that Serbia will have to buy more 800 million m3 of natural gas  of the international market  in much higher price. But, in addition to this process, Serbia could get eventually profit as well, of the initiative ''REPower EU'', aiming to fast forward the green transition.
What is the trend of Greek investments in Serbia, and are there any Serbian investments in Greece?
Just after the war in the former Yugoslavia, Greece has been one of the most important investors (around 2,5 billion Euros). But during the Greek dept crisis, its debtors decided the closure of most of the Greek banks abroad, reducing the level of Greek investments. Nowadays, approximately 250 companies of Greek interest have invested more than 1.5 billion Euros in Serbia, employing 25,000 people. Greek owned companies in Serbia are involved in various business segments, from banking and real estate to construction of infrastructures (highways or airports), food/beverage industry and supplying chains, trade, banking, distribution of fuel and oil, hospitality, telecommunication, transport, aluminum profile-cement-mining or sugar industries, logistics, renewable energy sources (R.E.S.), recycling, waste water treatment etc; we remind the last year merger of Eurobank with Direktna Bank and the acquiring of the 10,24% equity stake of the B.S.E. by the Athens Stock Exchange.
Regarding the Serbian investments in Greece, the main sectors are real estate and tourism.
---

As a former ''socialist'' economy country, there are still old practices and areas where improvement is expected

---
During the previous years -before 2019 and after covid pandemic-, our annual bilateral trade on goods and services surpassed the 900 million Euro. The big projects in Serbia may increase further our investments, trade and economic ties through the modern railways, Corridor X, highways, airports linking our cities, ports etc. Both countries should endorse policies aimed at development of innovations and digital economy, especially in the fields of support to small and medium-sized enterprises, start-up companies as well as promotions of partnerships between research centers and technological incubators.
What are the most common obstacles faced by Greek companies operating in Serbia?
The usual obstacles faced by the Greek and most of the European companies operating in Serbia, are the following:
-Delays due to excessive border controls, resulting in additional costs and difficulties when importing products to Serbia, negatively affect their competitiveness.
There are non-transparent procedures for the selection of the contractor for public works under design and non-application of the EU Procurement Regulation. Despite the adoption of new legislation in line with the EU Regulations (''aquis''), the country has not made significant improvements in the fight against corruption and the sanctioning of public procurement offences etc.
Outdated bureaucratic system regarding import/export licenses, taxation etc, has to be reformed. Bureaucracy in Serbia leads to a dysfunctional administration. For instance, a key role in this field would be to simplify and digitize the tax compliance process and strengthen tax education.
Time-consuming legal proceedings of resolving business disputes are a well known issue.
The modernization of the railway sector in Serbia represents an important challenge for the country's freight cooperation with Greece. A large number of railway lines are not used, while at the same time the speed of freight transport is far from satisfactory.
Further simplification of the property rights registration may be considered as a critical problem. Although the procedure for obtaining a building permit in Serbia has been simplified, the competent authorities should issue permits with the appropriate content. In accordance with the current regulations, the investor could register his property rights for newly built facilities without being exposed to additional loss of time and waste of funds, for obtaining additional, special documents.
Unclear terms of labor law and lengthy procedure for issuing a work permit to a foreigner should be revised. Despite the benefits resulting from the latest amendments to the Law on Employment of Foreigners and the Law on Foreigners in Serbia, certain provisions still provide that a work permit may be issued on the basis of the foreign worker's temporary residence permit; this aspect remains problematic.
Because of the annual emigration of a percentage of Serbian labor forces and few other reasons, most of the companies have difficulties to hire enough and appropriate staff.
Some important Greek groups would have already proceeded to much higher investments in Serbia if the above-mentioned obstacles did not exist; because of a certain number of these obstacles, unfortunately, few other Greek firms left the country during the last 20 years…
Last but not least, as Serbia has been the seventh and last assignment of my international, professional career, before leaving Belgrade at the end of this year, I take the opportunity to thank "Diplomacy & Commerce" for giving me the chance to express my views, at least for twice, during my actual mission and to wish all the best for prosperity to Serbia and its proud people.