This year, the Stara Sokolova brand celebrates its 25th anniversary. After almost a quarter of a century since its inception, the name Stara Sokolova is still synonymous with superior brandy. Whether we are talking about fruit, quince, apricot or Viljamovka pear brandy, the brand of Stara Sokolova is the market leader among premium fruit brandy producers in Serbia.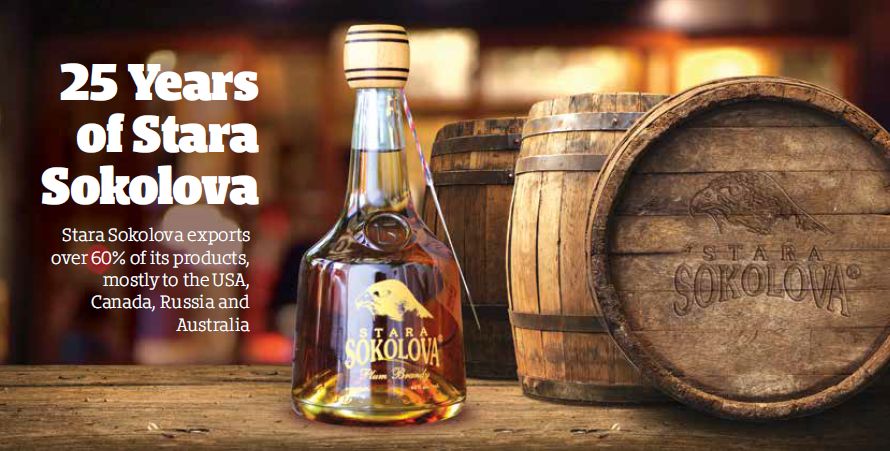 In 2018, Stara Sokolova continued to develop, while recording a production and sales growth, both here and abroad. Relative to 2017, the production rose by 10% in 2018, with the growth in domestic sales of 22% and foreign sales of 19%. Today, Stara Sokolova's annual production stands at 150,000 litres, and the brandy here is produced in line with the highest global and European standards. The special aroma and taste, the ageing process, and the sophisticated, elegant design of the trademark packaging are just some of the features that make this brandy distinctive.
Stara Sokolova exports over 60% of its products, mostly to the USA, Canada, Russia and Australia. In 2018, Stara Sokolova opened up new markets and found its way to brandy connoisseurs in Sweden, Denmark, Great Britain and Ukraine.
In addition to conquering new markets, Stara Sokolova has been working on its own development. This family-run business has hired new, young and talented workers who share the appreciation of the same values that Stara Sokolova nurtures.
In 2018, we also continued investing in sustainability and improving our product quality by investing in new capacities, mainly for old brandies, such as oak barrels. It is interesting to note that Stara Sokolova buys oak, which it then dries naturally and uses to make barrels. Furthermore, we invested in advancing our production technology by acquiring a new, state-ofthe-art laboratory and equipment that tests product quality. Plum brandy is by far the most popular brandy of Stara Sokolova. However, we also produced other plum-based brandies (like Klekovača, Medovača and Travka), the Soko V.S.O.P. cognac and white fruit brandies (quince, apricot and Viljamovka pear). In the last two years, we added two more exceptional plum brandies to our range – Dunja LUX (Quince LUX) and Kajsija LUX (Apricot LUX), which had been aged in oak barrels and are sold only in exclusive beverage stores.
The third generation of the Bogdanović family continues to develop drinks under the Stara Sokolova brand, which have received many awards for quality, both in the country and abroad. The latest award that Stara Sokolova won for its quality was given to us in Canada in 2018 at the Alberta Beverage Awards, where Stara Sokolova Vilijamovka (pear brandy) won the Judges Selection Award. Our brandies are savoured in the most prestigious hotels, restaurants and taverns in Serbia, and can be purchased at all big supermarket chains, luxury wine shops and gift shops here. You can also visit the cellars of Stara Sokolova. In an authentic ambience, among the oak barrels which stores Sokolova brandies, brandy aficionado can now enjoy the real tastes and aromas of Serbia, to taste what is officially the most awarded brandy in Serbia and find out more about this distillery and its products.
In the village of Krivaja, near Kostojevići, which is the birthplace of Stara Sokolova, the Bogdanović family has restored a typical West Serbia rural household and made an ethnic village where you can see for yourself how traditional brandy was produced in Serbia. At the Bogdanović estate, in an old family house that dates back to the early 20th century, there is also the Stara Sokolova Museum and taste room. Apart from the standard range of Stara Sokolova brandies, here you can find very old brandies that cannot be purchased anywhere else. The oldest brandy that the Bogdanović family owns is Klekovača which dates back to 1968, as well as plum-based brandies from the 1970s and 1980s. These brandies are not taken out of the cellar and you can taste them only there. The hosts call them the Long Forgotten Brandies.