EXIT Festival in partnership with the United Nations World Food Programme (WFP), the world's largest humanitarian organization, is launching the next step of Life Stream Project to galvanize efforts towards the COVID-19 response to alleviate the suffering of millions who have lost their livelihoods to the pandemic and are falling deeper into hunger.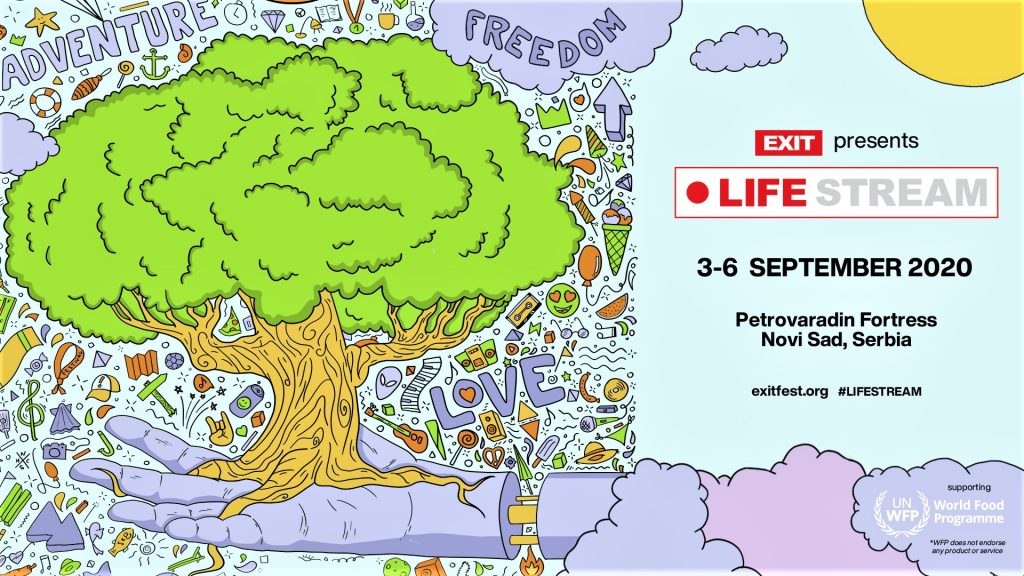 The Life Stream Project brings together world-class acts who will perform at the Petrovaradin Fortress, where EXIT Festival  usually takes place, for a million-strong online audience from September 3rd to 6th.
EXIT presents LIFE STREAM in support of UN World Food Programme
https://www.youtube.com/watch?v=_5oa2PqgTjw&feature=youtu.be
As coronavirus cases soar globally, the pandemic is compounding problems and multiplying misery, especially for those on the frontlines of climate change battling frequent drought, storms and floods that strain food production, exacerbate hunger and push people deeper into poverty.
With the pandemic set to push 270 million people into food insecurity before the end of 2020 – an 80 percent increase from 2019 – the impact will be the harshest for those who were already vulnerable.
"EXIT started as a youth movement for peace and freedom in Serbia and Balkans and social activism is still at the forefront of our activities. This year has been hard for all of us, but even in times like this, we must find the strength to do what we can to help those who are the most vulnerable" – said founder and CEO of EXIT Dušan Kovačević.
More information about the Life Stream Project
Life stream has been launched last year together with the Green R:evolution as EXIT's biggest environmental project to this day in which the Government of Serbia committed to planting almost billion trees increasing the country's forestation rate up to 50%. The partnership with WFP broadens the scope of the project highlighting two important causes, ending hunger and building resilience for communities in the face of climate change, that have become even more urgent in the light of COVID-19.
Life Stream will be a four-day long festival where performances will be broadcasted from the legendary EXIT Dance Arena. The festival will feature the global and regional acts with videos drawing attention to the environment and the looming hunger crisis. Festival will also promote tourist attractions of Serbia and city of Novi Sad, home of the EXIT festival. In addition to the music festival, an international panel will discuss key issues around the unfolding pandemic as well as highlight the cooperation between WFP and EXIT.
This year's project is an introduction to a broader cooperation in 2021, which will mark two important anniversaries, 60 years of WFP and the 20th anniversary of the EXIT festival. Next year's festival will feature performances by some of the biggest global stars such as David Guetta, DJ Snake, Tyga, Eric Prydz, and many more.