Every year the Children's Philharmonic Orchestra traditionally organizes the New Year's Gala Concert – Winter Music Magic, intended for fans of classical music of all generations. This will be the jubilee 10th concert: "The Magnificent 10" featuring the hits of the Children's Philharmonic – the most popular compositions of various genres that have been performed over the past years on numerous concerts.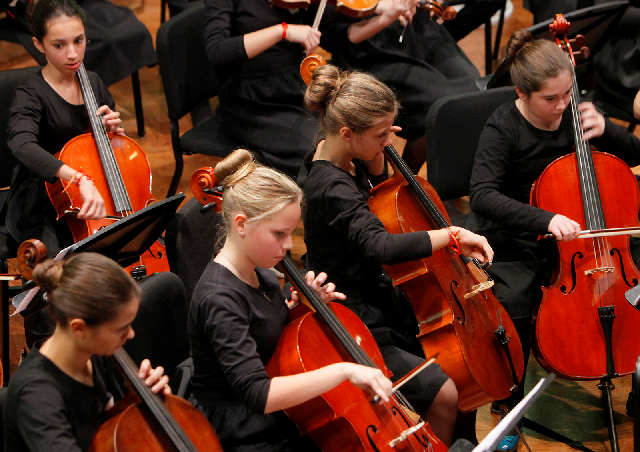 In addition to popular classics, Strauss, Offenbach, Beethoven, Bach, there will also be music from movie hits such as Star Wars, Frozen, Indiana Jones, Pirates of the Caribbean, Marry Poppins … but also traditional songs and pop hits such as newly released song " Lauder then a Drum " or hits for all times " For a million years" .

The orchestra will be conducted by Ljubiša Jovanovic and this year's "magic" will be enhanced by the opera singer Katarina Jovanovic, as well as the young music star, Marija Zezelj, a multitalented girl, model and singer. Although she has recently turned 18, her YouTube channel getting closer to the number of half a million fans. Her first single "Dance Like Nobody's Watching" has 14 million YouTube views and her just released second single, "Louder Than A Drum" which she will sing at the New year gala concert accompanied by Children Philharmonic, is one of the most listened singles at the moment in Serbia at the Deezer streaming service.
Every year the Children's Philharmonic also presents its new soloists, young musicians and winners of numerous awards at domestic and international competitions; and this year the audience will have the opportunity to see and hear the first generation of soloists who are now studying at prestigious academies around the world and the young promising soloists such as twelve years old violin player Jana Jakovljevic or eleven years old Dusan Jovanovic who plays trumpet.
Over the past decade, the Children's Philharmonic has been recognized as a unique brand in the region's culture, which initiated the cultural exchange and connecting the youngest. With its attractive open-air concerts around Serbia and the region, as performances at Tašmajdan within the "Night of Music" manifestation in front of audience of 10,000 people and 5,000 others who stayed outside the gates of Tašmajdan, the Children's Philharmonic initiated a wave of similar events and contributed to attracting younger concert audience.
Do not miss the New Year's gala concert, the unique holiday of music and the most beautiful way to say goodbye to this year and start the New Year 2018, with young music virtuosos, popular singers and the sounds of the most beautiful music pieces.