Rade Šerbedžija and his band Zapadni Kolodvor will perform at a long-awaited concert on Saturday, July 11, in a special ambience of the Botanical Garden. Since both the audience and Šerbedžija have expressed their strong desire to get together at a concert, this will be a special evening for everyone.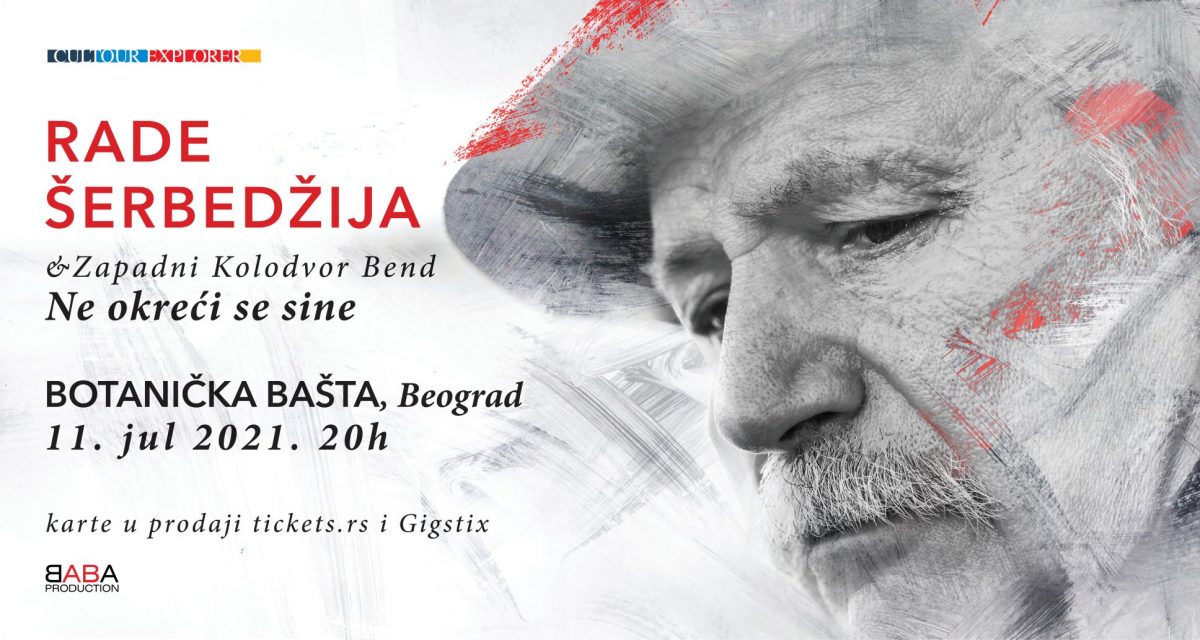 Šerbedžija chose Serbia to hold his first concert this year, in front of the Belgrade audience. After the cancelled New Year's concerts, he held only one virtual concert in early April and it was clear from the reactions of the people who watched it how much everyone missed going to concerts and how intense are Šerbedžija's emotions which he generously shares with the audience.
Late last year, he released a new album "Ne Okreći se Sine" ("Do not Look Back, My Son"), so on July 11, for the first time, he will perform the songs from the new album live in front of the Belgrade audience. The album has already reached the top of the music charts in the region. The new album was recorded with top-notch musical authors and collaborators, with Šerbedžija writing two songs too.
"My new album "Ne Okreći se Sine" conveys a message of friendship and love. I sing new songs, old songs, my songs and my friends' songs which are all about love, pain, longing, anxiety, hope, as well as our life. And life is no easy fete by any means. The album also sends out a message to people who will come after us, to walk the path that my generation has walked but in their own way. Therefore, do not look back, my son. Be stronger, my son," wrote Šerbedžija.
The album has a total of 11 songs, played by Zapadni Kolodvor and special guests, including Husein Hus Hasanefendić who wrote the hit "Eto pjesma", Damir Urban who is the author of the lyrics for the song "Govorila je tako tiho, tiho, tiho" , "Ostala si uvijek ista" written by Djordje Novković and Željko Sabol and many others. Šerbedžija is the author of two songs – "Ne okreći se, sine" and "Šeherezada".
At his Belgrade concert, Rade Šerbedžija and Zapadni Kolodvor will sing and play several other big hits such as "Barbara", "Protuletje se otpira", "Meni se dušo od tebe ne rastaje", "Ni u tvome srcu", "Poleti ptico", "Povratak ratnika", "Tvoje nježne godine" and "Ne daj se Ines".
The Belgrade Winner Award for Outstanding Contribution to Film Art, given to him by the expert jury of this year's FEST, is not the only award that Šerbedžija will receive this year. The Belgrade audience will also reward this fantastic and versatile artist with applause and a standing ovation at the concert in the Botanical Garden.
Tickets for Rade Šerbedžija's concert are on sale from June 10 at all points of sale and websites Tickets.rs and Gigstix for 1,900 dinars for the standing area and 2,700 dinars for the sitting area.
Concert organizer:
The Cultour Explorer Association