There are few places in the world that are so densely populated with wonders as Montenegro. This tiny Balkan country, and Europe's latest independent country, is something that the slogan of the National Tourism Organisation of Montenegro describes clearly as "Always different". And that is certainly true: perhaps Lebanon is the only other place where you can ski on mountain peaks one day and, after a few hours' drive, swim in the sea.
PEARL OF SOUTHERN EUROPE
Okay, if Budva is the Pearl of the Mediterranean, then Montenegro could be generally called the Pearl of Southern Europe. Between mountains and sea, between East and West, and yet predominantly Christian and secular Muslim, Montenegro is a destination on the rise. Given the most recent complications in the Middle East, not only Egypt and Tunisia, or Israel and Lebanon, nor Syria and Libya, but also the United Arab Emirates, Bahrein, Qatar and Iran, with Saudi Arabia, even flights over that area are full of trepidation. Tensions have even risen in an unlikely place, with the peaceful Dubai and Abu Dhabi in a quarrel with the peaceful Qatar? Really? So, many people, more than ever, have decided to "hunt in known waters", less exotic, European. And what should they do if all European seaside destinations are already known? Hit the unknown! And Montenegro is one of the last unknown frontiers in Europe for Westerners. Besides Georgia, Romania, Albania and Ukraine, there are few seaside destinations to be discovered like Montenegro. Just as those of us from this part of the world have only recently discovered Malta, Cyprus and Portugal, and partly Spain, those destinations have been known to the Brits since… well, 1948 or so.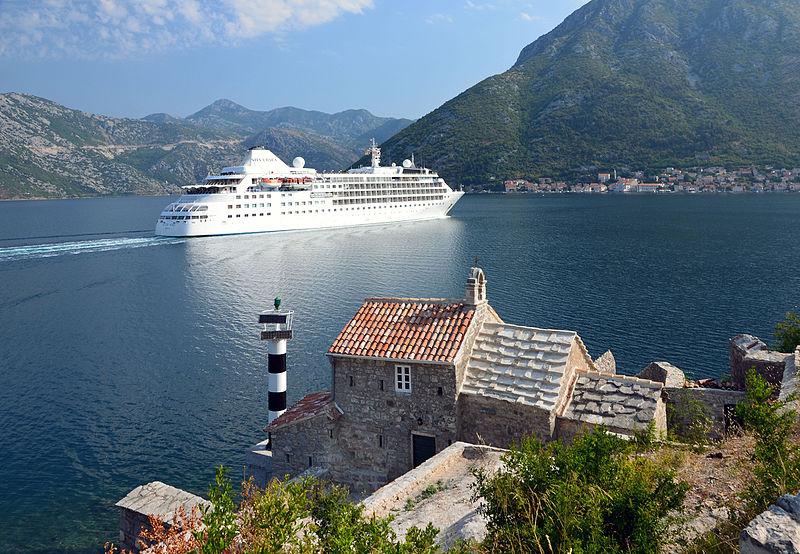 TREASURES ABOUND
Although it is already one of the favourite holiday destinations for Serbian and Russian tourists, followed by Ukrainians, Belarusians, Macedonians and Bosnian-Serbs, Montenegro is now trying pretty hard to move away from that image and attract Westerners. For many years the monopolists in Montenegro have applied excessively high airport taxes to repel low-cost airlines, but after it dawned on the government that without these taxes many Westerner might come and spend money there, the low-cost carriers were allowed.
Let us see how some others describe Montenegro: "Its location on the aquamarine waters of the Adriatic Sea, Mediterranean climate, medieval villages and natural beauty – white pebble beaches, lush national parks, and dramatic, pine-forested mountainous interior – hasn't made it difficult to attract investment. An early and large marketing boost also came in the form of James Bond's Casino Royale – which, while not filmed in the country, set the location of the eponymous casino in the coastal resort town of Petrovac." Alluring, huh? Well, that's Easy Jet's description.
Nowadays little is left of the crumbling Socialist façades of gloomy Socialist resorts for the working classes of Yugoslavia. Now the idea is for it to be the Balkan Monaco and to attract the world's wealthiest. Budva is the busiest hub of tourism and there are all sorts of tourists, especially during the Sea Dance Festival, which is an official offshoot of Novi Sad's EXIT Festival. Sea Dance has transformed into one of Europe's best beach festivals. Kotor is more for those who prefer historical air to beaches, while the newly discovered Tivat, the coastal home of the country's second international airport, now benefits from the multi-million-dollar Porto Montenegro marina, often nicknamed the Monte Carlo of the Adriatic: an extravagant spot with super yachts, luxury apartments, nightclubs, helipads and the country's first ever five-star hotel. If you head northwards you will see the more classy, but mid-class, Herceg Novi, which is both popular and elegant, while if you hit the south you will come across the cosmopolitan Ulcinj, with the fascinating Ada Bojana, and the Port of Bar, with its popular offshoots of Sutomore and the silent ruins of Stari (Old) Bar, now far from the seashore.
But it doesn't end there. This largely undiscovered country is especially undiscovered in its hinterland. There a tourist can find an eco-adventurer's wonderland, brimming with stunning natural landscapes and a whole host of outdoor activities. Tara rafting, Lim rafting, hiking, mountain-biking or hiking, kayaking on the crystal clear waters of Lake Skadar that straddles the Albanian border, Black Lake, Durmitor National Park, skiing and enjoying winter sports… There are plenty of options for everyone. Old Muslim towns like Petnjica or Gusinje, combined with mountains like Prokletije, can offer a lot for nature lovers, while the genuine Orthodox culture of Montenegrin tribes can be found in the North, together with the national cuisine. If you try to keep on track with flocks of tourists, or to take to the less beaten track, you can be sure that you will enjoy the wild beauty of this country.
LOW COST
After a long delay, the Montenegrin sky has opened up to low cost carriers, among them EasyJet and RyanAir. EasyJet uses Tivat as its hub for flights from Geneva, Manchester and London, while RyanAir uses Podgorica to fly from the UK, Belgium, Sweden and the Netherlands. The ever-increasing number of low cost tourists brings fresh blood to the nightlife of Montenegro, which has transformed from being family-orientated or Serbian-music orientated towards embracing world trends.