Source: The Guardian
Establishment parties in Germany and the Netherlands enjoy surprising gains while the far-right suffers in the polls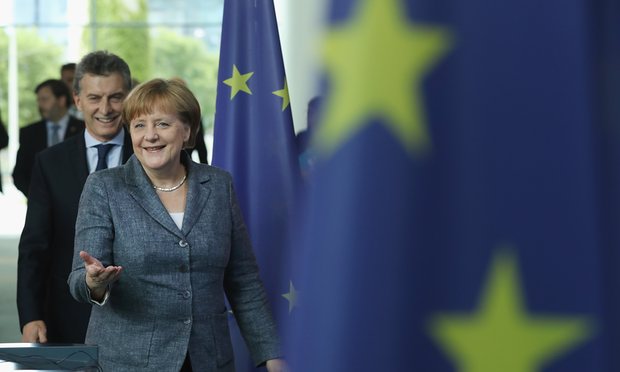 Two weeks after Britain's EU referendum, Europe has defied predictions that the UK's vote to leave would inspire a surge in copycat breakaway movements, with establishment parties enjoying gains and populists dropping points in the polls.
In Germany, the Brexit aftermath has seen Angela Merkel's popularity ratings surge to a 10-month high, almost returning to the level the chancellor enjoyed before the height of the refugee crisis last September. An Infratest Dimap poll published on Friday also marks a two percentage point gain for Merkel's party, the centre-right CDU, and a one point gain for the centre-left Social Democratic party.
Rightwing populist party Alternative für Deutschland, meanwhile, has seen its ratings drop by three percentage points to 11%. The anti-refugee party's struggles may lie in its leader's failure to contain an internal rift over an antisemitism scandal.
"The Brexit debate has fostered a more pro-European climate among the German population," said Infratest Dimap's managing director Michael Kunert. "The government is profiting from this trend while populist, eurosceptic parties are suffering."
In the Netherlands, seen as one of the countries that could potentially follow Britain's example, support for the Freedom party of far-right politician Geert Wilders has fallen to its lowest level since last autumn. One poll suggests Wilders could win 30 out of the 150 seats in parliament if an election were held now, three fewer than a week ago, though his party remains the most popular in the fragmented Dutch political landscape.
Wilders this week pressed ahead with his vow to make a "Nexit" referendum one of the key themes of the general election next March, calling the EU "a totalitarian, Soviet-like institution". Though Brexit may partly explain Wilders' declining fortunes, the poll also reflects Dutch voters' lukewarm attitude to Brussels; the main winners were the Socialist party, which advocates a eurosceptic approach but stops short of wanting to pull out of the EU. The centre-right Christian Democrats and the pro-European liberal D66 group also did well.
The resulting political chaos and economic uncertainty of Brexit appears to have had a direct effect on attitudes in Austria, where a eurosceptic populist candidate will stand in the repeat presidential elections on 2 October.
In a Gallup poll on 5-6 July, 52% of Austrians said they would choose to stay in the EU if given a vote, while only 30% would vote to leave. A similar poll the previous week had shown a more balanced picture, with 51% in favour of remain and 49% in favour of leave.
The change in mood appears to have also affected the views of the anti-immigration Freedom party's presidential candidate. Having previously advocated a referendum if the EU were to take steps towards further integration, Norbert Hofer told Die Presse on Friday that he was "not in favour of an Austrian exit from the European Union".
"I have been annoyed for days that this is being insinuated. I was not amused. It would undoubtedly damage Austria if it were to leave the EU," Hofer said.
In Denmark, support for EU membership has risen to 69%, up from 59.8% in a poll held before the British referendum, while support for a membership vote has fallen from 40.7 to 32%.
In Finland, voters seem to have been put off the idea of a "Fixit" vote, which had been called for by some politicians including former foreign minister Paavo Väyrynen.
After polls carried out in March indicated that 43% of voting Finns wanted a UK-style referendum, and only 56% were inclined to vote to remain, an Iltalehti survey carried out on 28-29 June registered a pro-European shift, with 59% of Finns saying they did not want an in-out referendum and 68% saying they would vote to stay.
The picture is more balanced in southern Europe. In France, the far-right, anti-EU and anti-immigration Front National has remained stable in the polls. Its leader, Marine Le Pen, is widely expected to get through to the final round of the presidential race in spring 2017 but is not predicted to win the run-off.
In Italy, the political landscape has shifted over the last two weeks, but there have been both losses and gains for eurosceptic parties. Support for the far-right and anti-immigration Northern League, whose leader Matteo Salvini has called for a UK-style referendum, has slipped by 0.7% to 12.4%, according to a poll published earlier this week.
Italians are increasingly likely to favour the anti-establishment Five Star Movement, now the country's most popular party with 30.6% of the vote, while the ruling Democratic party has fallen to 29.8%. The Five Star Movement has not called for a public vote on EU membership, but instead backs a non-binding referendum on the euro.
While there is widespread scepticism of Brussels, a majority of Italians believe they are better off in the EU. One poll carried out since the Brexit outcome found 66% of Italians would vote to remain in the EU, with just 26% opting to leave and 8% undecided.