Marketing Network (Marketing mreža) has announced a competition for the 6th national awards – CACTUS 2020
Awards are given in 24 categories, and are given to organizations, companies, institutions and agencies for the highest quality and most professional individual and integrated campaigns in last year. The main awards at the festival are the Agency of the Year, Advertiser of the Year and Integrated Campaign of the Year – Grand Prix. As in previous years, CACTUS 2020 celebrates only ideas that go beyond the obvious and, despite difficult conditions, inspire and produce the most effective communication with target groups. The competition is open until September 20th.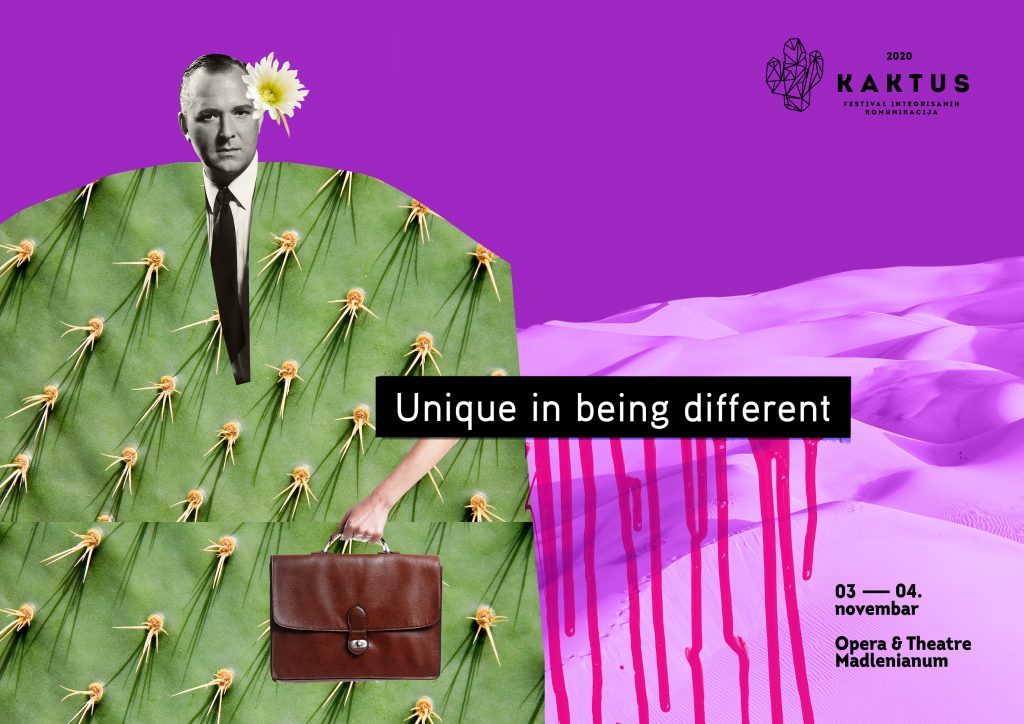 The awards will be presented at the 6th National Festival of Integrated Communications – CACTUS 2020, which will be held on November 3rd and 4th in Belgrade, under the headline "Unique in being different".
The expert jury, which consists of renowned and respected professionals from creative, PR, digital agencies and production companies from Serbia and the region, decides who will receive this year's CACTUS awards. The jury from Serbia this year will consist of: Ana Šutić, Creative Director, New Moment New Ideas Company; Đorđe Janković, Chief Creative Business Designer, New Strategy; Goran Jankuloski, Managing Partner, Žiška; Jelena Dragišić, Head of Creative, LUNA \ TBWA; Josip Modli, Partner, Fried; Lea Stanković, Executive Director, Communis DDB; Lidija Milovanović, Associate Creative Director, McCann Belgrade; Marko Vulinović, Creative Director, Real Group Belgrade; Miroslav Miljenović, Creative Director, GRAY; Nemanja Stanković, Creative Director, Executive Group; Predrag Simić, Creative Director, Leo Burnett; Tamara Jokanović, Managing Director, Represent Communicatios and Vladimir Mitrović, Creative Director, Ovation BBDO.
This year's regional jury will consist of: Davor Bruketa, Chief Creative Officer & Co-Chairman, Bruketa & Žinić & Gray (HR); Dejan Šijuk, Creative Director, Aquarius (BiH); Domagoj Davidović, Founding Partner & Creative Strategist, Switzerland (HR); Ilinka Crvenkovska, Creative Director, Idea + Communications (MK); Ivan Tanić, Creative Director, Saatchi & Saatchi Zagreb (HR); Ivan Tušek, Head of Creative, Degordian (HR); Jure Korenč, Creative Director, Agency 101 (SLO); Jurica Ćorluka, Head of Creative, Señor (HR); Lana Bedeković Rosandić, Owner & Managing Director, Alert (HR); Milena Mijatović, Founder & Managing Director, MINT Banja Luka (BiH); Mirka Modrinić, Creative Director, Pristop (SLO); Robert Bohinec, Creative Director, Futura DDB (SLO) and Uroš Goričan, Creative Director, Herman & Partners (SLO).
A novelty within this year's competition for the CACTUS 2020 awards is a new category – a special recognition LOCKDOWN integrated campaign. This category is intended for reporting campaigns that were created exclusively in the period from March 10th to May 10th, 2020, during the state of emergency and the COVID-19 virus pandemic. Campaigns created during a state of emergency in response to a COVID-19 virus pandemic can only be reported only for the special CACTUS award and it is free of charge.
"In the past year, numerous interesting and innovative campaigns have been realized, which we believe are worthy of attention, both by experts and the general public. The competition for the CACTUS awards is an opportunity to measure whether these are really different ideas and those that survive, but also to assess the progress of the profession. The first half of this year was marked by the pandemic of the COVID-19 virus, and in a very short time, many companies managed to reorganize and respond creatively to the crisis. That is why we have introduced special recognition, because we want to reward and promote brands that saw the crisis as an opportunity. In addition, this year CACTUS 2020 celebrates the people who work in our profession, individuals and teams, their diversity, talents, interests, expertise, creativity and ability. We expect a lot of good campaigns that will indicate development trends, but also the challenges that determine the future of the creative industry in Serbia, "said Ivana Parčetić Mitić, founder and CEO of the Marketing Network, which is the organizer of the CACTUS 2020 festival.
You can find the conditions of the competition, propositions and categories, as well as the application form and the Rules of Procedure of the jury, on the website www.kaktus.rs