Focus on: ESG reporting, creation of corporate decarbonisation strategy, application of green technologies and implementation of CBAM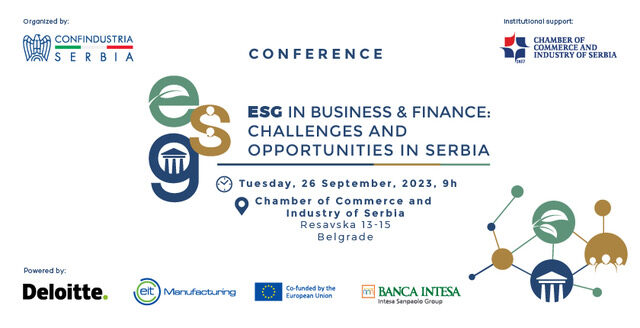 The conference "ESG IN BUSINESS AND FINANCE: CHALLENGES AND OPPORTUNITIES IN SERBIA" will take place on September 26, 2023, 9.30 a.m., in the Serbian Chamber of Commerce, Str. Resavska 13-15, Belgrade.
Structured as an interactive and dynamic exchange, the conference aims to showcase the initial experiences of European companies, namely those from Italy and Germany, and from Serbia, with the implementation of ESG reporting and strategies. The Conference will discuss a number of important topics, including the implementation of the EU taxonomy for sustainable financing, the impact of the Cross-Border Carbon Adjustment Mechanism (CBAM), and  integration of ESG criteria in investment decisions of financial institutions. Furthermore, the Conference will explore decarbonisation strategies and application of green technologies for managing greenhouse gas (GHG) emissions, with a focus on the entire supply chain.
Participans include official representatives of the Ministry of Mining and Energy of the Republic of Serbia, representatives of prominent financial institutions such as EBRD and EIB, and leading banks such as Intesa, Unicredit and Erste as well askey companies such as Microsoft, Hemofarm, Henkel, Risalta, Energetik, RINA.
The conference is organized by the Association of Italian Industrialists in Serbia – Confindustria Serbia, in partnership with the Chamber of Commerce of Serbia, with the support of Deloitte Risk Advisory, EIT Manufacturing and Banca Intesa.
Click HERE to download Conference Agenda
By participating you will gain valuable insights from ESG experts to better navigate the constantly evolving ESG landscape.
Don't miss this opportunity!
Follow the link below to register: