Because of the pandemic, consumers have adapted to the new environment, and created new habits, developed new behavior regarding shopping and consumption of media. After the pandemic, some of these habits will disappear, but some will remain or even be intensified, to help people cope with new challenges. A new study by Polaris, agency which operates within I&F Grupa and specializes in data analytics, business consulting, and market predictions, reveals which behaviours will remain after COVID-19 and how brands can approach consumers by having those changes in mind. Here are just a few of them:
E GAMING
The number of people playing online games continued to grow during quarantine, especially in the e-sports category. After the state of emergency, the time spent with games will decrease because people return to their regular obligations, but the number of users will still grow, which is a great opportunity for brands. It is crucial to understand the motives and what it is that the participants especially enjoy within the game, for the brand to make the whole experience even better with its presence.
VIRTUAL LIFE
Many people found entertainment during the quarantine in the online world. Virtual tours and live streams have become especially popular, and after isolation, digital experiences will remain the solution to avoid large gatherings. Brands can take advantage of relaxation moments at home by offering online content in partnership with institutions in the field of art, film, music… With the help of technology, it is possible to give consumers the feeling that the brands they love make many things available for them.
DIY
Many small businesses were not available during the state of emergency. People relied on alternative solutions, very often releasing their creativity, and quarantine showed us how resourceful we can all be. Although we will return to our old routines, we will continue to enjoy the new skills we have acquired after quarantine. With their activities, brands can additionally encourage the creativity of consumers and raise it to a higher level. Offering packaging and gifts that will facilitate and enhance hobbies, as well as useful content through tutorials, are some of the good directions.
ONLINE SHOPPING
Online transactions significantly increased during March. The level of growth in developed European countries even tripled compared to the pre-crisis period. Nearly 40% of online grocery shopping was the first ever-online purchase. After the crisis, online transactions will continue to grow, especially in the categories of cosmetics, make-up, and hygiene products, but traditional shopping will still take precedence in the procurement of food and beverages.
The categories where e-commerce is growing should not miss this opportunity, and now is the right time to innovate so that brands are ahead of the trend offering a new experience to consumers.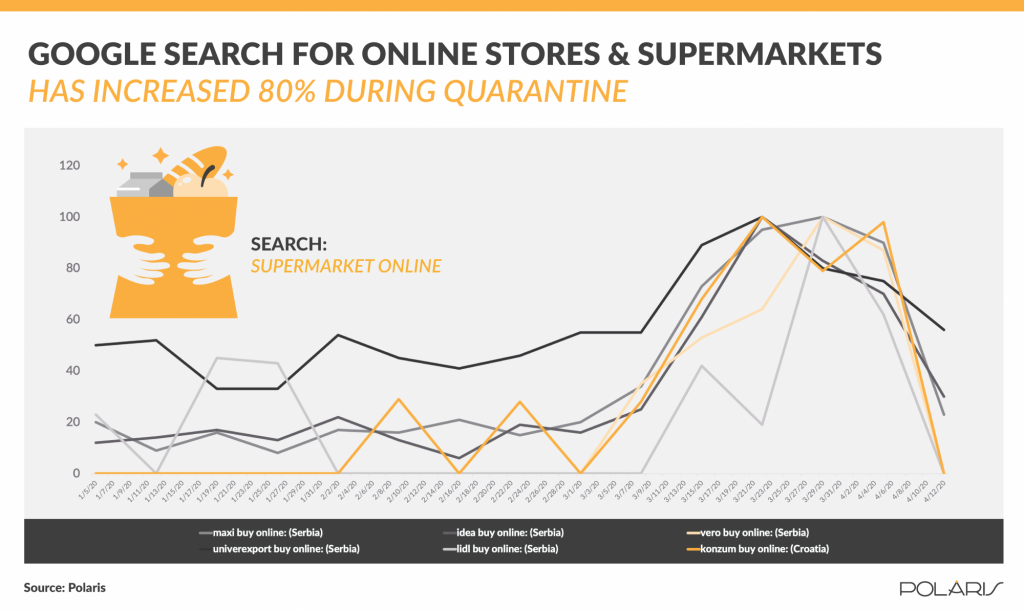 RETURN TO NATURE AND SUSTAINABILITY
During the crisis, many began to question their relationship with the environment and nature. This aspect is expected to be even more important to consumers as well as to gravitate more to local production to minimize potential exposure to COVID-19. Sustainability-promoting practices will be even more appreciated by consumers, and it is up to brands to authentically support initiatives related to this issue.
ONLINE PRESS
The online press was one of the leading media at the time of quarantine. The global health crisis has stimulated the need for information and insights into constant changes. The use of these digital platforms will continue after the pandemic, and brands should be present in this medium by providing relevant content and not bypassing topics that are now important to consumers.
Author: Željka Mićić, Research Manager at Polaris