This is a time, like no other in history, when businesses need to show the courage to adopt strategies that create long-term value for their companies and for the societies they serve
The eighth CSR Serbia 2022 conference dedicated to socially responsible business was held at the National Assembly of the Republic of Serbia on June 30, with the focus on sustainable business. The conference gathered all stakeholders engaged in activities that directly affect a better and healthier business environment in Serbia. The conference was supported by UNICEF Serbia, Delta Holding and Wiener Stadtische insurance company.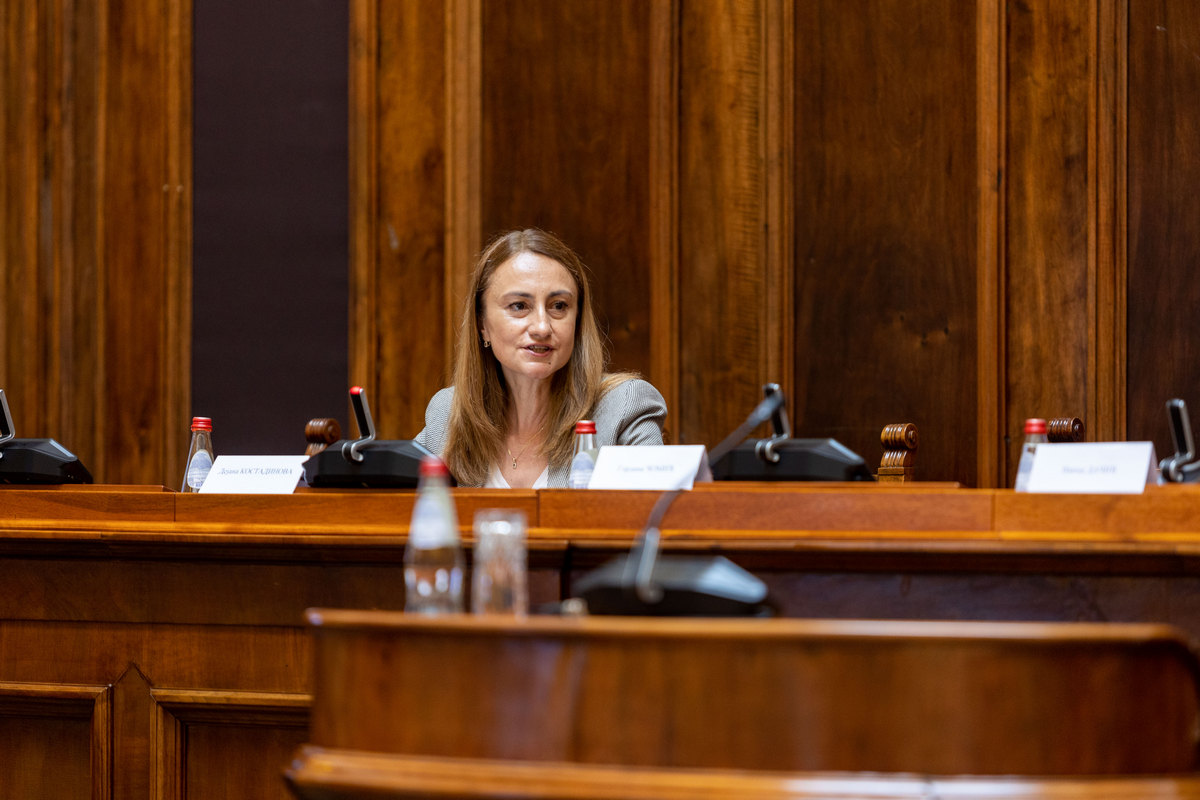 Deyana Kostadinova, director of UNICEF Serbia, addressed the conference participants and said that she felt so inspired to speak at the CSR Serbia network meeting. She also thanked Robert Čoban, CEO of Color Press Group, for inviting her to open the 8th CSR Serbia Conference.
"This year's conference topic – All Eyes on Sustainability – is a good opportunity to engage leaders from the business community, the public sector and civil and international organizations on a long-term goal.
If we want to 'future-proof' our children, both public and private sectors need to invest in more resilient systems that help children cope, including health, nutrition, education, water and sanitation and social protection systems. Indeed, the business sector plays an important role in shaping the world in which we, and our children, live. Respect for human rights, including the rights of children, is a prerequisite for true sustainability," Ms Kostadinova said.
She added that Children's Rights and Business Principles, which were developed 10 years ago, are a good roadmap that helps the business sector play its part. The 10 Principles set out concrete actions for businesses to respect and support children's rights. I'm sure that at least some of you participated in the discussion process around the development of the Business Principles and Children's Rights, as Serbia was the front runner in the engagement of the business community in this process.
---

I want to commend businesses that are ensuring that children's rights are at the centre of their operations

---
"Over the past decade, these Principles, and the actions they have inspired, proved that the global business community can make an important difference in children's lives.
In Serbia, through their core business, know-how and skills companies have achieved significant results for children. I have seen how Yettel's support to reach the most marginalized children in Roma communities made a difference in their access to health services. It was wonderful to see that Besima from Pirot, thanks to this support, was able to connect to health services and have her daughter vaccinated. Real lives are being changed for the better thanks to the business sector!
Emerging companies are also seeing the benefits of integrating the Principles into their business. Nordeus, for example, is investing in early childhood development programmes and integrating family-friendly practices in its operation.
The business sector also affects children's rights by ensuring that its conduct is not contributing to poor outcomes for children in the first place. When we walk into a store to buy a new dress, we may forget to think about what wages and working conditions that product has been produced under, and whether the person who has made that product can provide their child with 3 healthy meals a day or take the child to the doctor during working hours.
I want to commend businesses that are ensuring that child rights are at the centre of their operations. They are leading the business world in making progress in this area.
---

We must rebuild our economies, so they can create opportunities for everybody

---
These key stakeholders are taking three distinct, but complementary actions to ensure that children's rights considerations are integrated into business practices:
The first involves voluntary action by businesses to understand and address their impact on children. I'm glad to see that two business representatives from Serbia, with UNICEF's support, will conduct a self-assessment of their business operation and assess their impact on children.
The second is an action that creates an enabling environment for children and one that sets industry standards through the cooperation of the business sector, government regulators and policymakers. In Serbia, we have seen this through the cooperation of the Minister of Trade, Tourism and Telecommunications and internet providers, who expressed interest in working together to keep children safe in the digital space.
The third focuses on holistic approaches to specific issues affecting children's rights, which include action to prevent and mitigate the adverse impact on businesses. One example is developing business and government agendas on family-friendly workplace terms and conditions.
Children's rights are an essential investment in our sustainable future. Safeguarding these rights helps build the strong, well-educated communities that are vital to creating a stable, inclusive and productive business environment. A business that integrates respect and support for children into its strategy and operations generates benefits for children and society and can generate real benefits for itself as well.
This is a time, like no other in history, when businesses need to show the courage to adopt strategies that create long-term value for their companies and for the societies they serve. Investing in children and youth, especially in those who are vulnerable and marginalized, can help promote an equitable, inclusive society, allowing more people to effectively participate in economic development. We must rebuild our economies, so they can create opportunities for everybody," she said and concluded: "This is a time to create a brighter future for all!"